The kids are back at school and the campgrounds are finally quiet. It's a great time to book a yurt, which makes for an easy and comfy (not to mention affordable) rest after a day of fresh coastal air. If you haven't yet stayed in a yurt, you're in for a treat. Heat, electricity and a sturdy sunroof over your head (that lets the pitter patter of rain feel oh-so-cozy) feel like a divine indulgence, with campground bathrooms and showers just a short walk away. Groups of up to five people can sleep comfortably sharing a large bunk bed and pull-out futon, while deluxe yurts sleep seven and include a kitchen along with restrooms and showers. Some are pet-friendly, too. Here are several parks with yurts to book this time of year.
Umpqua Lighthouse State Park — Immerse yourself in the fascinating history here in the tranquility of Winchester Bay and Lake Marie. Learn how the Umpqua Lighthouse was originally built in 1857 as the first lighthouse on the Coast — only to be destroyed by a coastal gale just four years later. Later rebuilt, its distinctive red and white beacon still shines today. Take a public tour (May 1 through Oct. 30) and stop in for a pint at Reedsport's new Defeat River Brewery. Find eight yurts here, including six deluxe and four pet-friendly.
William M. Tugman State Park — Situated on the banks of Eel Lake, this off-the-beaten-path site is a fisherman's haven, the waters renowned for its largemouth bass, with a fully-accessible fishing dock at the day use area near the boat ramp. Eel Lake lies just north of Tenmile Lake — one of the lake chains south of the Umpqua River that drains into the Pacific. Take a walk on the trail at the south end of Tenmile Lake and get to know the friendly coastal town of Lakeside; locals love the burgers at 8th Street Grill. Find 16 yurts, including eight that are pet friendly.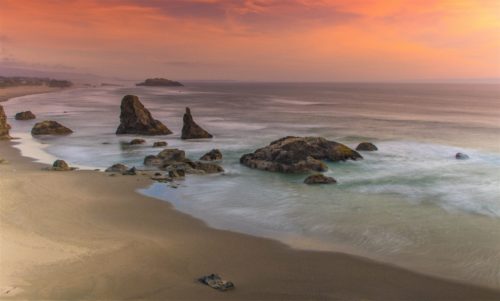 Bullards Beach State Park — Find plenty to keep you content at this campground, along paths that wind through grassy fields and sandy dunes, with dreamy views of the Coquille River. Take a day trip to the bustling town of Bandon, two miles south, where you can stroll the Old Town boardwalk, sample the cheese at Face Rock Creamery and see where the brand got its name in the rocks off the rugged coastline at Face Rock viewpoint. Find 13 yurts, including six that are pet friendly.
If you go:
Know that yurt availability is always greater on the weekdays, and sites open up as it gets later into the year. When possible, look to book about a month in advance. Find all locations, rates and details at Oregon State Parks.
— Jen Anderson