The Creative Coast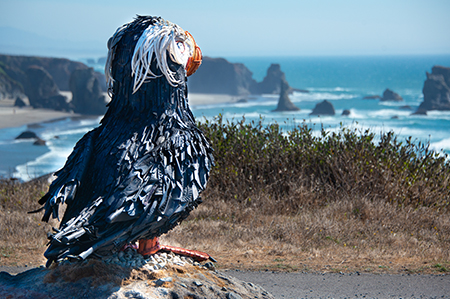 The Southern Oregon Coast is known for its raw and rugged natural landscapes. There is also a strong artistic edge to the South Coast which quietly shows up as art galleries and shops, murals, statues, and sculptures. The South Coast has been an ideal place for many artists, creatives, and "makers" to retreat, reflect, and create. It is also home to a wide range of public art, which is defined as any form of art that's free and accessible 24/7 to everyone. With the help of a Public Art Trail map and inventory, everyone can access and appreciate the South Coast's arts and culture (see map bottom of page).
Art For All
By highlighting 'public art,' the Southern Oregon Coast is staying true to its brand, which is about free, open, and accessible public beaches and experiences for all. Taking that concept further, free, open, and accessible public art, is a natural expansion of the spirit of the Southern Oregon Coast. Because public art is not behind closed doors with "viewing hours" and admission fees, it is for everyone, always.
The goal of this project is to help residents and visitors connect with artists, gain a deeper sense of place, and contribute in a meaningful way to artists' livelihoods.
People can use the Public Art Trail map to take a self-guided tour along the entire coast, or sections of the coast, to learn about public art pieces along the way. Hikers can even see what pieces of art are along the Oregon Coast Trail as they make a segment trek or full coastal hike. This regional effort complements the hard work of many coastal cities, including Port Orford and Bandon, which already offer self-guided public art tours.
Photo gallery of a few of the Southern Oregon Coast Public Art Locations
Art Trail Map
Explore the icons above to read a description and see a photo of over 800 exhibits on the Trail. Expand the map to get more tools in one screen.