Your South Coast adventure awaits, crowds not included.
Who We Are
Welcome to the Southern Oregon Coast, a region steeped in history with an unbreakable bond to nature. Known as the Wild Rivers Coast, here you will find the highest concentration of nationally-designated Wild and Scenic rivers in the country. Where rivers ramble down mountains, through forests, and out to sea, we invite you to come explore the countless off-the-beaten-path adventures that await.
Enjoy year-round fishing, boating, cycling, hiking, birding, windsurfing, beach going, and so much more. Our landscapes are rugged, our air is salty, our atmosphere is serene, and our temperatures are moderate year-round.
This is truly a place where you can recreate and unwind. Sorry… crowds not included.
Our First Nations
Indigenous people have inhabited what is now Oregon since time immemorial, with cultures as rich and diverse as the landscapes they live on. Today, members of the nine federally-recognized tribes in Oregon carry forward a deep knowledge of this place and traditions that have endured and evolved for thousands of years.
Three of these nine tribes make their home on the South Oregon Coast, and are eager to share their stories of the past, present, and future, and to welcome you to their homeland. May the connections you make enrich your experiences in South Coast Oregon Indian Country.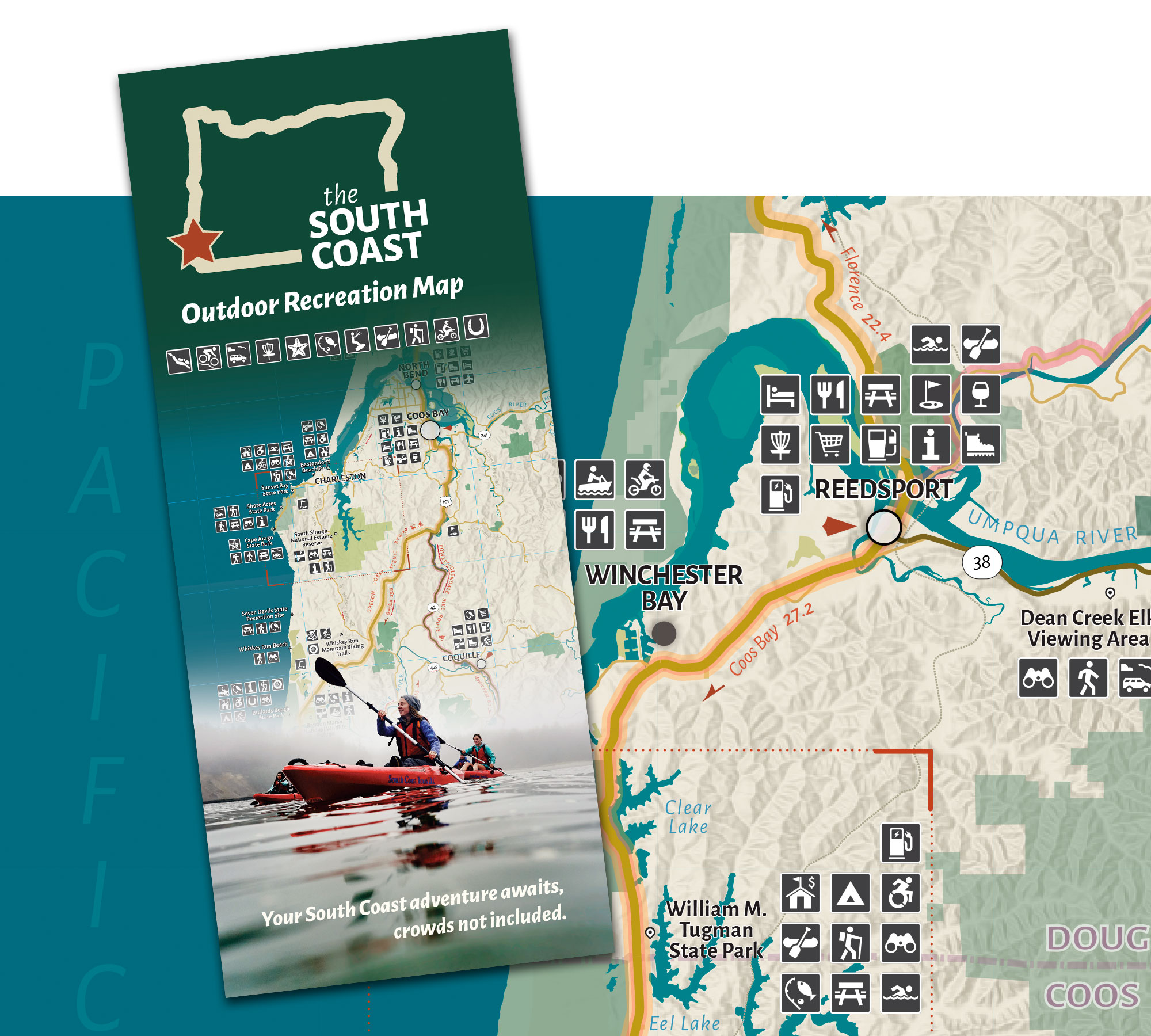 Take Care Out There
Plan Ahead
Prepare before you head out, consider what you want to see and experience, your group's physical abilities and what's realistic to do in the time you have. Can you visit off peak to avoid crowds?
Be Ready
Check conditions. Pack your Ten Essentials. Got the right shoes for the terrain? Water? Cell phone? You may not always have coverage, so take a picture of the trail map or bring one with you. Consider hiring a guide.
Don't Forget
Let someone know where you're headed and when you plan to be back. Tuck some cash in your pocket for park fees (that help maintain our natural spaces).
Make Smart Choices
Know your limits and when to stop for the day. Follow the signs; they're there to tell you important stuff like how to avoid injuries and not get lost.
Be Respectful
If you're lucky enough to spot wildlife, use your zoom lens and observe from afar.
Share trails with others. Know who manages the land you access and what the rules and regulations are.
Keep It Natural
Stay on designated trails and areas to protect the landscape. Don't take anything home but your trash—and please, please take your trash with you. Make wildfire prevention a top priority.
Enjoy Yourself
Experiencing the quiet, awe-inspiring beauty of nature can not only uplift your spirits, it can improve your health. Think of Oregon's vast outdoors as your place to relax and recharge.
Say Hello
Greet fellow adventurers and spark a conversation. Check in at a visitor center, ranger station and/or local business to learn from the locals, grab a map and gather local insight.
Spread Goodwill
Share your knowledge with others if it's helpful. Support the community— eat, drink, shop and stay local. Stop by cultural centers to learn our history and relationship to place.