Partner Story
Photographer Steven Michael shares tips for photographing the power and beauty of Oregon's South Coast
If you've ever been to Shore Acres State Park on a stormy afternoon, it's likely you've crossed paths with Coos Bay-based photographer Steven Michael. High winds, sea spray and driving rain might keep others at home, but to Steven, it's all in a day's work capturing the raw power of winter on the Oregon Coast.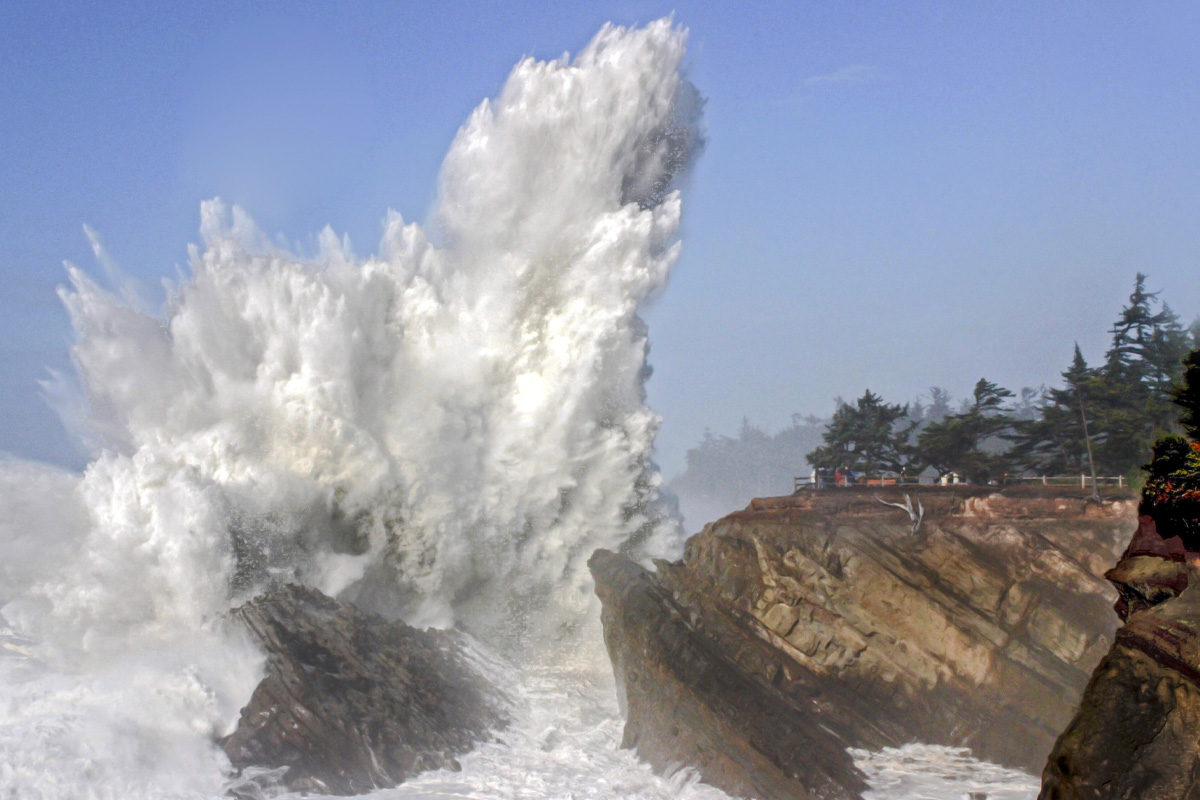 An Adolescent Gift Turned Into a Lifelong Love
Steven's love of photography first blossomed when his father gave him a camera as a teen. He joined his high school yearbook staff and in college worked as a photographer, but it wasn't until 2008 that he got serious about turning his passion for landscape photography into a career. Since then he's trained his lens on nearly every corner of the state and attracted a devoted following that clamors to buy his themed calendars via his Facebook page. (His best-sellers are "Shore Acres Storms and Waves," "Bandon Beaches" and "Inland Waterfalls.")
An appearance on OPB's "Oregon Field Guide" in 2015 made him a minor celebrity in the state. "When that show aired, it really threw me onto the map," says Steven, who regularly fields questions from fellow photographers eager to capture the explosive drama of winter storms breaking over rocky headlands.
Steven is lucky enough to live just 11 minutes from the entrance of Shore Acres and counts it among his most favorite places to shoot on the Coast. "Any time of year it's excellent, and it's one of the only places you can shoot during high surf and not get wiped away," he says with a laugh. "At the right time, you can be entertained all day with powerful wave action."
Want to take your own epic wave images? Read on for Steven's tips for taking that perfect shot.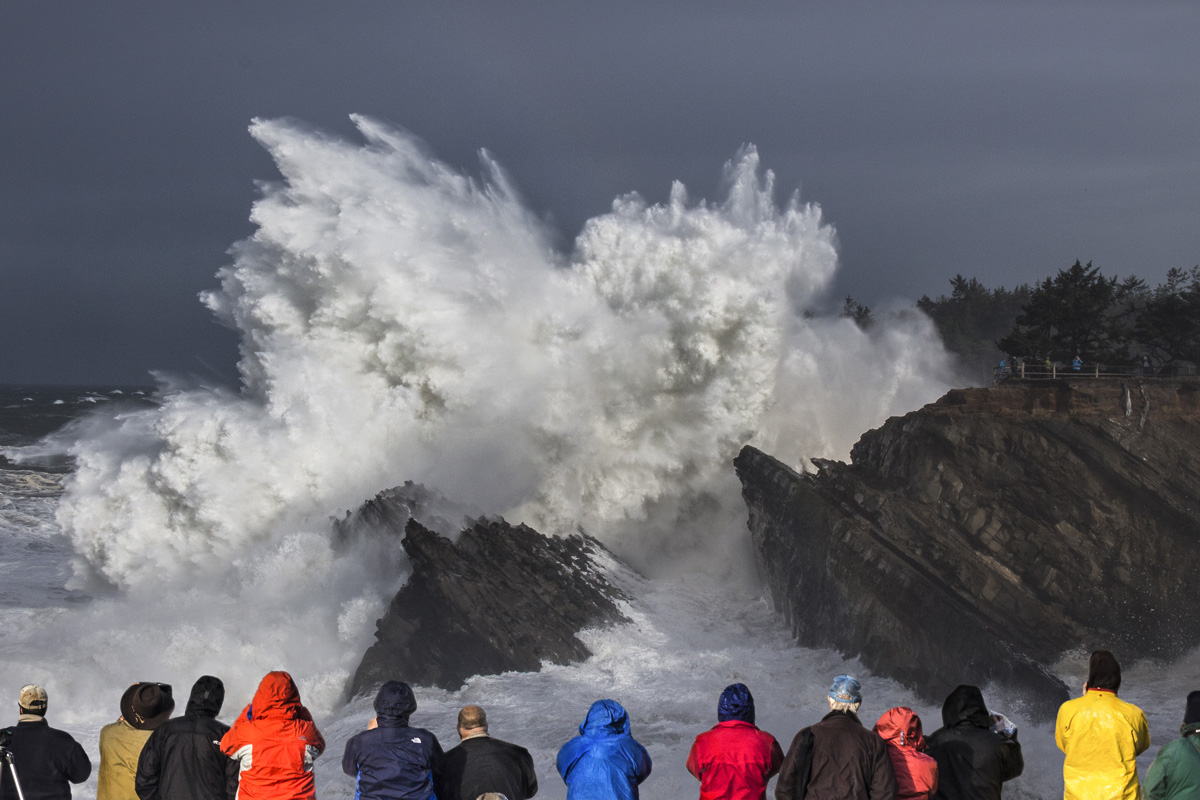 Track the Storms
Capturing storms near Coos Bay and Bandon takes some know-how. Steven says he's noticed that the best time to head out is when the high surf comes in from the northwest and the west. He relies on tips from surfing buddies and online sources like the Medford National Weather Service, Surf Forecast and Magic Seaweed for detailed predictions of coastal swells.
When it comes to photographing those exploding waves, Steven advises heading out at mid-tide. "At low tide, the waves break too soon, and at high tide, a lot of water volume mows over the rocks," he says. Similarly, pay attention to the light and time of day. "I'm not a morning person, so I tend to shoot late afternoon and evening," says Steven. A good rule of thumb: Shoot when the sun is at a 45-degree angle or lower, either morning or afternoon. But even midday can be dramatic with big puffy clouds in the sky.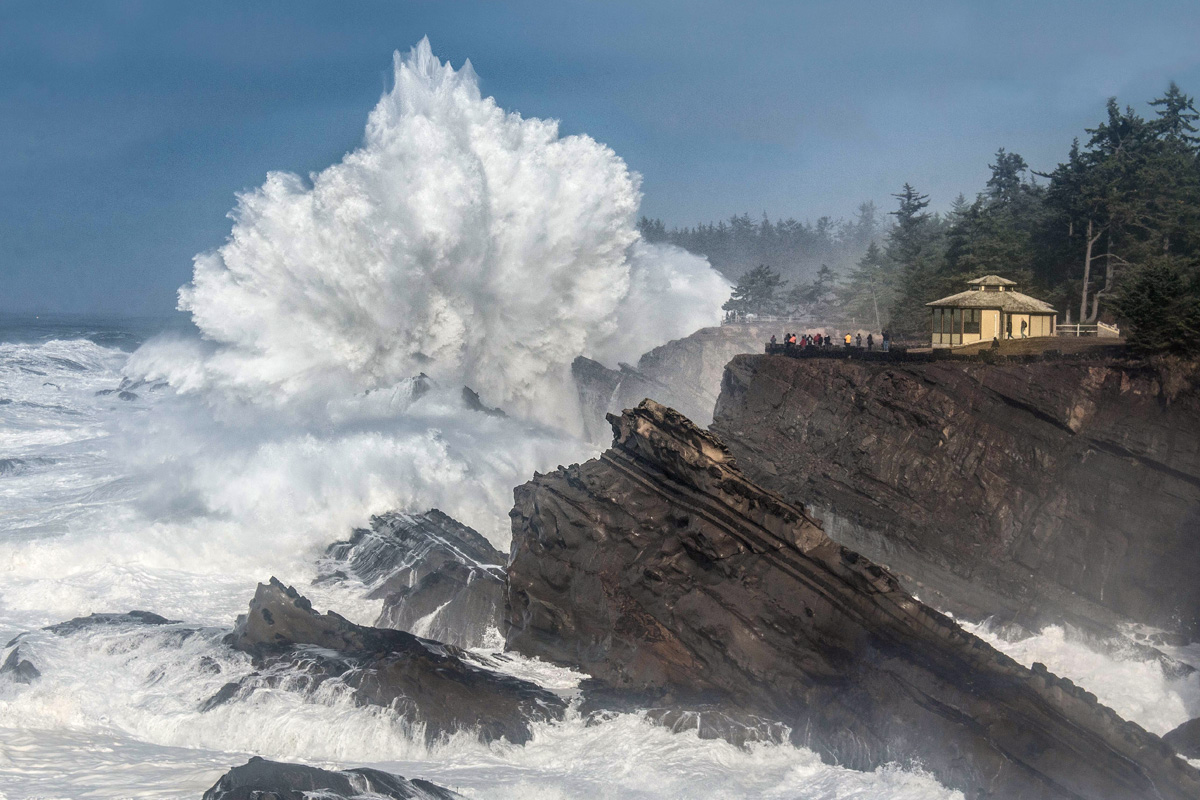 How to Get Great Shots
Simple sunsets and ocean vistas can be beautiful, but Steven prefers some tension in his images. "I need something in the foreground that's as important as the background," he says. "People in raincoats in the foreground and the waves beyond create drama. If you're photographing a waterfall, I like to include the scene around it."
If he's happy with 10 out of 100 shots, Steven considers it a good day. To catch wave action, he suggests using shutter bursts to take 10 to 12 photos at a time. Don't be shy about taking lots of photos; you can choose the best and delete the rest later.
Seek out interesting or unusual vantage points. "A lot of people make the mistake of standing in the same place," he says. "I migrate to wind up with a wide variety of angles and views. I'm always wandering around."
If You Go:
Winter weather on the Coast can be rainy, windy, and cold. Be prepared to bundle up with waterproof layers, head to toe. "There's saltwater flying all over the place, so I bring a lot of towels and an umbrella to cover my camera if it's not too windy," says Steven. On the beach, he never puts his gear on the ground, in case an unexpected wave damages it.
Oregon's wild coast is just that — wild. It's easy to get wrapped up in what you're doing when you're taking photos, but be aware of your surroundings at all times. For that reason, Steven says you'll never find him photographing at beach level during high tide. "Shore Acres is such a good park for safety reasons," he says. "You'll get wet, but it's a safe vantage point for watching storms."
Header image by Steven Michael