Chasing the sun? The friendly town of Gold Beach — a pristine stretch of coastline on Oregon's southern shores — glitters all year long with treasure hunts, fishing, trails, whale watching, Rogue River adventuring and more. Here's a roundup of some of our favorite ways to relax and recharge in Gold Beach.
Treasure hunting for glass floats
If you've heard of Lincoln City's famous Finders Keepers program, with float fairies who secretly drop glass floats along the beach, Gold Beach has one too. In April, the city will hide over 1,000 floats along 1 mile of beach, so visitors have an excellent chance of finding one. Pro tip: These floats are typically hidden in the beach grass so they don't break or get lost in the surf. If you're not able to search on the beach, an indoor hunt lets visitors have just as much fun. Most of the town's gift shops have a float hidden inside, amongst the retail floor. Anyone who finds one may fill out a ticket to enter a drawing to win $100. And, for every $25 spent at participating shops, visitors may bring their receipt to the Visitor Center to receive a glass float of their choice.
Catch your own dinner
You may have heard of the mighty Rogue River, one of the most famous in Oregon for its jet boating, fishing, breathtakingly rugged canyons and abundance of wildlife. From its headwaters 215 miles away, the Rogue (two portions of which are federally designated as Wild and Scenic) flows into the Pacific Ocean at Gold Beach, offering visitors a multitude of recreation opportunities. Mid-summer to late fall, try your hand at crabbing or clamming on the coastline, and catch yourself a fresh dinner.
Grab a license online at
MyODFW.com
before you head out to have some fun. Butter clams can be harvested a brief commute 24 miles north at
Rocky Point
(which is also home to easy-access tidepools). Mussels can readily be harvested from the rocks in Gold Beach during low tide. If crabbing is of greater appeal, head to the Chetco and Rogue Rivers to harvest some beauties. Grab a charter or crab off the jetties. Always check 
tide tables,
abide all beach safety messages, and be aware of
biotoxin closures
when shellfish are unsafe to eat. You can also fish for your dinner any time of year — look for spring chinook March through June, chinook and summer steelhead July through December, coho salmon September through December, and winter steelhead December through March.
Early summer to mid-fall, take a thrilling jet boat tour at Jerry's Rogue Jets, based in Gold Beach. If kayaking or paddle boarding is more your speed, consider South Coast Tours guided trips for beginners to advanced enthusiasts.
Hiking, sunsets, whale watching
and beachcombing
Thirteen miles northeast of town, at the edge of the Rogue River-Siskiyou National Forest, Frances Shrader Old-Growth Trail is a spectacular way to explore the wild beauty of this section of Coast. The .8 mile family-friendly loop interpretive trail traverses through amidst some of Oregon's largest old-growth Douglas fir trees, some of which show scars from the wildfires that affected the area in decades past. The trail is gently sloped, with benches and picnic tables by the creek perfect for resting and soaking up the magic. Back on the coastline, you may also want to check out Otter Point State Recreation Site, five miles north of Gold Beach, known for its trails overlooking the beach and views of sandstone formations that are sculpted by wind and waves. Locals say it's the best place in town to watch the sunset. And, of course, to look for gray whales as they migrate along the Coast in spring and fall. Best place to watch is Cape Sebastian, five miles south of Gold Beach. Finally, don't miss Bailey Beach, a 3-mile stretch of sand, ideal for beachcombing, that you can access by vehicle or foot. You can also hike along the Oregon Coast Trail south from Otter Point and drop onto the beach. Just remember to practice Leave No Trace tips and pack out all of your trash when you hike, camp or picnic — including  pistachio shells, orange peels, apple cores and other organic waste, which can hurt threatened sea birds and other wildlife if left behind.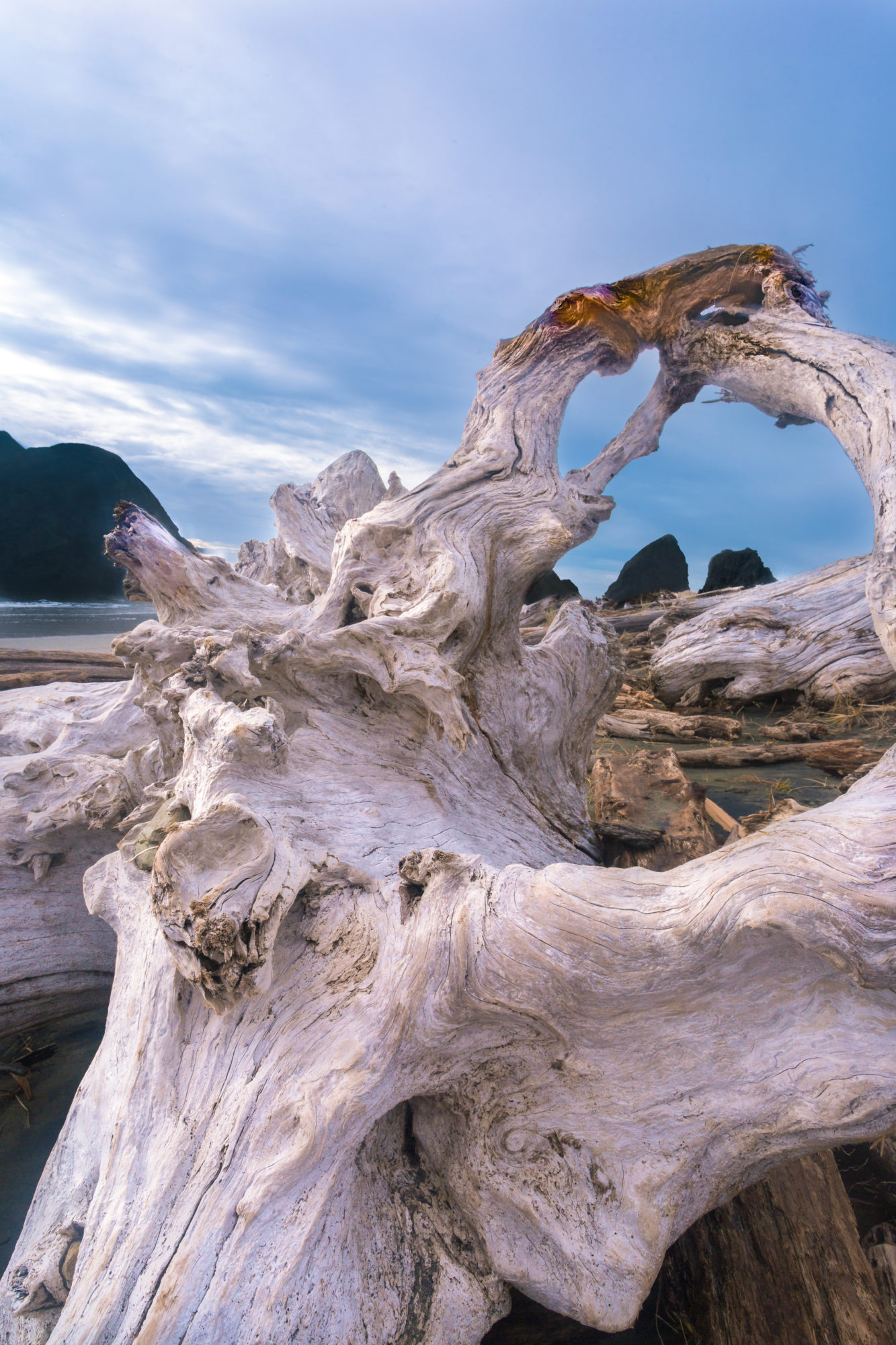 If you go:
Gold Beach is home to activities and events for every season, including the Rogue River Rampage, a 4-mile mud run, set in March or storm watching in peak season (November — February) to kick off your winter storm adventures. Participate in a Beach Treasure Hunt in the spring (April) where you exchange a glass float for a prize and Bike the Rogue (Sept.) in late summer, including continental breakfast at the start and fully stocked rest stations every 7-10 miles.  Find a range of Gold Beach lodging options here.
By Jen Anderson
Top Photo by Jarrett Juarez