Ask any seasoned Oregon traveler and they'll tell you the same tip for visiting the Oregon Coast: Warmer weather brings the crowds to Oregon's North Coast. That means if you head farther south along the beautiful U.S. Highway 101, you have plenty of room to stay amidst the rugged landscape and wild beauty of Oregon's South Coast — sometimes without another soul on the beach. While planning your trip, check out these unique lodging options for an extra-memorable stay.
Romantic Escape
The Tu Tu' Tun Lodge near Gold Beach (top image) sits along the pristine north bank of the Rogue River, where the Native American Tututni Tribe encampment once was located. Amid the quiet setting, the 1968 wooden structure sets the stage for fireside conversations, candlelit meals and cuddling up on the deck.
Equipped for Family Fun
The coastal-themed rooms of Bandon's Lamplighter Inn are the perfect base camp for a summer stay with the kids. Their sea turtle family room includes everything you need for a retreat pad: two double beds and a twin bed, a flat-screen TV, a mini fridge and sea turtle images everywhere.
If you've passed along your love of sci-fi to your kiddos, your family will love a stay at the Itty Bitty Inn in North Bend. The Star Trek-themed room transports guests to the USS Enterprise with its wall-to-wall red carpet, vintage comic books and tinny record player. If the island vibe sounds more your speed, check out their tiki-themed room.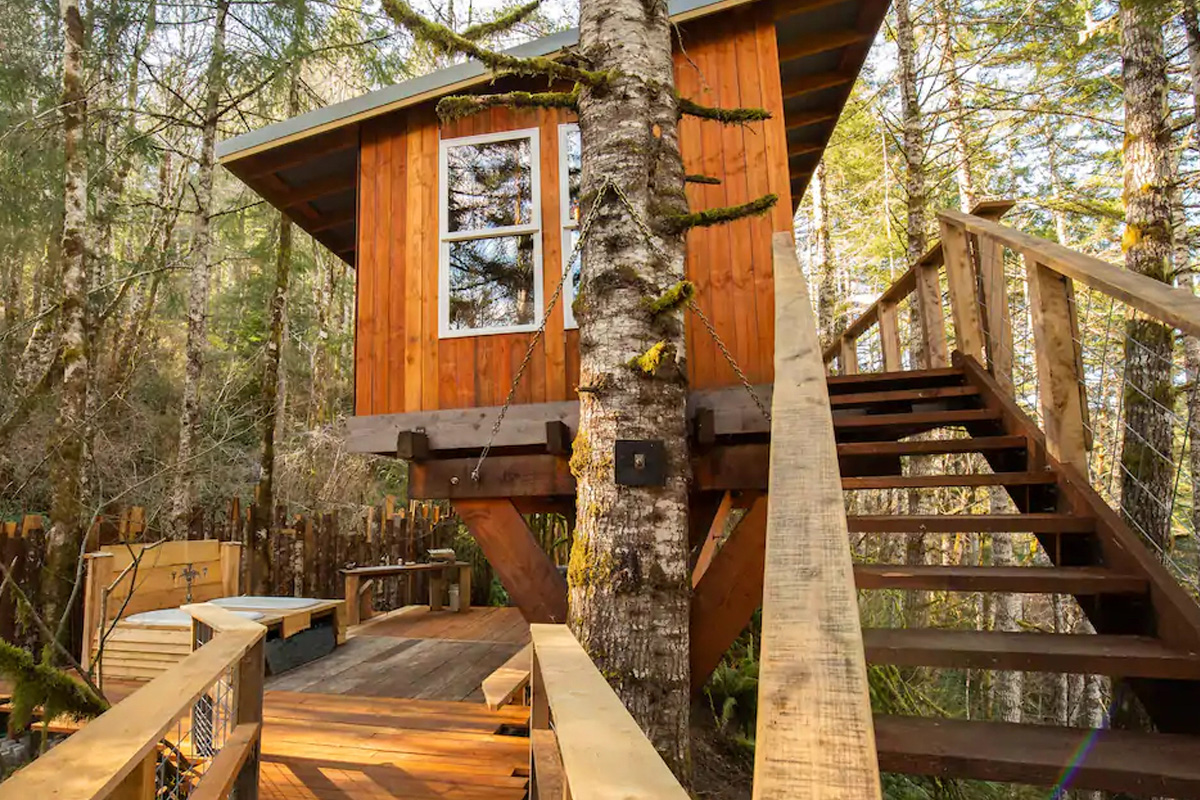 Adventurers at Heart
For a getaway that takes you to new heights, check out these treehouse stays: one near Port Orford and another near Gold Beach. Both of these stays give guests a striking new vantage point, complete with stellar views of the surrounding landscape.
For those who have a hankering for glamping, you can book a stay in an Airstream trailer at Bay Point Landing in Coos Bay, an ideal spot for water enthusiasts of all types. These iconic aluminum domes are spacious enough for four guests and are outfitted with a kitchenette, a full bathroom and high-speed Wi-Fi.
Bring the Fur Family, Too
You don't have to leave your dog at home when you visit the Coast, as most lodgings are pet-friendly. A stay at Beachfront Inn in Brookings, allows you and your pup to experience the golden sands of the pacific ocean. Enjoy being immersed in nature while you explore the Siskiyou National Forest and hike the Oregon Redwoods Trail with your four legged companion by your side.
Dog-friendly rooms are available at Castaway by the Sea in Port Orford, where you can cozy up together on your private sun porch with ocean and port panorama views.
– By Emily Gillespie
– Photos from top: Colin Morton / Eugene, Cascades & Coast; courtesy of the Heceta Lighthouse Bed & Breakfast; courtesy of the Heartland Treehouse