Filmmaker Jeremy Dunn talks superheroes, two-wheeled travel and inspiration with artist Chris McNally
Who uses paper maps anymore?
If you squint your eyes as you hold this map up, you can kind of smell fish tacos coming off the griddle and sea air rolling in. Your hands are tired and there are little flecks of bark on your right shoulder from that near miss on your early morning ride. Brush those off before you go up to the bar, or they'll start to worry about you.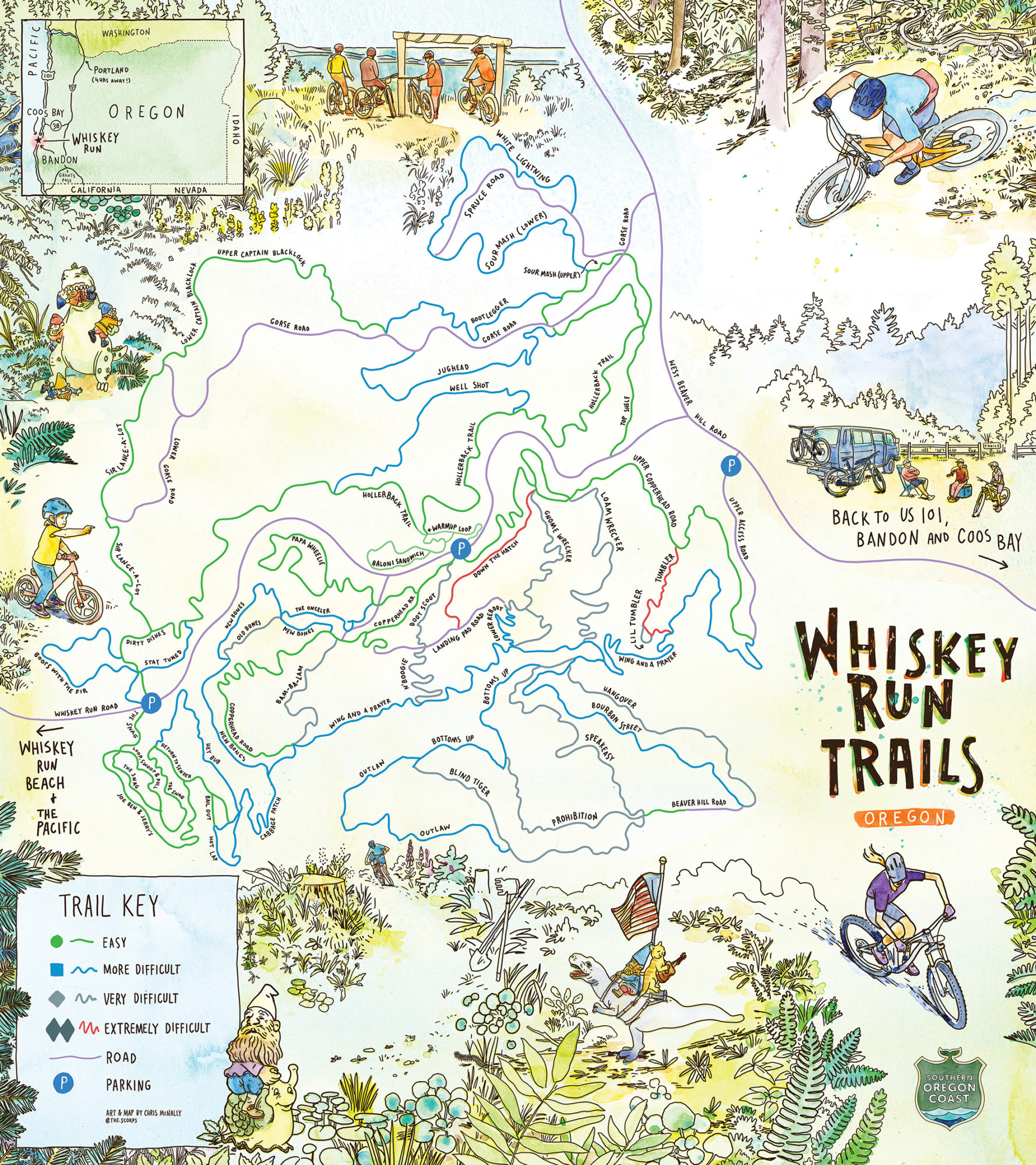 Was it Gnome Wrecker or Loam Wrecker? Always get those two trails mixed up. No worries though, because it caused you to pay a little more attention on the next run. Which was definitely Gnome Wrecker — right? With the little gnome-eating Godzilla hidden behind that giant Doug fir?
Somehow all of the above has been captured on paper — in stunning, dreamlike watercolors — for the Whiskey Run Mountain Biking Trails map created by San Francisco-based artist Chris McNally. Chris spent some time earlier this summer riding the trails, getting a feel for that loamy goodness and capturing the salty little joys of being on the Oregon Coast. Hold that thing out in front of you again — it really does feel like a day at Whiskey Run Trails.
(This is your hint to get your hands on one of these trail maps. They can be found at bike shops in Bandon and Coos Bay/North Bend — see the list here; or you can download one here.)
We spoke with Chris McNally from his studio in California about his inspirations, painting on the Oregon Coast and, of course, what bike he was riding when he visited.
JEREMY DUNN: We've seen your beautiful watercolor illustrations in the new Whiskey Run Trail map and videos we put together, but who are you? Can you give us some background on how you got into this line of work?
CHRIS MCNALLY: I'm originally from Colorado. I grew up outdoors, drawing and reading comics. My uncle always sent me comics, always weird stuff, that were pushing visual storytelling. The visual narrative really made sense to me. It's been a part of my life ever since. I studied printmaking, then illustration and design.
JD: What are some of your favorite comic books from that era when you were getting into them?
CM: My uncle gave me comic books by artists who had been in Heavy Metal magazine and other alt publications at the time. Moebius (aka Jean Giraud) was one of them. I was and still am really into Moebius. His use of line and form is mind blowing. He had these expansive, cinematic-feeling, illustrated frames. I think most of it would just flow from his imagination, too. He could tell a Western story or a sci-fi epic with the same intensity and beauty. His work is so inspiring to me.
I also loved Bernie Wrightson and Jeffery Jones's ink and line work. They had a more formal drawing and painting style, not a traditional "comic" style. Later on, they would influence folks like Kent Williams and Jon Muth whom I also was very much into.
Then there are more classic, superhero comics by Jack Kirby. He made these pages that would just flow. They had a very psychedelic rhythm to them.
JD: There seems to be a nice infusion of nature and travel in your works. Which of those two inspire you more, and how do they also fuel each other?
CM: I get so much inspiration from both travel and nature. New ways of seeing things and the world keeps me energized. One thing that always amazes me is the light in new places. I remember places by light and the vibe it casts.
JD: What's your daily/weekly art practice like? I was impressed with how fast you could go from a blank page to a pretty well fleshed-out piece. Did it take you a long time to get to where you are now?
CM: Well, I've been drawing since I was a kid, so, it's been a while. Haha.
My daily practice is business, emails and planning in the morning, a lunch lap on the bike and then drawing or painting in the afternoon. My sketchbooks are a major part of all of that. I work out ideas in them, work out colors and compositions. Sometimes I scan the art and use it in a final piece.
JD: You had a pretty robust travel kit of pens, paper, inks and watercolors. Do you have a favorite brand or pen or tool that you always work with?
CM: I do! I love Daniel Smith watercolor paint. They are made in Seattle and are the best watercolors I have ever used.
I change my sketchbooks from time to time, but always return to Aquabee and Hahnemühle sketchbooks. I like paper with medium or low texture and sketch books that are not too fancy or precious.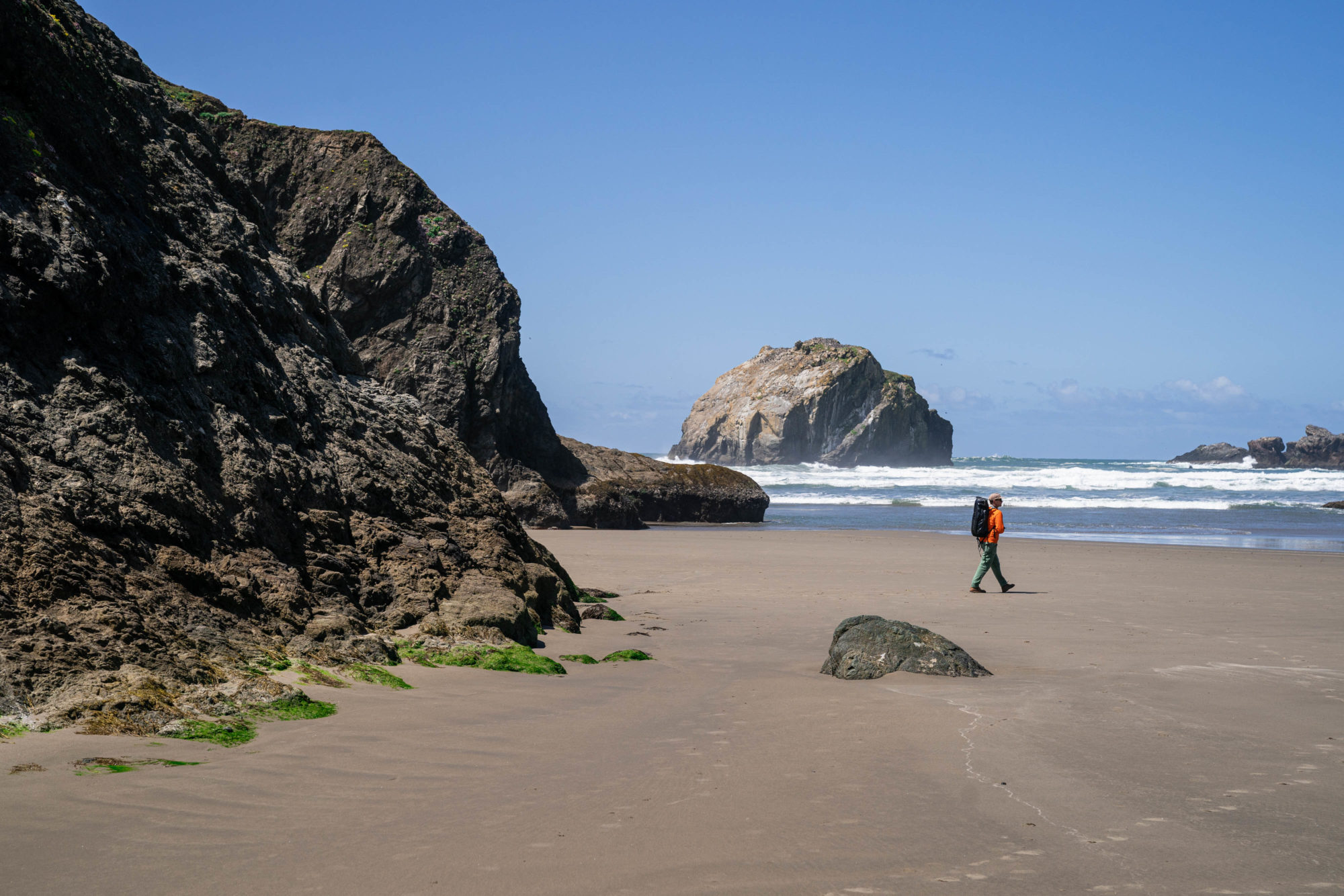 JD: This was each of ours first trip to the Southern Oregon Coast. What surprised you about the region?
CM: I was amazed by the rock formations and the coastline. They are both seriously impressive. I kept debating whether to drive up the coast or fly. I'm glad I drove. I could not get enough of the rugged coast and the rocks. It felt right up there with Big Sur.
JD: We've done a couple fun trips together here in Oregon. (Remember when we rode from Estacada to Bend! That was fun!) What should we team up and do next time we're out on the Southern Oregon Coast?
CM: Oh yeah! That trip to Bend was so fun. I would love to ride more trails on the South Coast. Also, where can we ride e-mountain bikes?
JD: At Whiskey Run! Let's talk bikes. I know you've done a lot of illustration work for the California-based brand Ibis Cycles. Which bike were you riding out at Whiskey Run?
Yes, I was on an Ibis Ripley. It's the perfect Trail 29er for those trails. It's fast but still agile. You can still flick it around. I love that bike.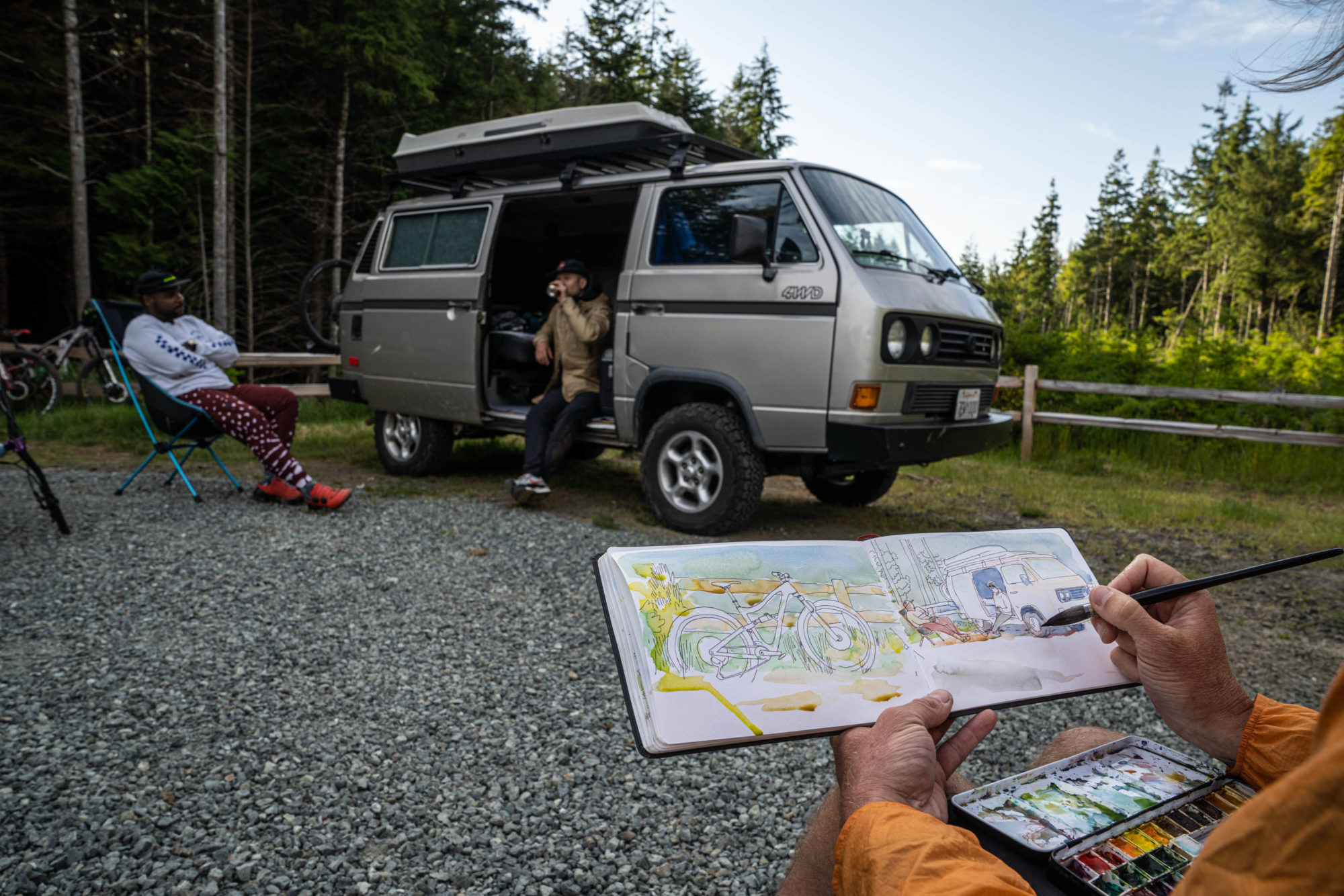 JD: Are you a part-time snake charmer? We had to get this specimen off the trail, but how did you come to feel comfortable doing that?
CM: I love snakes. We always had snakes and lizards getting into things growing up — I guess I just got used to being around them. When I was a kid, I was always catching them, checking them out and releasing them. Now I try not to handle them unless I have to. I'm sure they don't like it much.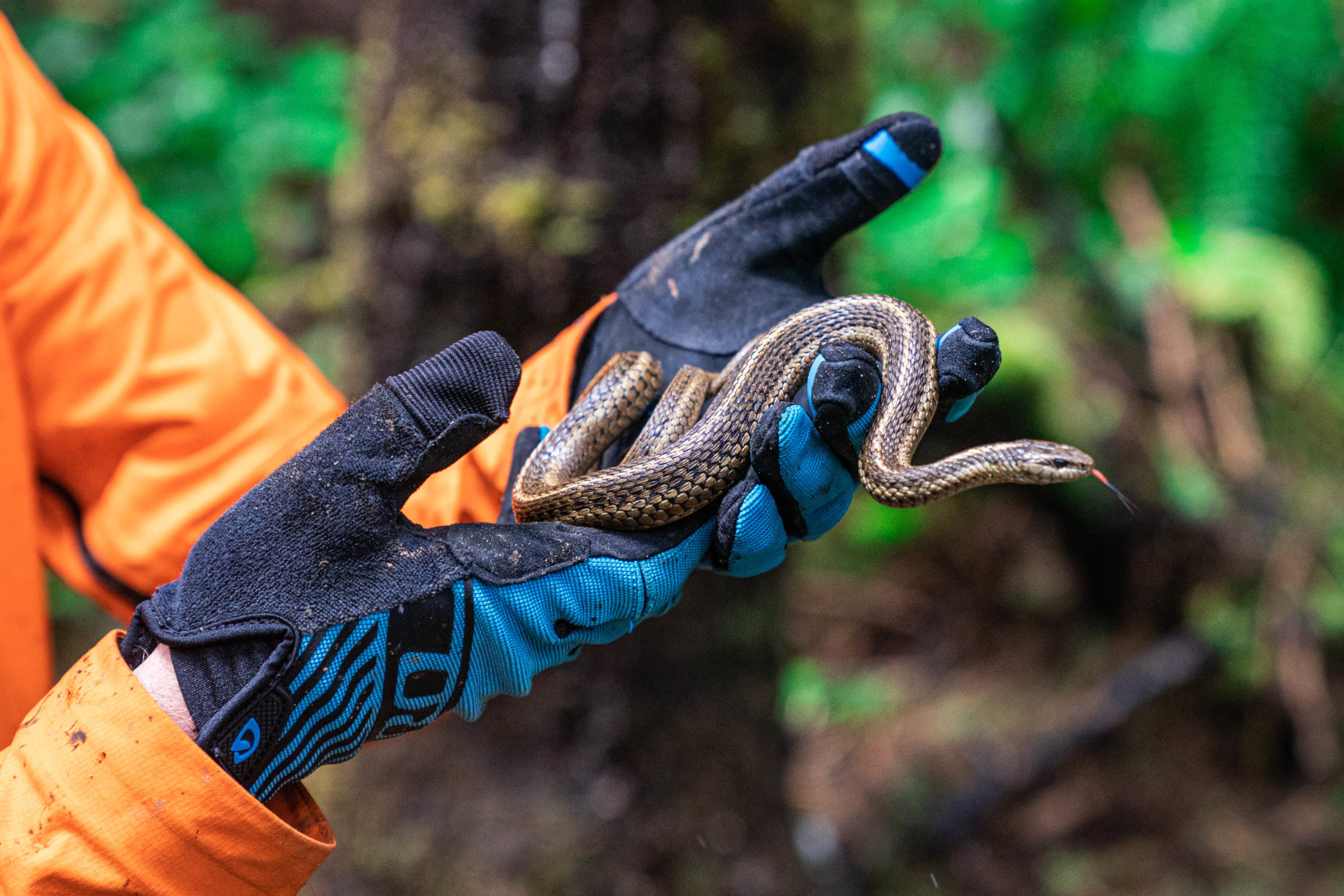 JD: Thanks Chris. Can't wait to ride with you again.
CM: Let's make it happen.
***
Watch a video of Chris shredding and painting at Whiskey Run.
Jeremy Dunn is a writer, filmmaker and all-around cyclist from Portland, Oregon. He flipped a dune buggy once at the coast, but he's not proud of it, and would humbly like to try again. Check out his Whiskey Run Trails videos for Travel Southern Oregon Coast here.
The Whiskey Run illustrated map (Chris McNally), photography (Dylan VanWeelden) and videos (Jeremy Dunn) are a project commissioned by Travel Southern Oregon Coast, whose mission is to inspire travel and highlight all the amazing experiences on Oregon's most wild and scenic coast.