Partner Story
Snack on seafood, reel in a rockfish and see elk in their natural habitat.
Between the mighty Umpqua River and the roaring Pacific Ocean, Reedsport is rooted in Oregon's wild coastal bounty. On a two-night trip, the whole family can experience deep-sea fishing, get up close to marine wildlife and sit quietly with majestic elk in the early morning. Read on to get inspired for your next great adventure on the Southern Oregon Coast.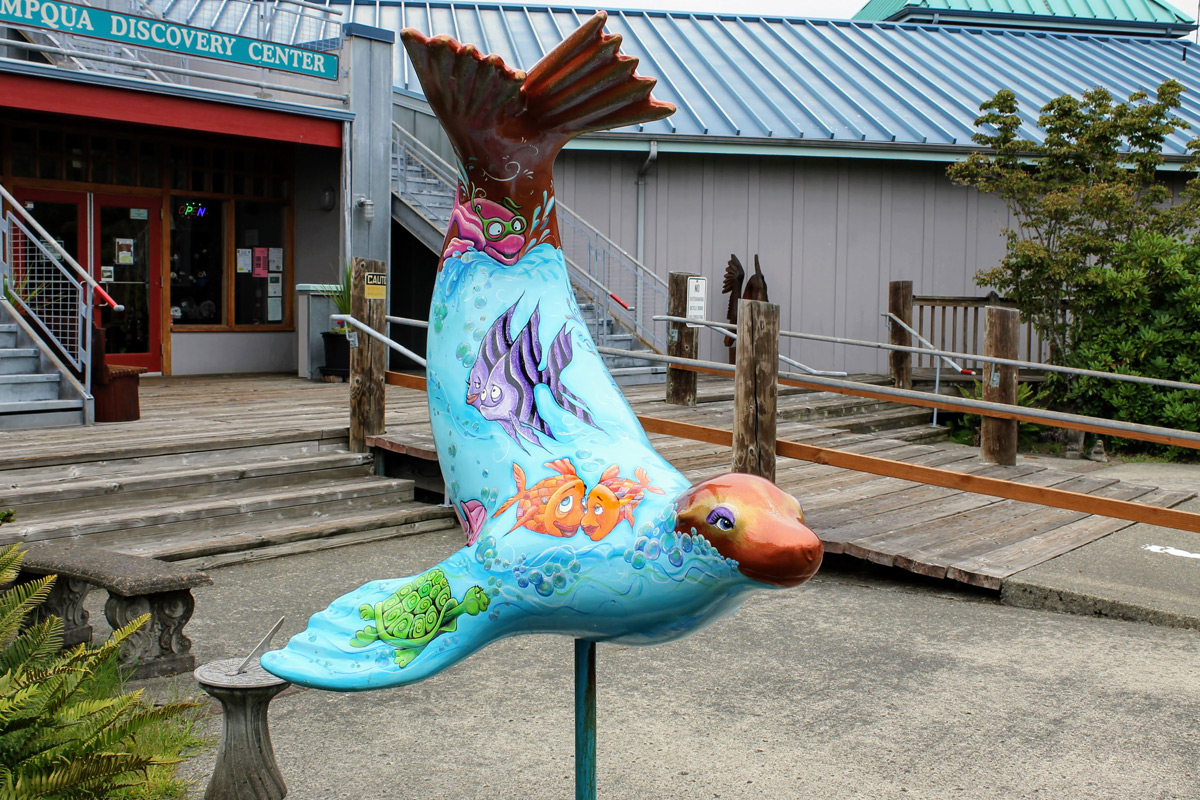 Day 1: Coastal Oregon History Comes Alive For Kids
Reedsport sits at a unique confluence of three freshwater rivers that flow from ancient, high forests into the Pacific Ocean. Begin with a stroll on Reedsport's Umpqua River boardwalk to the Umpqua Discovery Center, where kids can satisfy their curiosity about the Southern Oregon Coast. Inside the family-focused center, a long simulated-forest trail takes visitors back to witness history with stories of the area's original residents, the Kuuich. Kids can enter a bear's den through a trail slide, explore a one-room pioneer schoolhouse, visit a working weather station and peer through a 35-foot nautical periscope. Adults can enjoy the detailed murals and historical recordings. The whole family will love the views from the 20-foot lookout tower — a wide vista of the tidal lands.
For dinner, walk next door to the Schooner Inn Cafe on the Umpqua River. Tuck into tasty bay shrimp, a classic Reuben, fried clam strips or the Dungeness crab melt. Kids will appreciate the generous sides of tater tots.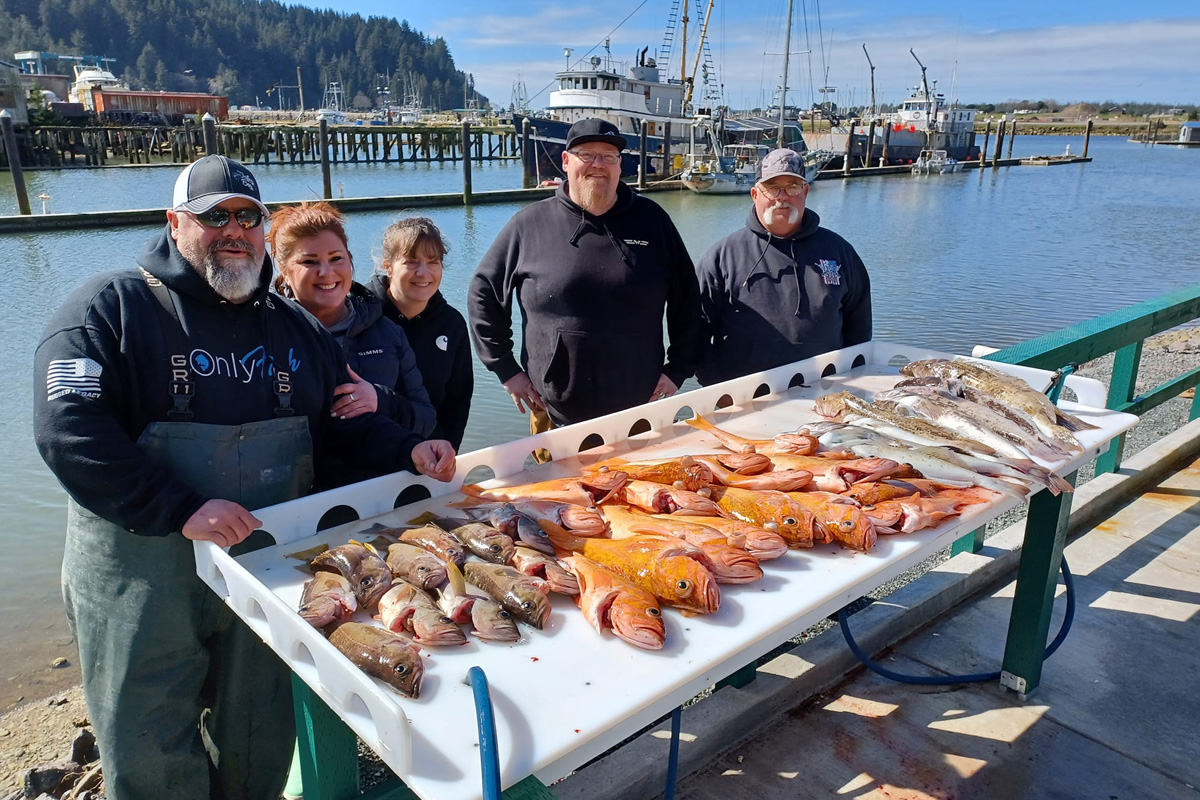 Day 2: Day Trip on a Fishing Charter
This town wakes up early for good reason. The Umpqua River is home to one of the largest recreational fishing ports in the world. Families can book a guided fishing trip for rockfish, lingcod, salmon or tuna, depending on the season. Add crab pots to any fishing trip for a double harvest.
Dustin Noffsinger, captain and owner of Rippin Drag Guide Service, is looking forward to a busy halibut season opening on May 1. Families can book his 26-foot charter boat (complete with rain shelter) for up to four passengers. Noffsinger will meet your crew before dawn on the Winchester dock and says most trips last about four hours. "Bottom fishing is great for all ages; we get kids from about age 5 on up," Noffsinger says. "We have electric reels, making it easier for kids to reel in a big fish from 350 feet deep."
Getting the family out on the Pacific Ocean is about more than just fishing. "We see whales and lots of different ocean wildlife," Noffsinger says. "Sometimes we'll even catch an octopus, and we see a lot of porpoises in the summertime."
Back on the dock, Rippin Drag's crew will filet and bag your fish. If you catch crab, bring it to the Sportsmen's Cannery & Smokehouse and let them do the dirty work of steaming and packaging. While there, grab some local canned and smoked fish and crackers, and drive 2 miles south for a picnic at the panoramic and historic Umpqua River Lighthouse.
Next head north to Bolon Island Tideways State Scenic Corridor to stretch your sea legs. Hundreds of fish-eating double-crested cormorants are the big draw for this tiny forested island. The species typically nests in remote areas, so the opportunity to observe so many is rare. The trailhead parking is immediately on the left off the bridge, and it's about a half-mile, slightly uphill hike inland to the best rookery viewing spot.
End the day with your crew at the Big Fish Cafe on the Umpqua River bank. Book reservations in advance at this regionally lauded fine-dining spot. Kids will love that the restaurant is built inside a decommissioned Coast Guard cutter with several dining tables under portholes. Parents will appreciate the spectacular surf-and-turf menu and river views. Try the huckleberry-glazed salmon or the rib eye with a side of award-winning chowder.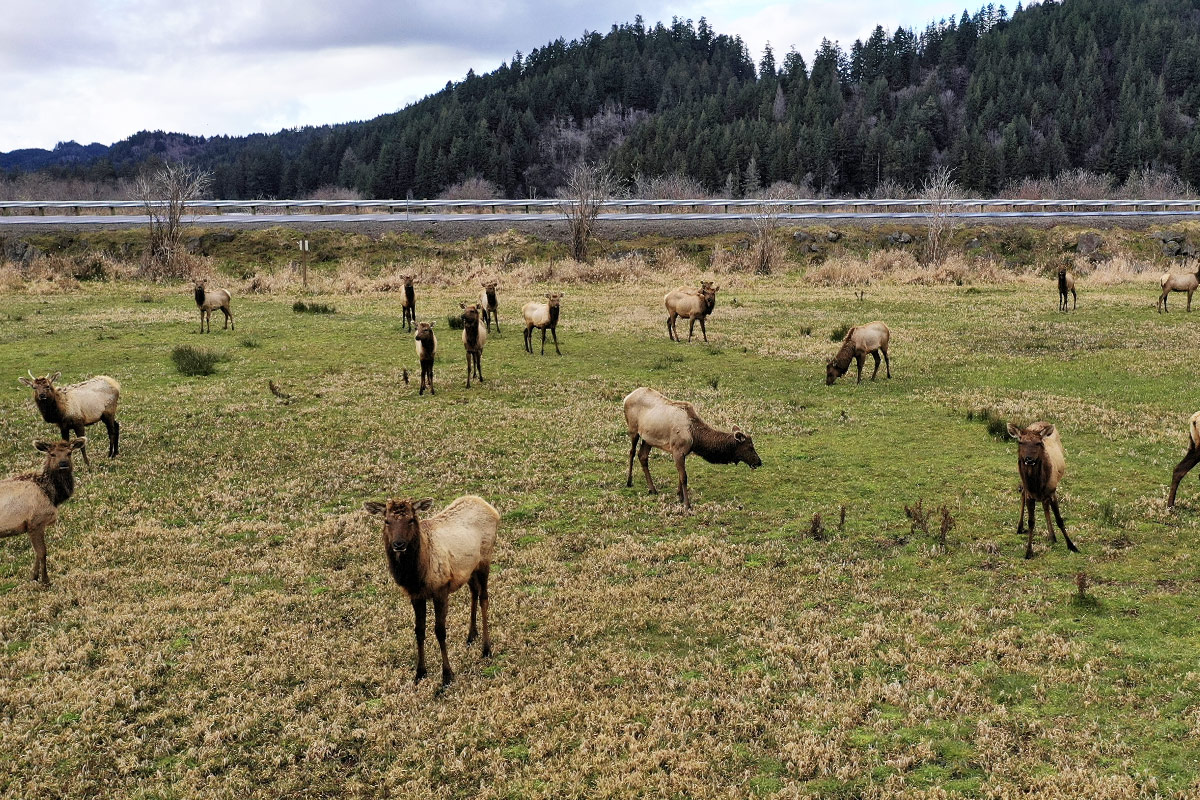 Day 3: Foggy Elk Mornings
Grab coffee and doughnuts bright and early at the Sugar Shack Bakery (opens at 6:30 a.m.), and then head to the Dean Creek Elk Viewing Area just east of town to settle in for nature's best reality show. A herd of 60 to 100 Roosevelt elk live year-round along Oregon Highway 38, and the best times to visit are early morning and just before dusk. Herds gather almost every day of the year in this spot. A main interpretive area reminds visitors that full-grown bull elk weigh over 1,000 pounds and are strong, wild animals. Keeping a distance is essential.
If You Go
Book your stay in town at the Salbasgeon Best Western (aptly named for salmon-bass-sturgeon) or upriver at the quiet riverside Umpqua River Inn and Suites. For an outdoor retreat, reserve a tent site, yurt or cabin at Umpqua Lighthouse State Park. Book all fishing charters in advance. For river-specific fishing options for salmon, bass, steelhead and sturgeon, visit Umpqua Angler.
Header image by Allison Richards