Young or old, who isn't enchanted by thousands of twinkling lights in the shape of animated orcas, leaping frogs, herons, seals and dozens of other creatures in an undersea garden?
More than 50,000 visitors flock to Oregon's South Coast each year to see the Holiday Lights at Shore Acres State Park (Nov.-Dec.) in Charleston, one of the biggest and longest-running events on the Coast. Charleston is a stone's throw from Coos Bay, about 2.5 hours southwest of Eugene along the scenic Southern Oregon Coast.
The grand tradition started in 1987, when locals Shirley and David Bridgham wanted to do something for the community they loved so dearly.
They worked with Friends of Shore Acres to string up a few lights to dazzle visitors as they explored the site, a former private estate that was purchased by the state in 1942. Today, the public park is a garden for all seasons — tulips and daffodils in the spring, roses in the summer and dahlias in the early fall — with a network of paved trails for accessible walking and a wildlife-viewing area.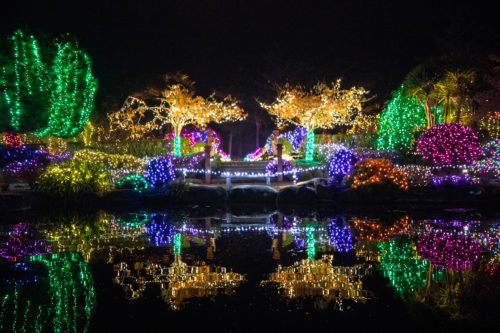 The holiday light display has grown larger and more intricate each year. Today there are more than 325,000 lights, nearly all L.E.D., which take a crew of volunteers six weeks to install.
"The lights became our passion," Bridgham says. "We have way too much fun."
About 1,500 volunteers run the well-oiled operation, including handing out hot cider, coffee, punch and cookies to add to the cheer. Local businesses and community groups sponsor the event, which has kept admission free except for the $5 state park parking fee. The display is open every evening, rain or shine, between Thanksgiving and New Year's Eve.
"Every year David and I look at the guest books and we see how much people appreciate it. We get all energized to do it again," Bridgham adds. "It's just been such a rewarding experience."
There are plenty of other don't-miss events on the Coast. Here are several more to enjoy:
September
Tens of thousands show up at this annual event to help keep Oregon's natural areas pristine each year. Volunteers gather to pick up litter at 100 sites, including 45 on the coastal beaches. It's a great way to get the whole family involved. Organize ask participants to bring their own supplies to reduce single-use items, including a bucket or reusable bag, work gloves and water bottle to keep hydrated.
Spring
More than a food and drink festival, this 10-day celebration lets visitors connect to local experiences embracing the autumn season along the southernmost 135 miles of Oregon's Coast, from Reedsport to Brookings. Sign up for dozens of guided adventures (each priced separately), such as a coffee cupping, distillery and cider tours, writer's retreat, glass art workshops, photography walk, hike and yoga experience, lake-to-table dinner, beer tasting, fermentation workshops and more.
November
Did you know the state mushroom is the Pacific Golden Chanterelle? And that it's found widely on the South Coast, if you know where and when to look? Foragers should never eat anything they cannot positively identify, but are welcome to bring their finds to the festival and ask the experts for identification help. Live demos, tastings, a showcase of more than 200 wild mushroom varieties, and guided fungi-identification hikes let you geek out in good company.
Holiday Lights at Shore Acres State Park (mentioned in opening of story); runs November-December
December
See the historic Victorian Hughes House — an 1898 ranch home made of old-growth cedar — in full holiday decor. This home of a pioneer dairy farmer stands on the north side of Cape Blanco, with views of the ocean, the Sixes River and surrounding vistas.
Nearly 20,000 gray whales migrate along the Oregon Coast between mid-December and mid-January as they travel south to warmer waters. Visit the South Coast to find excellent viewpoints and trained volunteers at Harris Beach State Park in Brookings, Cape Ferrelo viewpoint (north of Brookings), Battle Rock Park in Port Orford and Face Rock Scenic Viewpoint in Bandon.
Story by Jen Anderson
Updated September 2022
Photos by Cody Cha courtesy of Oregon's Adventure Coast