Explore rugged cliffs, rock formations and quiet beaches on a road trip.
Across the state, Oregon is no stranger to scenic drives, but there's something undeniably different about road-tripping Highway 101 along the South Coast.
Quiet beaches along dramatic cliffs with sea stacks, stretches of evergreen trees bathed in golden light and friendly faces in small towns make visitors want to stay even longer. Even the weather is different here, especially the warmer days and nights in the Brookings area and the moody fog that shrouds the cliffs around Bandon.
We've put together a guide to viewpoints, scenic stretches and more to help make the most of your adventure in this wild and glorious corner of Oregon.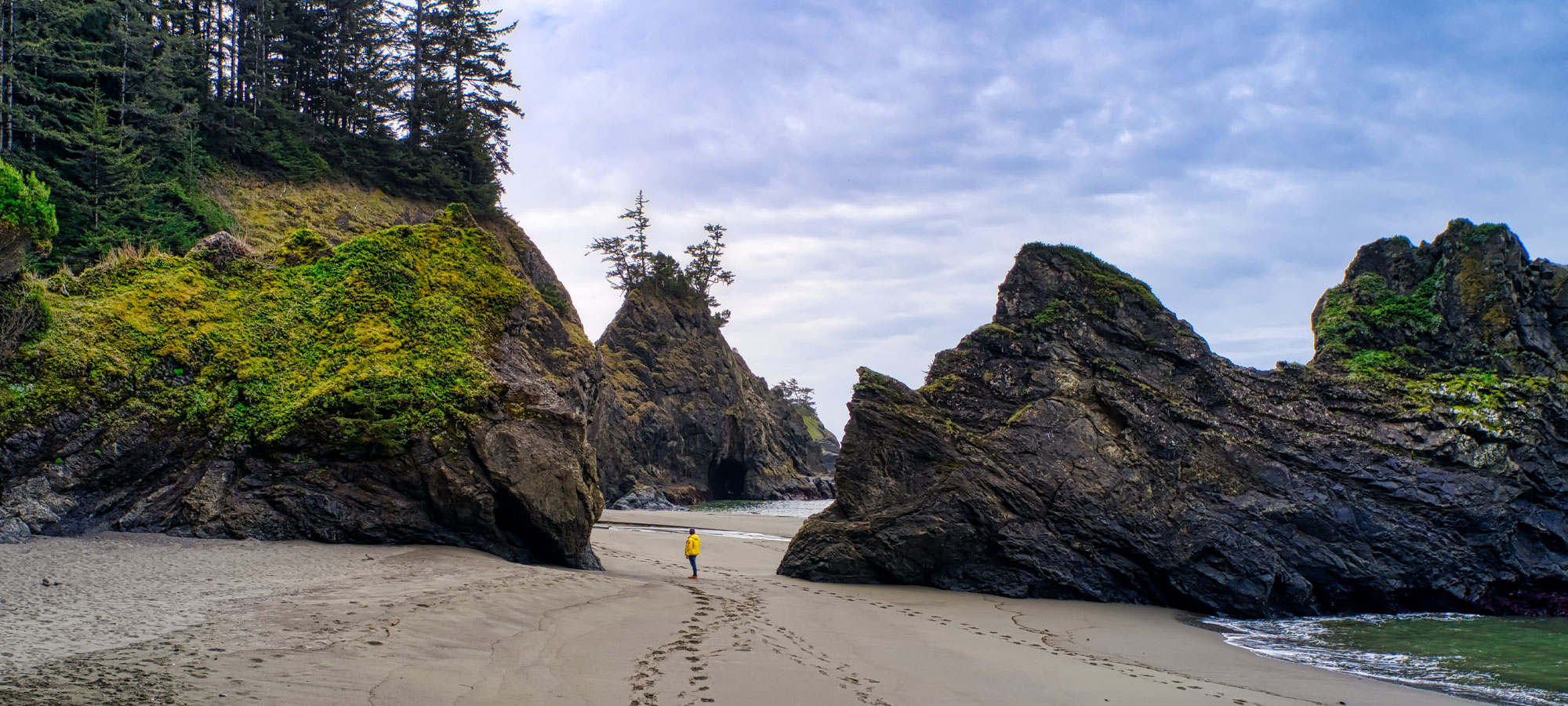 Scenic Sea Stacks and Jagged Rock Formations
All along the South Coast, ancient sea stacks and rock formations are carved into shapes that look like jagged arcs, pointy spears and even faces. Of many amazing lookout points and photo ops, a few spots stand out for particularly dramatic views.
Right outside Coos Bay, the Cape Arago Beach Loop hugs the coast while passing parks and pull-outs that afford unimpeded views out to sea. Sunset Bay State Park boasts epic sunset views where, at times throughout the year, the sun is bookended by rock formations at either edge of the bay. Farther south along the loop, winter storm-watchers occasionally spy 300-foot-high waves at Shore Acres State Park, and the Simpson Reef Overlook offers high-up views of rocky Shell Island and its namesake reef (where you might see seals and sea lions lounging about).
Some of the area's biggest rock formations, meanwhile, can be seen from Face Rock State Scenic Viewpoint and Coquille Point at the Oregon Islands National Wildlife Refuge — a pair of parks less than a mile from each other in Bandon. Both parks showcase roadside views from atop a headland, as well as short trails down to the surf.
Just north of the state line, roughly between Brookings and Gold Beach, the 12-mile Samuel H. Boardman State Scenic Corridor hugs the coastline while passing an almost overwhelming number of rock formations. Arch Rock, shaped by erosion to resemble a rugged arch, is among the region's most-photographed sites, while a short trail from the Natural Bridge parking area leads to a viewpoint of seven arch rocks and is among the most iconic views anywhere on the Coast. Other stops, such as the Whaleshead Beach viewpoint, provide easy beach access and up-close views of craggy sea stacks.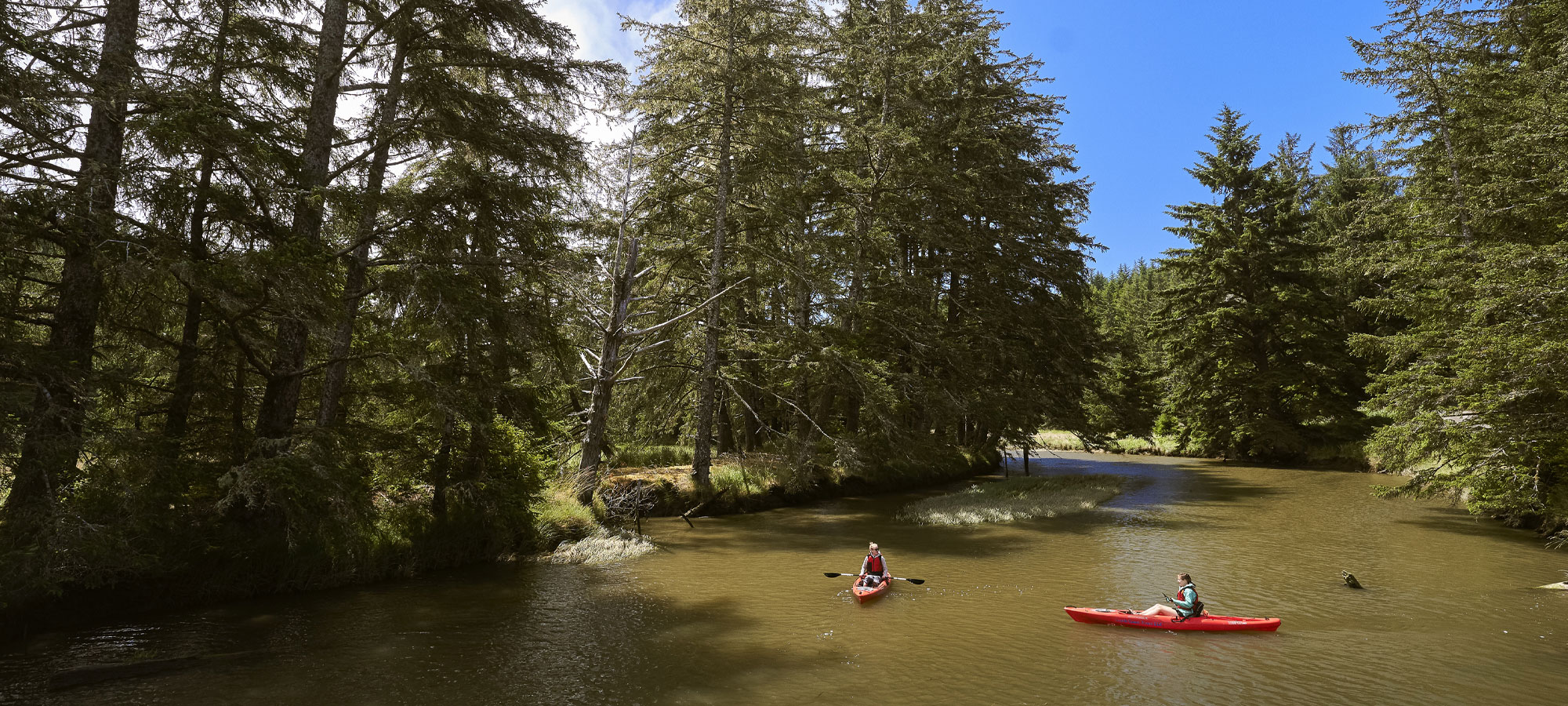 Wide Range of Outdoor Recreation
The South Coast is renowned for its incredible wealth of outdoor activities that draw visitors from all over. Mountain bikers love the expansive, 32 miles of single-track trails at Whiskey Run Mountain Bike Trail system, which offers routes for all experience levels. Whiskey Run Rentals will bring bikes and helmets right to the trailhead for you, and they also offer guided rides. Kayakers take in the views while paddling the quiet estuaries of the South Slough Reserve and windsurfers catch great breezes with a little help from Floras Lake Kite & Windsurf in Langlois.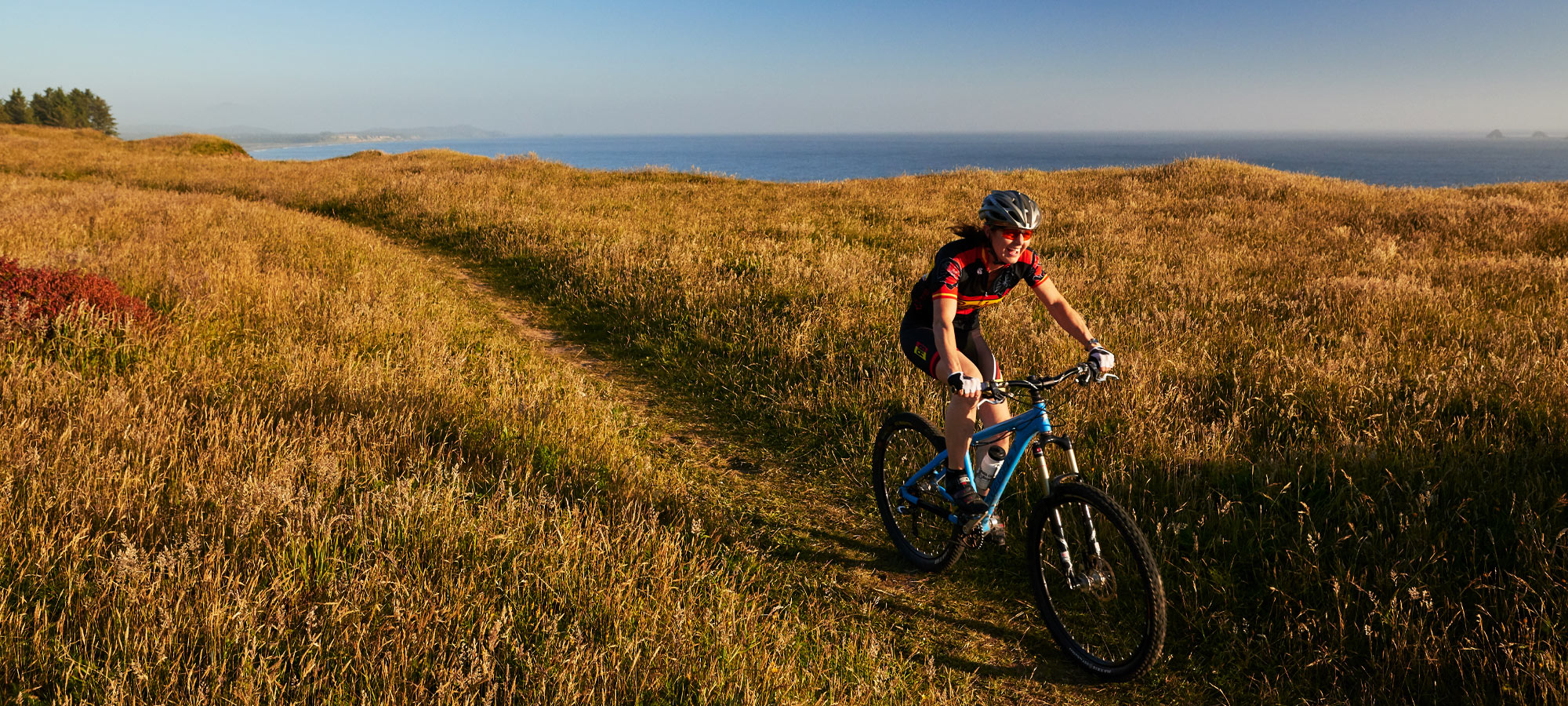 Of course, the South Coast hosts plenty of hiking trails when you need a break to stretch your legs. Weekend trekkers enjoy the 5.5-mile (round-trip) jaunt to the summit of Humbug Mountain, where south-facing ocean views beckon from atop one of the tallest headlands on the Oregon Coast. For something closer to shore, choose from among more than 8 miles of hiking trails at Cape Blanco State Park, perched on a headland at the westernmost point in Oregon. Various trails lead to the shoreline; follow the Sixes River and arrive at the base of the historic Cape Blanco Lighthouse.
Stay:
Cape Blanco State Park features peaceful camp and RV sites, walking or biking distance to Cape Blanco Lighthouse and miles of coastal trails. The Inn at Face Rock in Bandon offers roomy suites and small kitchens right across from the beach.
Eat:
Redfish in Port Orford boasts excellent, coast-inspired cuisine with terrific cocktails and views. Wildflour Public House in North Bend serves seasonal fare for both healthy eaters and those who prefer to indulge in great burgers and dessert boards. Arch Rock Brewing in Gold Beach is a family-owned brewery specializing in lager and other small batch beers. Pick up some tall boys for a picnic.
Experience:
See the Southern Oregon Coast via kayak, mountain bike or fishing boat; it's not too early to start planning for spring and summer. South Coast Tours offers all types of hands-on experiences with expert naturalist guides.
Pictured at the top: Bandon by Manuela Durson