Find whimsical sculptures, detailed murals and even chainsaw carvings in public spaces.
While there's no shortage of art galleries and museums on Oregon's South Coast, many of the region's finest works of art are out on display in public for all to see. Many of these works are found on the Oregon Coast Public Art Trail, a fantastic resource for finding public art across the region. From carvings to murals, here are a few spots on the South Coast where you'll find art where you least expect it.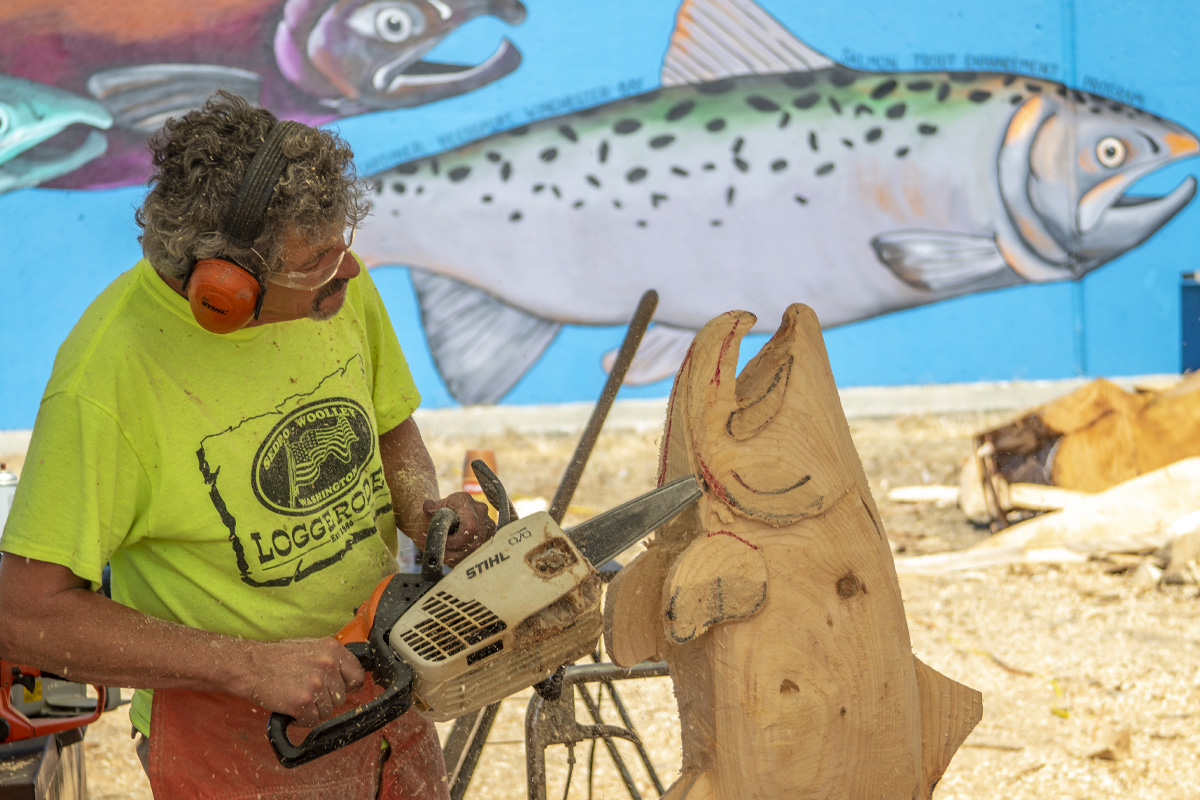 Chainsaw Art in Reedsport
Although Reedsport is best known as a gateway to the Oregon Dunes National Recreation Area, the city also has an artistic side as the West Coast capital of chainsaw carving. Expertly carved sculptures made from local Sitka spruce and western redcedar logs line its main thoroughfare. While you can see these creations throughout the year, it's worth visiting over Father's Day weekend in June to watch upwards of three dozen professional and semi-pro carvers compete at the Oregon Divisional Chainsaw Carving Championship. At the end of each day, many of the competitors' creations are auctioned off — and spectators are invited to participate in the bidding.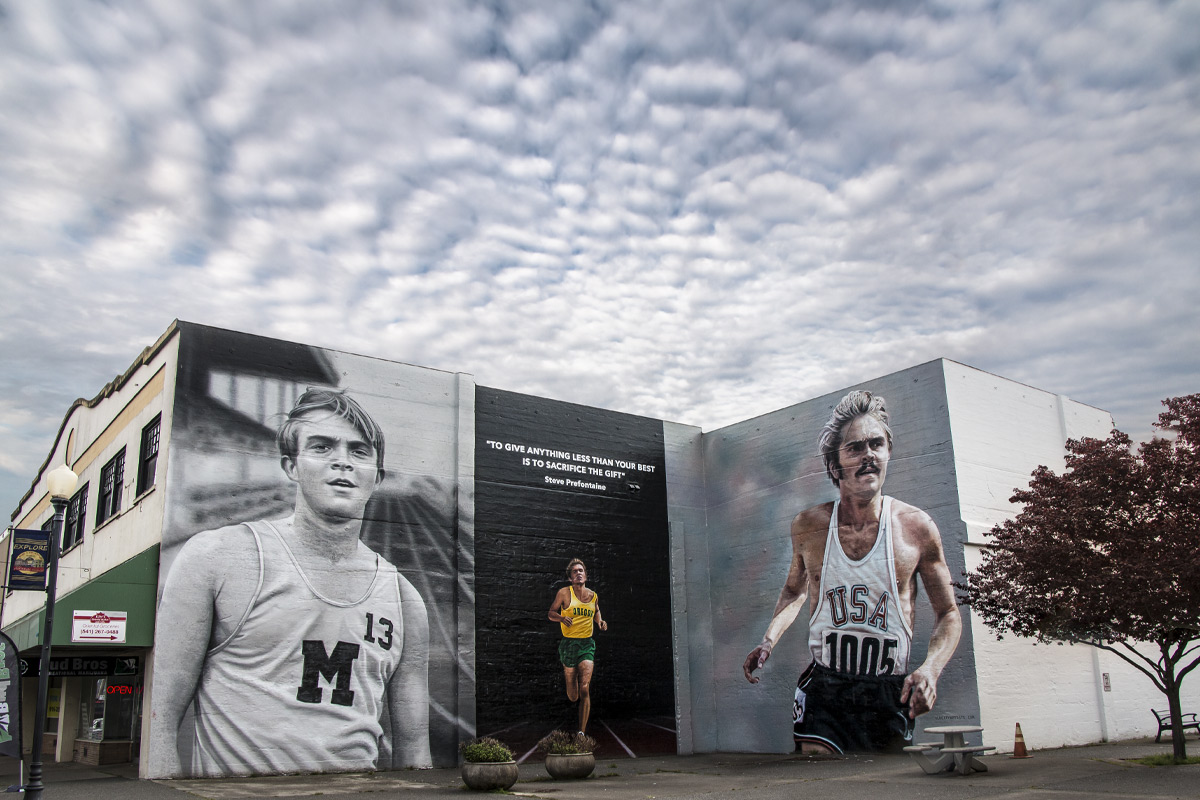 Prefontaine Murals in Coos Bay
You'll find an entire gallery of ephemera related to Steve Prefontaine — a record-breaking Olympian runner who hailed from Coos Bay — in the Coos Art Museum. But another place you may not expect to encounter Pre's memory is in a little pocket park downtown. You can't miss it on the side of a building on South Broadway Street (between Anderson and Curtis avenues). Take a selfie with this impressive mural, which shows three images from the famous athlete's life.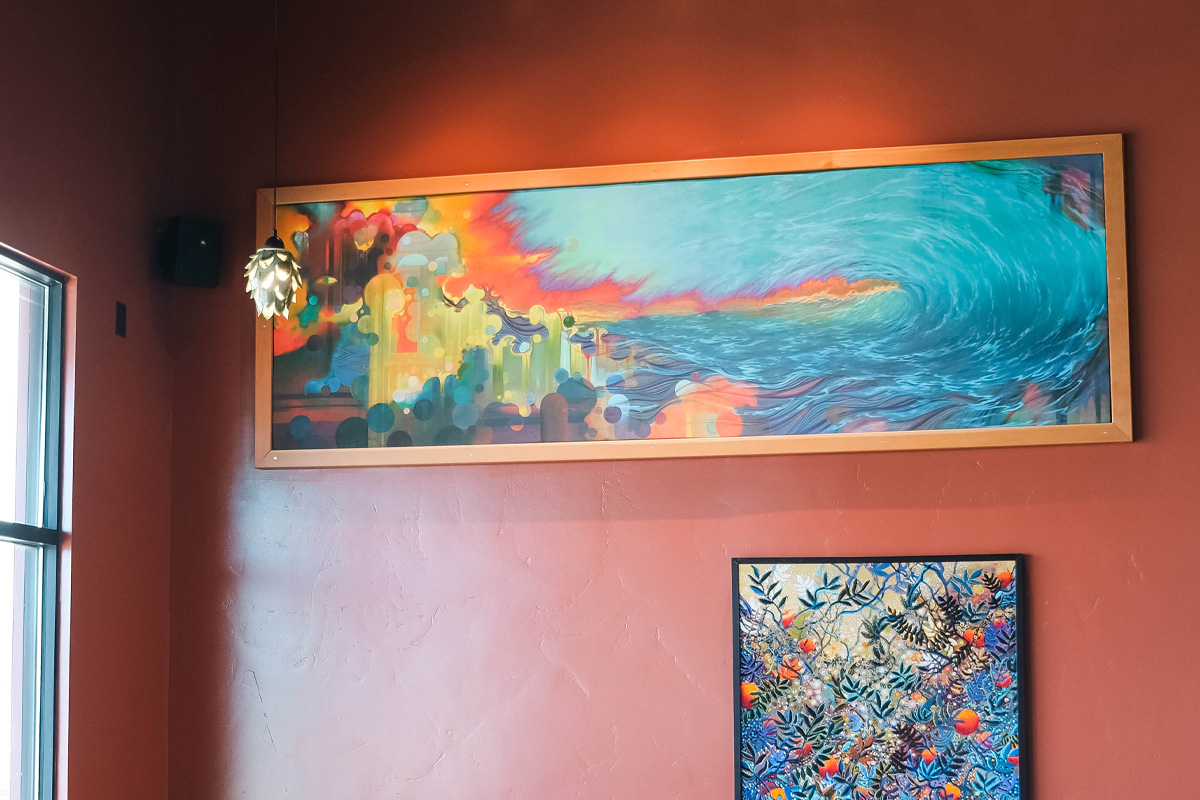 Local Art and Brews in Coos Bay
You don't have to go to an art gallery to see local art in Coos Bay — you can simply head over to 7 Devils Waterfront Ale House. All of the art at this bay-facing spot was created by Coos Bay artists. Don't miss the beautiful oceanic paintings by Spencer Reynolds, who was born and raised on the South Coast. Even the furniture found throughout the pub was crafted locally.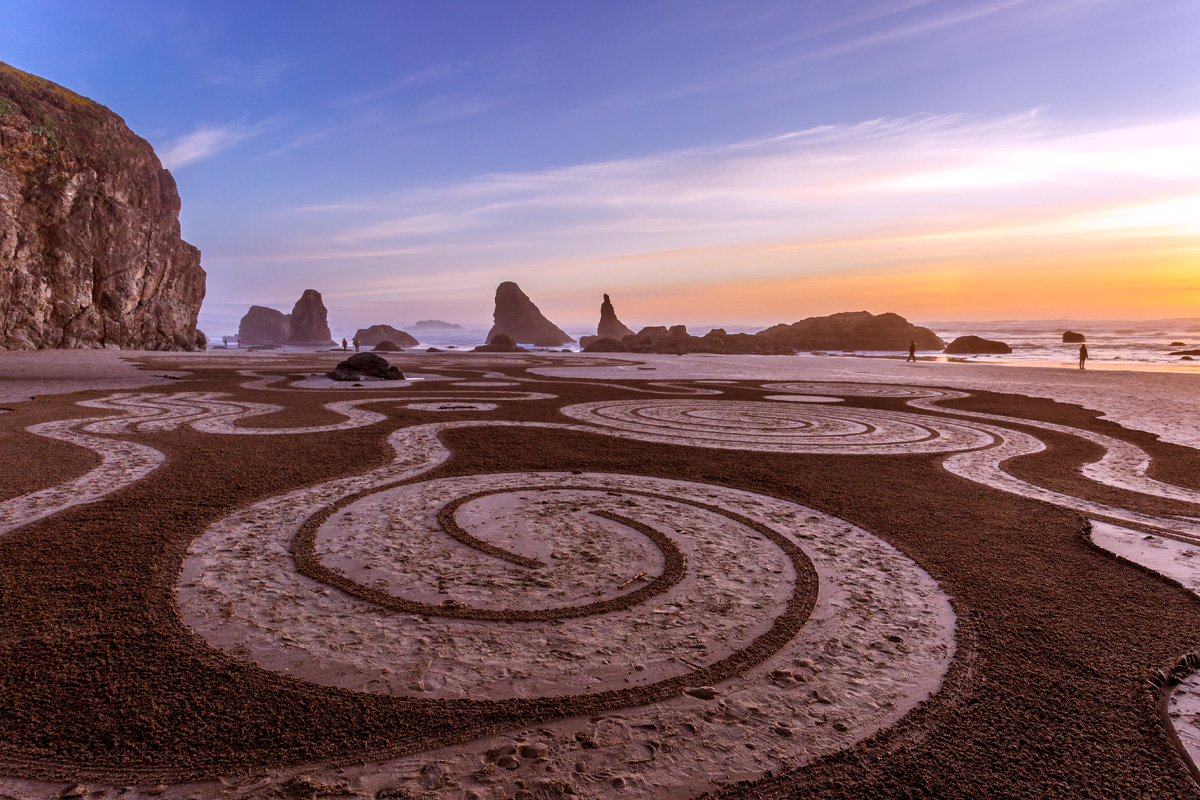 Sandy Labyrinths at Face Rock
Visit Bandon's Face Rock State Scenic Viewpoint on a spring or summer morning and you may come across a giant beach labyrinth created by artist Denny Dyke and his Circles in the Sand team. (See the website for a schedule.) These huge, intricately designed labyrinths, known as "Dreamfields" in Circles in the Sand parlance, are created when the tide is low, with enough time to spare for visitors to come and meander through their twists and turns. Eventually, the ocean creeps forth to wash the design away. The practice is designed to be meditative and peaceful.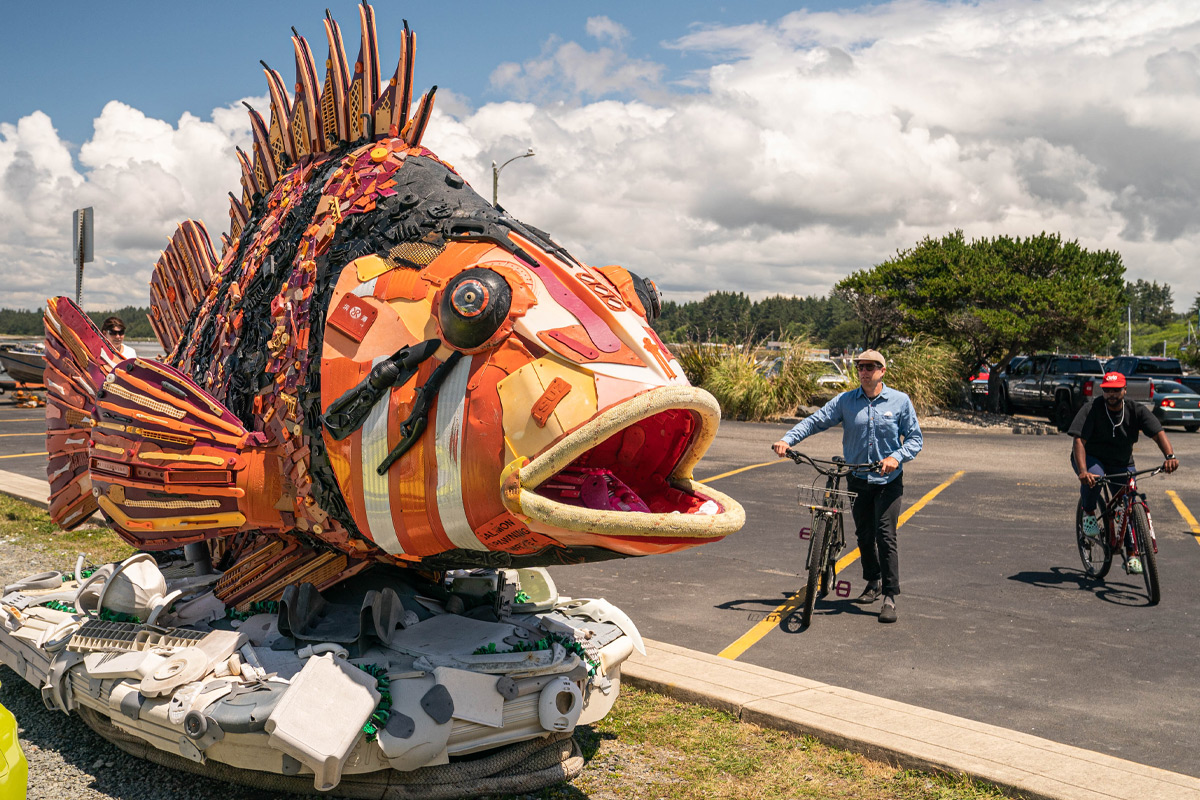 Recycled Sea Art in Bandon
If you've ever taken a stroll down Bandon's waterfront, you're probably acquainted with Finnian the Tiger Rockfish, a giant orange fish made entirely of marine debris. He's just one of many characters created by the Washed Ashore Project, which creates marine-inspired sculptures from plastic trash that's made its way onto beaches, and educates people of all ages about the importance of keeping our oceans clean. You can see more examples on display at Bandon's Old Town Marketplace, including Steve the Weedy Sea Dragon, a penguin and a ceiling full of jellyfish. Next year Finnian will be housed in a new landscape on-site, complete with an undersea setting and opportunities to learn more about seaweed and its habitat. There is also Cosmo the Tufted Puffin at Coquille Point.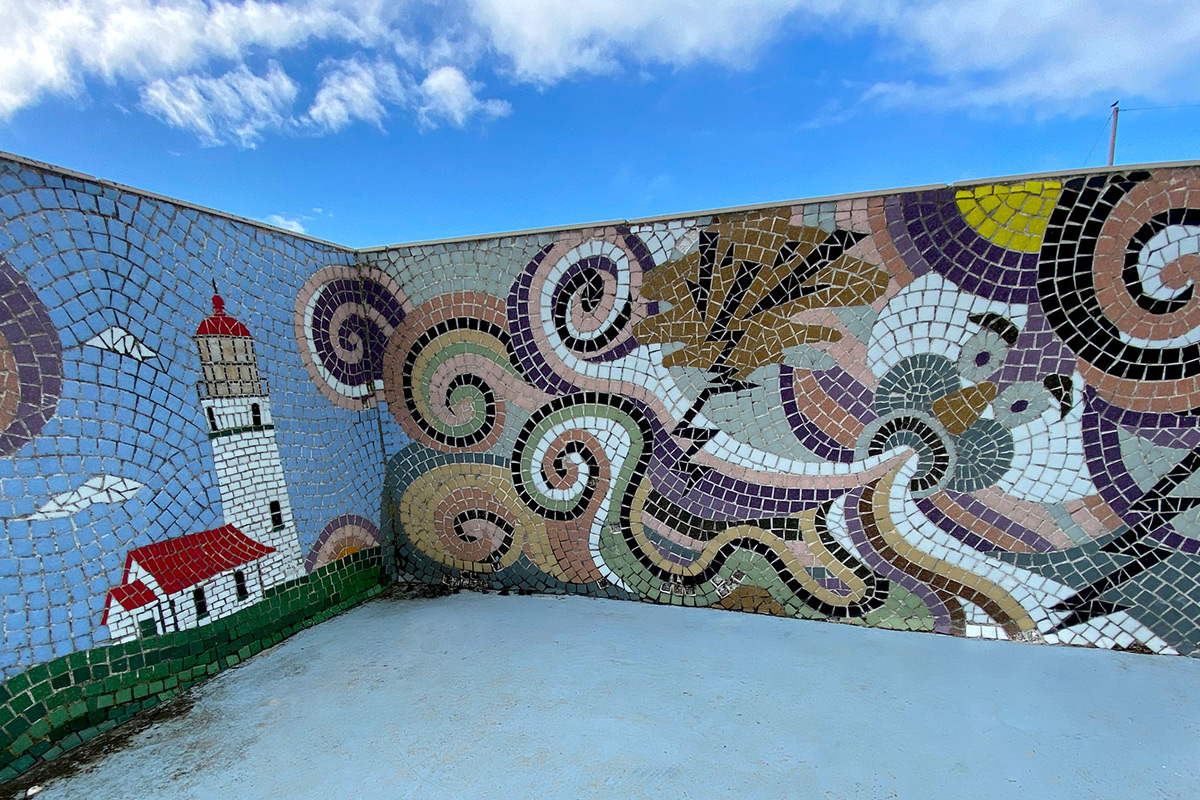 Port Orford Viewpoint Mosaic
Known as the oldest and westernmost town site on the Oregon Coast, Port Orford also happens to be one of the most colorful, thanks to its beautiful murals, many with nautical themes. One of the coolest public-art pieces in town is the Tile Mosaic Overlook — located on the Oregon Coast Public Art Trail — which rests at the Port Orford Overlook at Fifth and Tichenor streets. Stretching across a section of sea wall atop a hill that looks out over the Port of Port Orford and the Pacific Ocean, this intricately designed mosaic by artist Cheryl Morse depicts waves, fish and even an octopus. There's also a depiction of nearby Cape Blanco Lighthouse, the state's oldest continuously operating lighthouse and the first to have a woman keeper.
Top photo: Washed Ashore by Dylan Van Weelden