Experience the Power and Beauty of Coastal Storms on the Southern Oregon Coast
Coastal storms are truly fascinating! In winter, the Southern Oregon Coast becomes a magnet for visitors eager to witness the aggressive power of nature. The relentless forces of high winds, massive waves, and torrential rain create a spectacle like no other, drawing people to the shoreline. If you time it right, you might also experience the grandeur of a king tide. Discover the interesting factors behind these towering swells and mighty king tides, and learn how to observe them safely.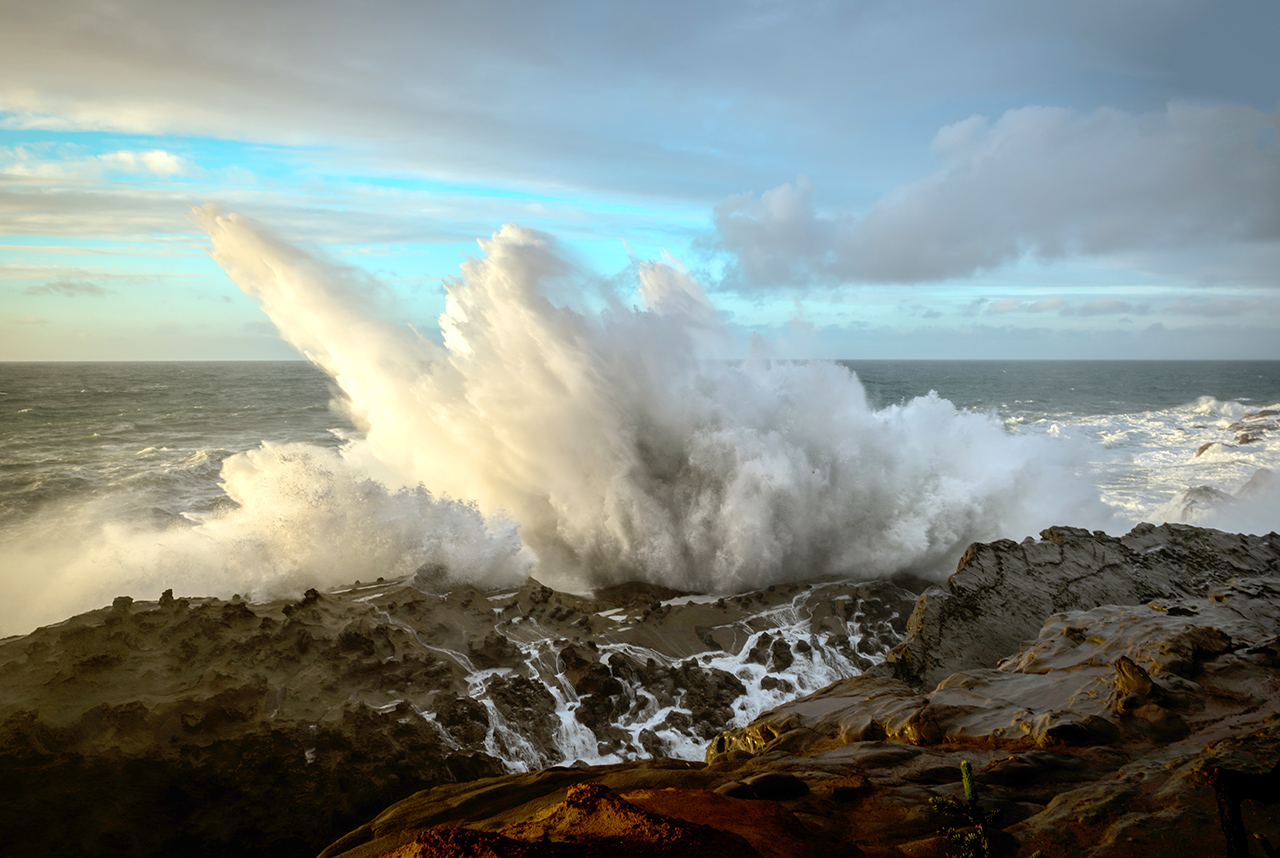 Mother Nature on Full Display
On the Oregon Coast, winter storm watching is an annual event that occurs during fall and winter. When Pacific storms rage, ocean swells frequently result in a spirited show as they collide with the rugged cliffs along our coastline.
Swells can occur whenever the surf is high and can be extremely pronounced during stormy days. On average, winter swells on the South Coast reach about 30 feet, but there have been record-breaking swells that loomed several times higher. When these ocean swells collide with sea stacks and cliffs, they create substantial waves that soar high into the air. These huge waves smashing against the rocks can reach astonishing heights, estimated to be as tall as 320 feet.
Accompanying the waves is a resounding boom that reverberates through the atmosphere, while the earth trembles beneath the feet of onlookers. This tumultuous performance undeniably epitomizes the unbridled might of Mother Nature herself.
Dissecting an Ocean Swell
Ocean swells are long, rolling waves that move gracefully across the vast sea. Storm systems such as hurricanes, typhoons, or extratropical cyclones often produce swells. These intense weather systems can generate strong and sustained winds over a large expanse of water, leading to swell formation.
Swells are formed when the wind creates friction and transfers kinetic energy to the water. Over time and distance, sustained wind strength and duration build up a significant amount of energy under the ocean's surface. As the accumulated energy spreads outward, the waves organize into a more uniform pattern, resulting in the deeper, undulating waves known as swells.
As swells approach shallower water near the coast, they undergo a fascinating process known as "shoaling." This phenomenon causes the swells to rise in height and become more prominent, resulting in their noticeable presence near land. The behavior of swells can also be influenced by features near the shore, underwater topography, and ocean currents. These factors contribute to the unique appeal of the Oregon Coast for storm watching.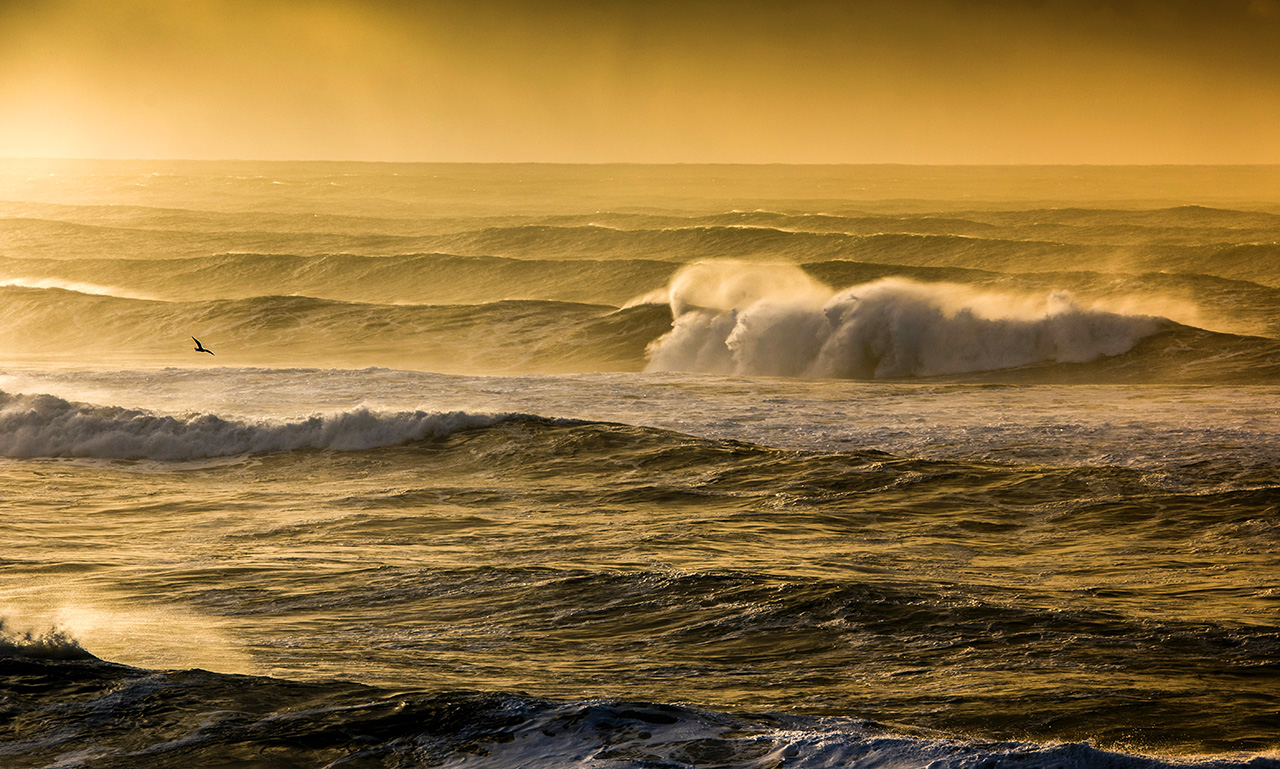 The Imperial Might of King Tides
In addition to the blustery conditions and surging swells, November through February bring about unusually high tidal swings known as "king tides." Although not a scientific term, king tide is commonly used by coastal communities to describe the highest tides of the year.
During these fall and winter months, a more pronounced tidal effect results from the alignment of celestial bodies, coupled with the Earth's closer proximity to the Sun. Also known as perigean spring tides, when the Moon is closest to the Earth, these tidal events are not influenced by specific weather conditions or storms but are rather a naturally recurring phenomenon. When king tides coincide with storms and swells, the conditions for storm watching are at their best.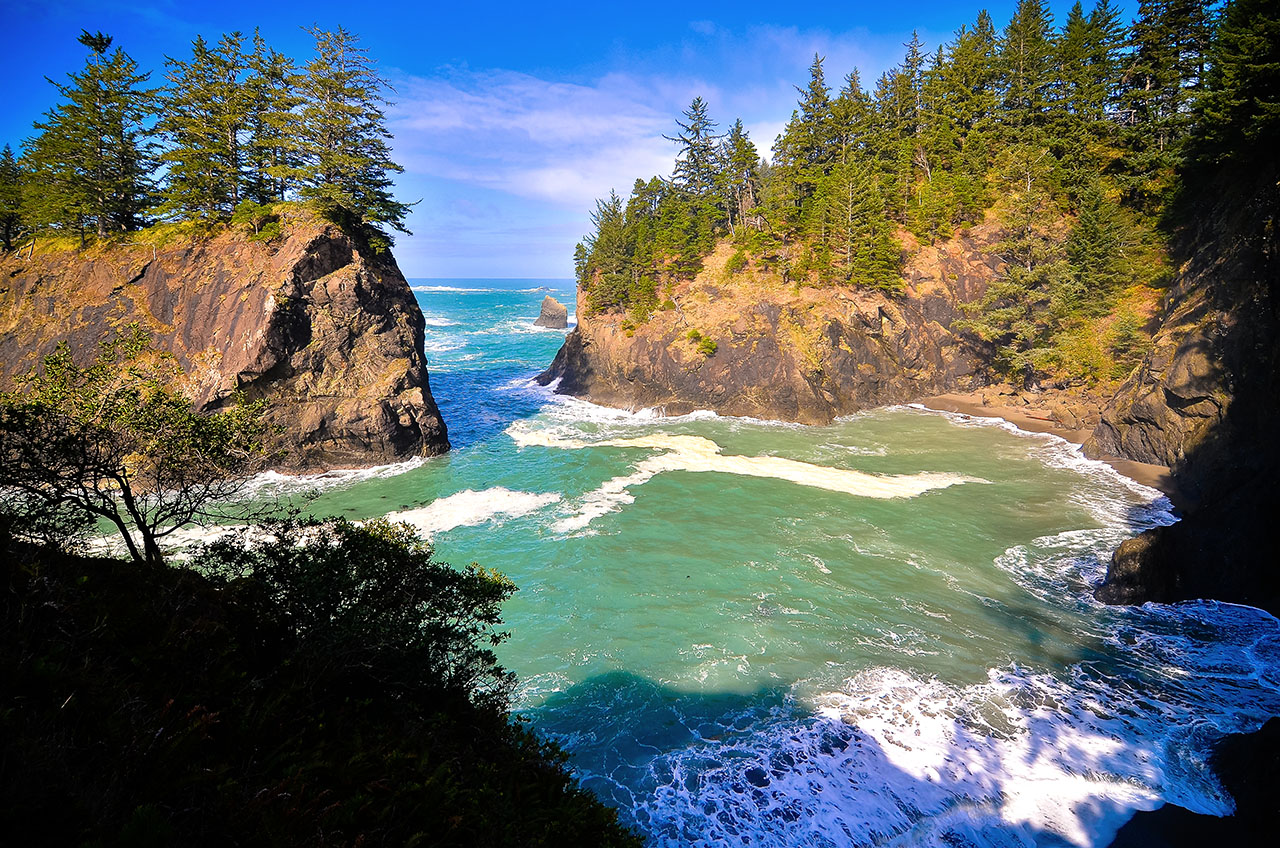 Be Aware & Be Safe
Winter storms and king tides are absolutely mesmerizing to witness, but it's important to approach them with caution and respect to ensure everyone's safety. While it's tempting to get up close and personal with these natural phenomena, it's crucial to keep in mind that they can quickly become dangerous if you don't take proper care. The best advice is to find a high vantage point away from the shoreline. Not only will you be safe, but you'll also lay claim to an incredible view of an amazing performance.
Some Safety Tips to Keep in Mind
If you do venture closer to the water (although we strongly advise against it), stay aware of your surroundings, never turn your back on the ocean, and be cautious of sneaker waves, which are disproportionately large waves that surge unexpectedly high up the beach. Always maintain a safe distance from the surf zone, as the water level can rise quickly and without warning.
When exploring coastal areas, stick to designated paths and viewing areas, and avoid venturing onto rocks, unstable cliffs, and jetties. Do not walk on logs or other debris along the coast, as they can be unstable and easily moved by the force of the water. Always adhere to warning signs and barricades. People have been trapped on temporary islands or in coves due to rising water or unexpected waves. Plan out an escape route, and stay close to it.
Mind the Kids & Furry Friends
Observing winter storms can be an exciting experience for children if they follow safety guidelines and view the storms from designated areas. When you have little ones with you, it's sensible to avoid wandering the beaches or exploring hiking spots near the water during king tides or winter storms.
And, although the Southern Oregon Coast is very pet-friendly and welcomes well-behaved four-legged companions, it's advisable to refrain from bringing them to storm watch. While you may enjoy the magnificent waves slamming doggedly into the rocks, these storms could potentially frighten your furry friends, who may not share your same appreciation of the sights and sounds.
Storm Watching on the Beautiful Southern Oregon Coast
It is worth noting that the weather along the Southern Oregon Coast is spectacular, dramatic, and unpredictable. This stunning coastline is known to experience powerful storms that sometimes last for days. During these storms, and particularly during king tides, the days before and after can offer captivating displays of strength and beauty.
But storm watching does not necessarily entail bracing oneself against 60 MPH winds while wearing a yellow mackintosh. In fact, colossal waves generated by distant swells can arrive before the actual storm, creating a scene where the sun shines and a gentle breeze accompanies the thunderous crash of the surf striking against headlands, capes, and jetties.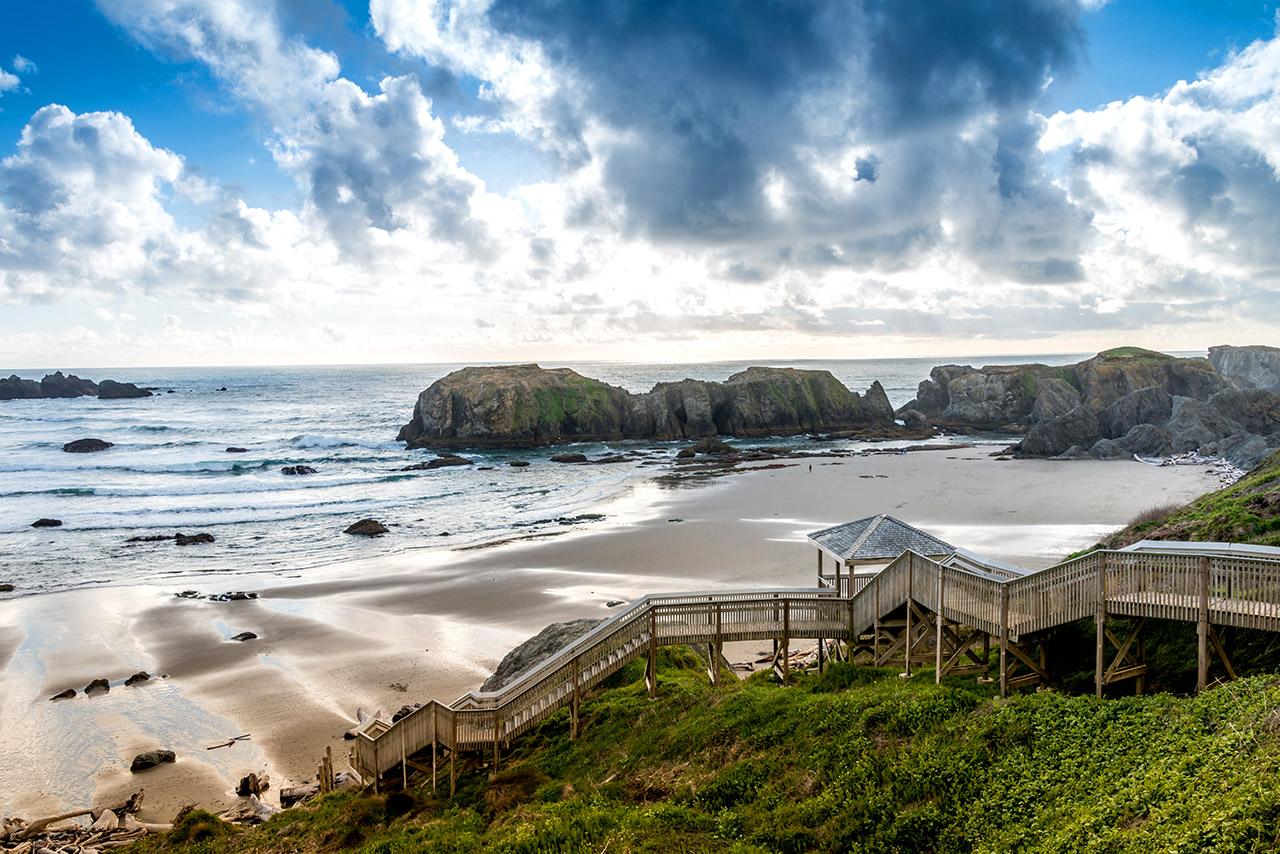 Where to Watch
Famed for its rugged coastline and awe-inspiring landscapes, the Southern Oregon Coast offers storm-watching enthusiasts a multitude of views to enjoy nature's tempestuous displays.
Travel to the Coos Bay/North Bend/Charleston area and you'll quickly learn why locals call this time of year "storm-watching season." Located here is Shore Acres State Park, widely recognized as the prime storm-watching destination on the entire Oregon Coast. The park features a dedicated storm-watching area on an 80-foot sandstone cliff with a cozy whale-watching building for warmth and shelter. Visit during a storm and you'll enjoy a perspective that allows for a safe yet extraordinary view of the astounding waves.
In Bandon, seeing the king tides roll into the Coquille River and past the lighthouse can take your breath away, especially during a storm. Along the scenic Beach Loop Drive, you'll discover numerous rocky bluffs that invite you to pause and take in your surroundings. Notably, the iconic sea stacks at Coquille Point and Face Rock State Scenic Viewpoint provide a dramatic backdrop during raging weather.
Outside Port Orford, the bluff near Cape Blanco Lighthouse in Cape Blanco State Park offers an unrivaled vantage point to witness the lofty storms that sweep in from the Pacific. In town, Battle Rock State Park boasts a truly magnificent view, where one can stand in awe at the sight of waves smacking against the formidable rock the park was named after. For those with an adventurous spirit, the Port Orford Heads Trail leads to the headlands where an amazing panorama of the storm over the Pacific awaits.
Gold Beach offers a plethora of overlooks, viewpoints, and state parks in and around town where you can take in the storm. One particularly awe-inspiring spot during inclement weather is on the jetty located north of town at the mouth of the Rogue River. Venture south of town and you'll discover the Cape Sebastian State Scenic Corridor, revealing a stretch of coastline with panoramic vistas of the ocean. Don't miss the Cape Sebastian overlook. It's the perfect place to experience the vigor of nature during a storm.
Harris Beach State Recreation Area in Brookings offers an unparalleled opportunity to witness nature's fury. Head north of town and discover the wonders of Samuel H. Boardman State Scenic Corridor, including the majestic Natural Bridges, the imposing Arch Rock, the enchanting Thunder Rock Cove, and the pristine Whaleshead Beach. These locales, adorned with colossal sea stacks, grant a thrilling production as crashing waves amplify the allure of a stormy day.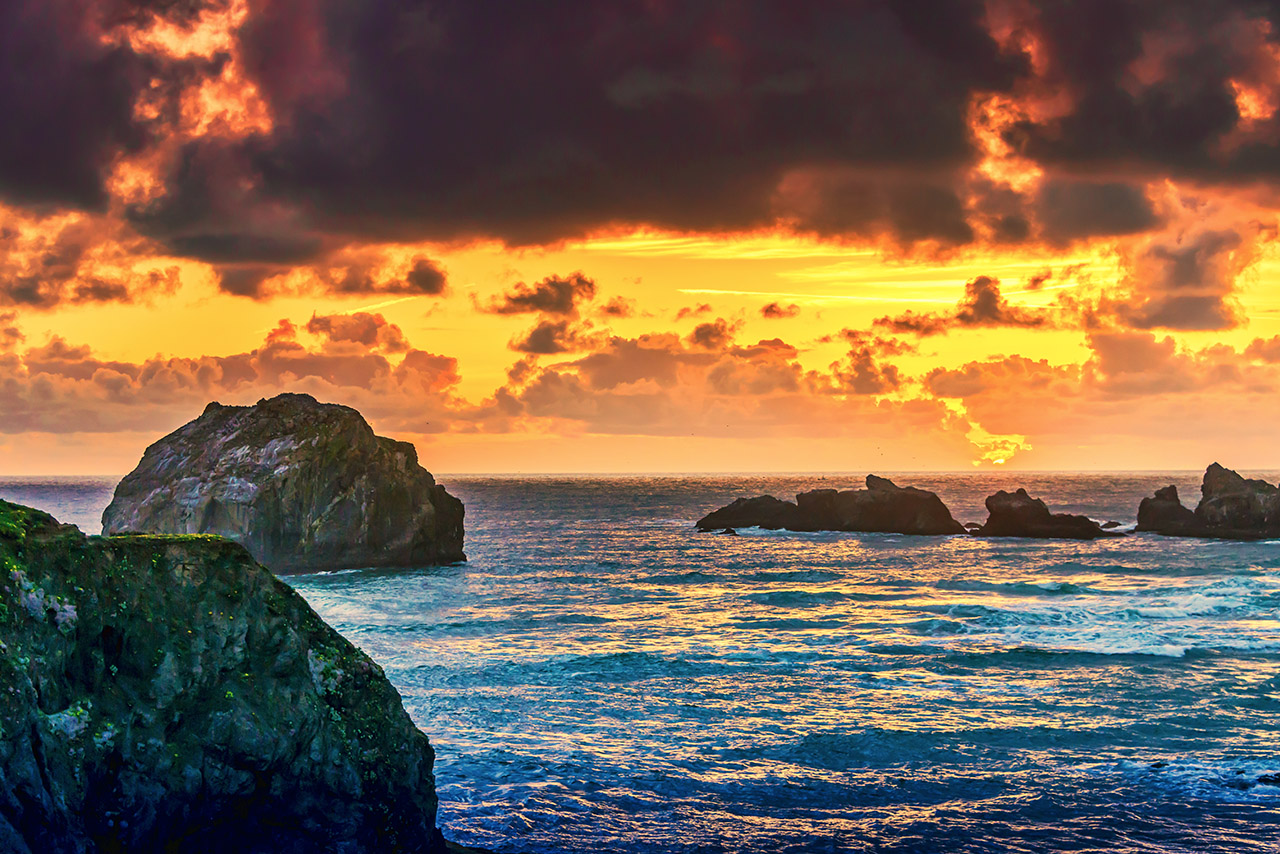 What to Bring
If you do find yourself inclined to venture out and witness a storm or its aftermath, you won't be disappointed. Keep these helpful hints in mind:
Pack high-quality rain gear to keep yourself and your loved ones dry. Opt for lightweight, windproof, and waterproof jackets, as well as waterproof boots. We're talking about the Oregon coast during heavy waves, so expect it to get a bit soggy. And yes, you may get wet!
Don't forget to dress for changing temperatures. Along with your trusty rain gear, layer up with warm clothing and don't forget a hat and gloves. Stay comfortable and be prepared for any weather.
Bring along a pair of binoculars to enhance your wave viewing. And, don't forget your waterproof camera. You'll want to capture those unforgettable moments with envy-inducing pics or videos.
If you're not familiar with the area, it's a good idea to bring a printed map. Keep in mind that there's limited to no cell phone coverage at the parks, so having a physical map could come in handy.
Be in the moment. Complete your research in advance and wait to share your experience on social media from the comfort of your hotel room. You don't want to miss a thing while you're out in the storm.
Where to Find & Track the Storms
The optimal conditions for prime storm-watching typically occur between November and March. However, these wild fall and winter storms are orchestrated solely by Mother Nature herself, leaving us with the task of monitoring the weather closely. Look for forecasts of potent winds and waves, then pack your bags when swells of 20-30 feet are predicted. For those inclined towards planning, it may be worthwhile to consider a trip during the king tides. Stay connected with the Oregon King Tides Project for dates.
Keep updated on weather conditions by visiting reputable weather sites such as the National Weather Service, AccuWeather, and Northwest Weather Network. Check tide tables on the National Oceanic and Atmospheric Administration (NOAA) website. For insider tips, consider following Oregon's Adventure Coast Facebook page, which provides high surf alerts and valuable storm-watching information.
After the Storm, More to Explore
Although winter brings tremendous storms to the Southern Oregon Coast, the region boasts a remarkably mild climate that invites outdoor activities throughout the year. It is not uncommon to experience a powerful wind or rainstorm followed by a sequence of warm, luminous, and sunny days, with radiant blue skies chasing the clouds away. (We did mention the weather can be unpredictable.)
Hence, after the storm passes, don't go away. Even in winter, there's an abundance of activities to enjoy. Beachcombing is superb as the turbulent seas wash ashore a myriad of beguiling discoveries. With hiking, biking, horseback riding, fishing, crabbing, and more to explore, there's something for everyone. And don't forget the whales! During winter, an astonishing 22,000 whales migrate down to Mexico, while resident gray whales can be spotted along the coast throughout the year.
If you don't like the weather, there's always the option to watch the whales or enjoy the pageantry of a winter storm from the comfort of your hotel room or vehicle. Plus, there's no shortage of indoor activities to enjoy. From the snug setting of a lake, river, or ocean-front room, you can snuggle up by the fire, unwind in a hot tub, dive into a good book, savor a piping-hot cup of coffee, or simply relax with a glass of wine. When you do decide to venture out, treat yourself to some fresh Dungeness crab and other delectable dishes at local eateries. Be sure to meander through the numerous art galleries and gift shops that grace every coastal town.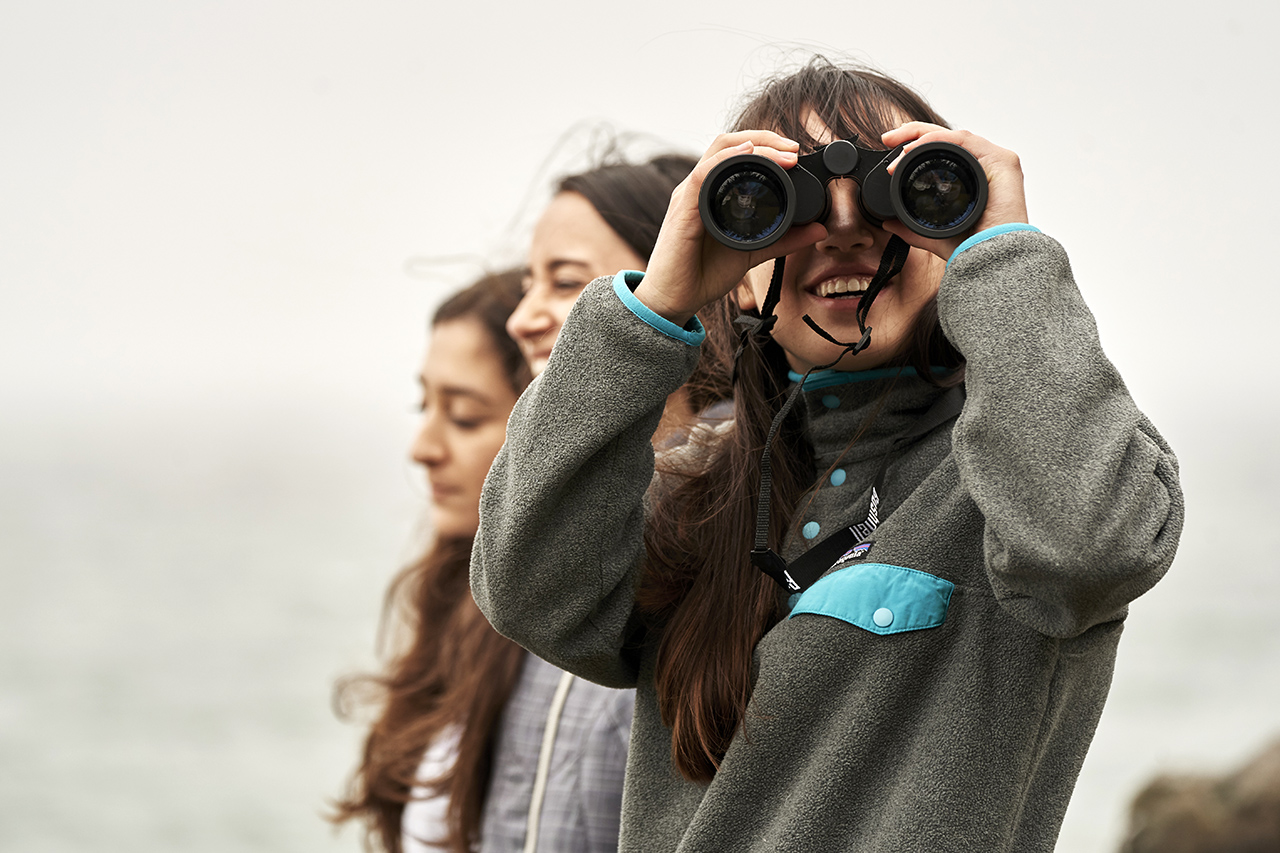 Ready for Some Stormy Weather?
If your adventures bring you to the Southern Oregon Coast during the winter months, we highly recommend timing your visit to coincide with a king tide and storms. It's a thrilling spectacle, a true testament to the forces of nature, and a beautiful intersection of science and sightseeing.
Just remember, the ocean is an untamed and formidable force, especially during turbulent weather and elevated wave conditions. Safety takes priority, so please heed known precautions and adhere to any guidance provided by local authorities. We'll say it again (because we can't stress it enough), never turn your back on the ocean and always enjoy it from safe viewing areas. Stay safe and enjoy the scenic allure of the ocean responsibly.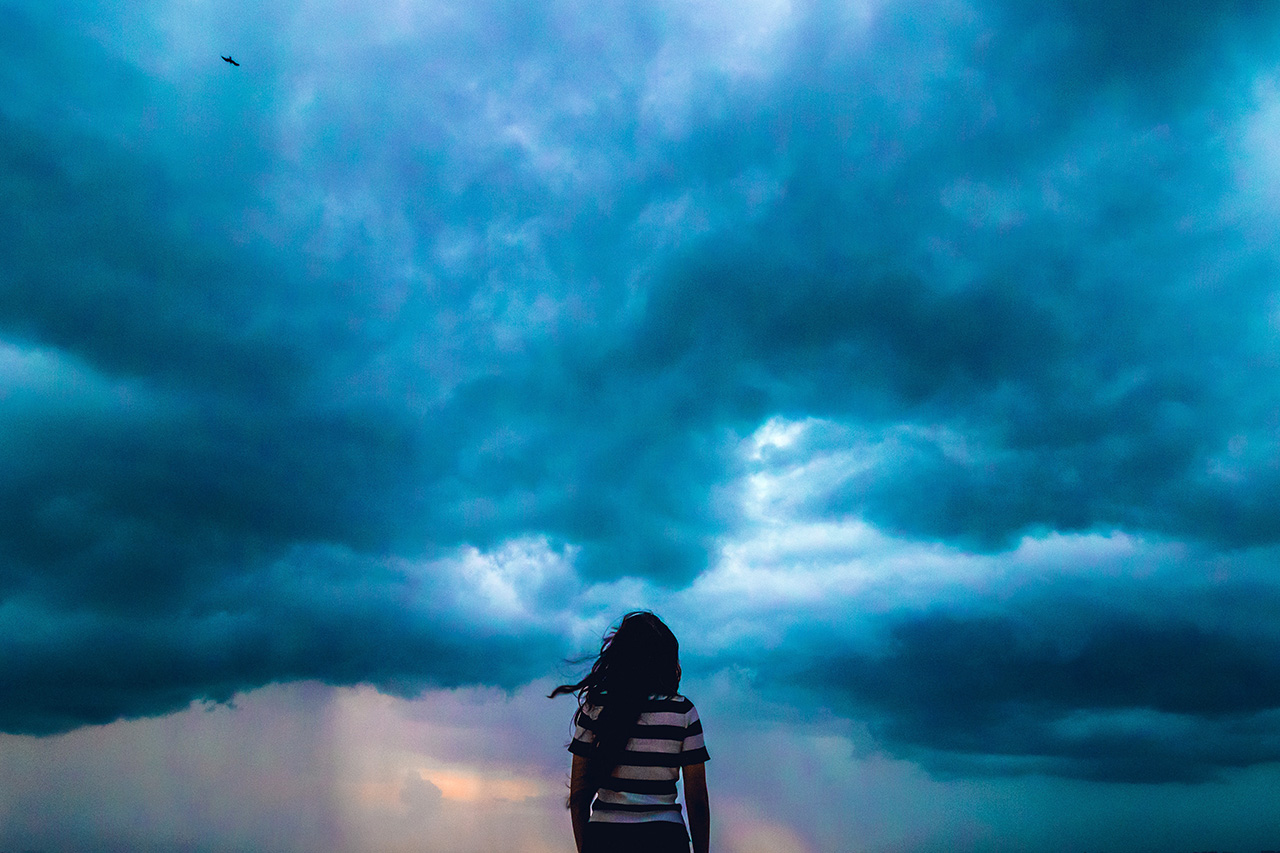 Header image by Manuela Durson