Partner Story
Hike through otherworldly sand dunes on foot, then fish for trout in Tenmile Lake.
The community of Lakeside, roughly 20 minutes north of Coos Bay and 15 minutes south of Reedsport, is one of Oregon's all-terrain vehicle hot spots, and it's no surprise. Lakeside is right in the heart of the 40-mile-long Oregon Dunes National Recreation Area, and local ordinances make it possible to ride your all-terrain vehicle (ATV) and off-highway vehicle (OHV) straight from town to the dunes — no trailering required. That makes Lakeside one of the easiest access points to the dunes.
But while ATV and OHV riding are some of Lakeside's signature attractions, they're far from the only ways to enjoy a summer getaway in this town. Spend a day on the water at Tenmile Lake, hike through the dunes via the John Dellenback Dunes Trail, and nosh on locally sourced fare at cafes and food carts alike. Here's the skinny on planning your next trip to Lakeside, with or without your four-wheeled toys.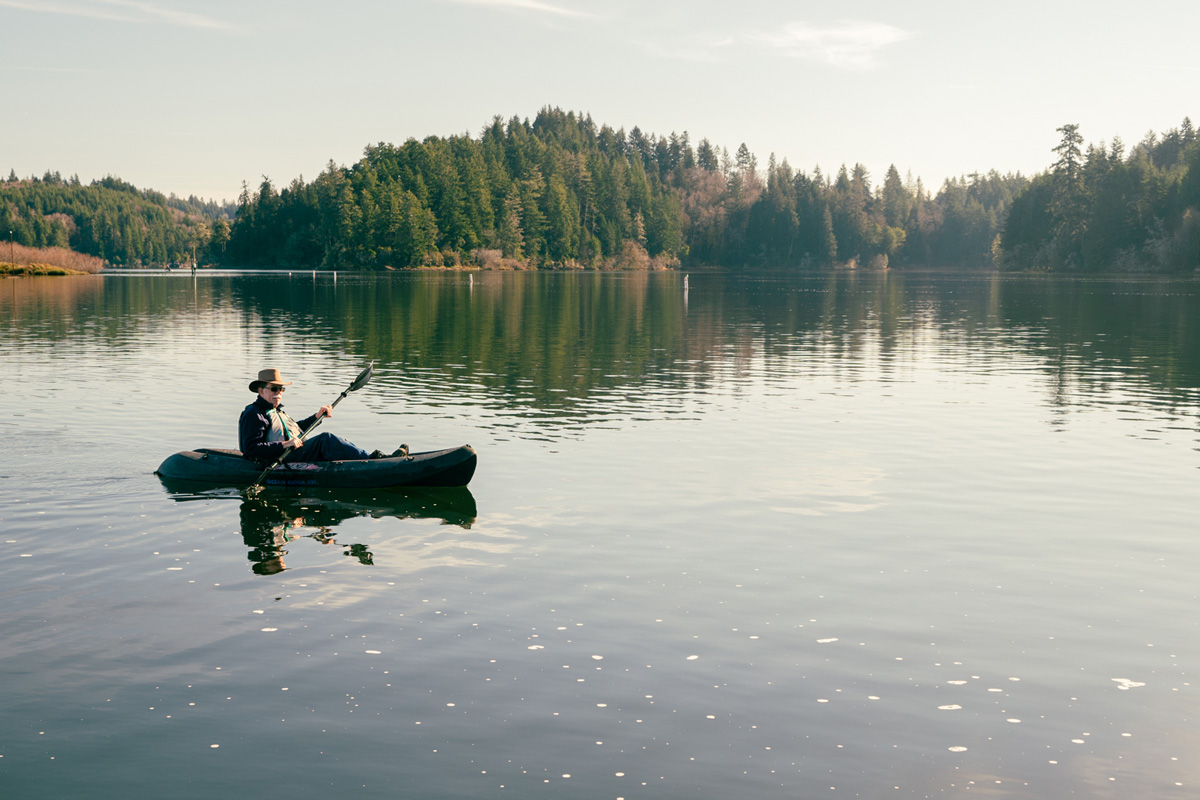 Paddle, Fish or Wakeboard on Tenmile Lake
As its name implies, Lakeside sits on the shore of Tenmile Lake, the state's fourth-largest lake, with 42 miles of shoreline to explore. And with quiet coves and winding arms that reach deep into the surrounding fir and spruce forest, Tenmile Lake has become one of the region's premier outdoor destinations in recent years.
Tenmile Lake is one of the premiere bass fishing lakes in Oregon, drawing anglers from across the country and holding multiple tournaments throughout the season. It's also a hot spot for year-round fishing for several species of trout, steelhead and perch. Water skiing, wakeboarding, jet skiing and boating are also popular — all made easier by the presence of Lakeside Marina, the area's only full-service marina, which offers a variety of rentals and a convenience store stocked with fishing gear. Families can swim and picnic at Wulfy Beach, located right downtown. Wulfy Beach also hosts Lakeside's Fourth of July fireworks display each year, which lights up the sky over Tenmile Lake. Whenever you visit, keep an eye out for more than 60 species of birds on the lake, including ospreys and bald eagles, as well as deer and other wildlife that call the area home.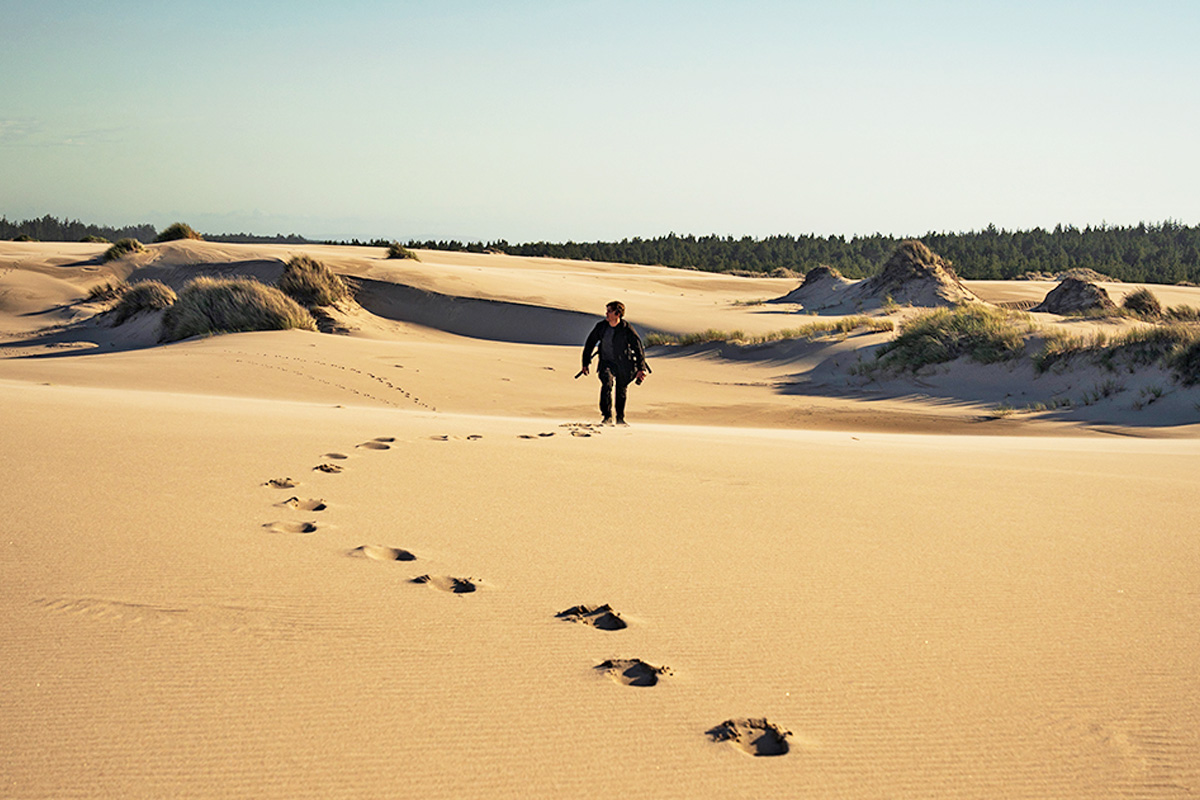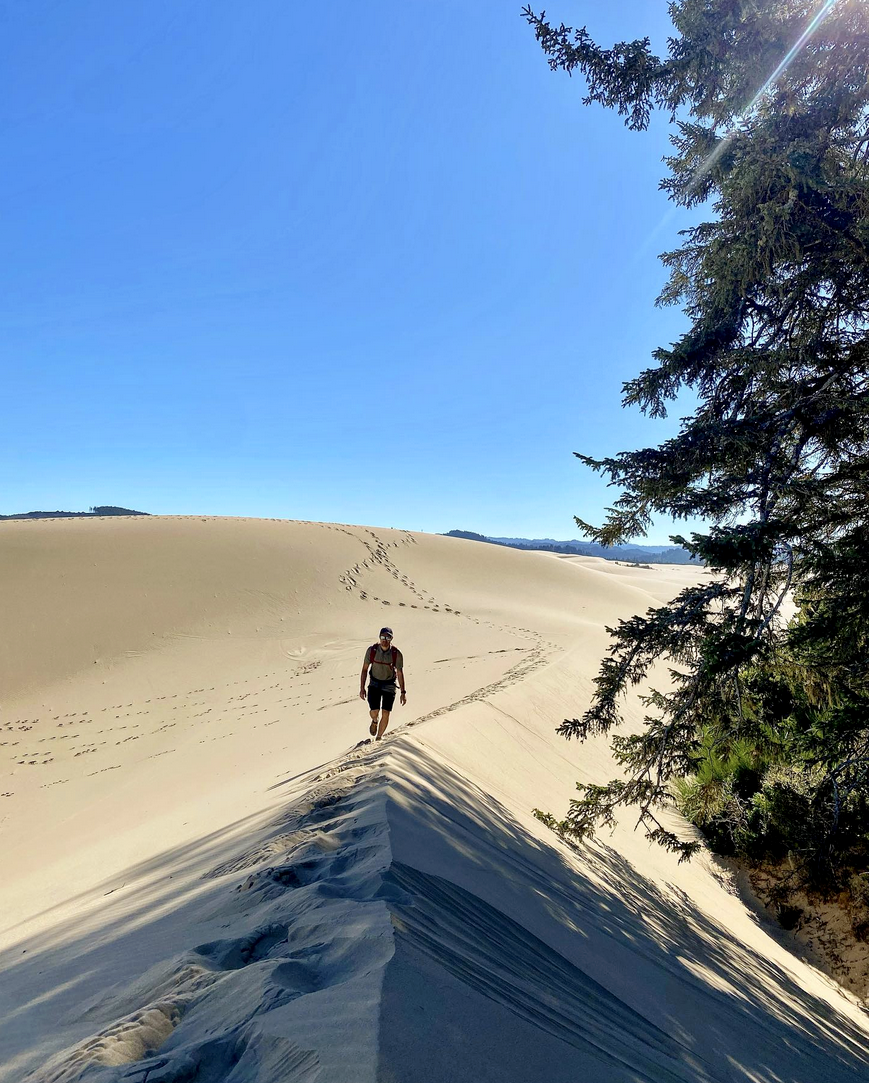 Walk Through the Oregon Dunes
The Oregon Dunes sit directly across Highway 101 from Lakeside. While cruising them on ATVs is popular, there are also several hiking trails for exploring the natural marvel at a slower pace. One of the most popular is the John Dellenback Dunes Trail, just 1 mile from downtown and great for hiking and fat tire bicycling. Separate from the ATV area, this moderately strenuous 5-mile round-trip trail winds through spruce forests and wide-open dunes before arriving at the Pacific Ocean. A rich variety of ecosystems adds to the trail's charm, and a series of painted wooden posts keeps hikers and bikers on track.
Note that dry-sand areas on the beach are closed March 15 to September 15 to protect the western snowy plover; walk on wet sand to avoid disturbing the small shorebird, a federally designated threatened species.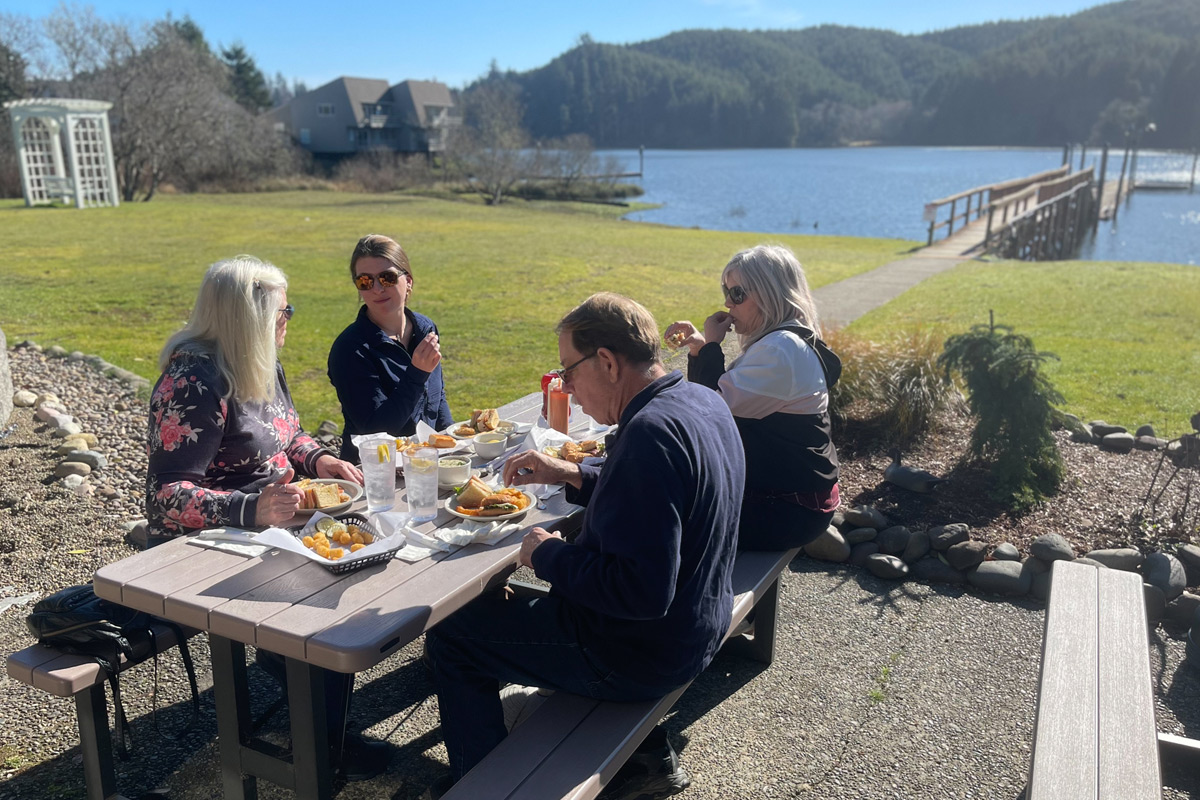 Savor Lakeside's Eateries, Shops and Overnight Stays
Lakeside's compact core brims with restaurants dishing up fresh fare, boutique shops and outdoor stores to help you make the most out of your trip to the dunes.
Fuel up with a filling breakfast at Dune Rider Cafe, beloved for heaping portions of chicken-fried steak, house-made biscuits and fresh, scratch-made doughnuts; the cozy restaurant also serves soups and sandwiches for lunch. Another popular stop is The Muncheria food truck, where you can fill up on Mexican favorites (including street tacos, quesadillas and tortas) alongside daily specials like grilled-cheese sandwiches with birria.
A short walk from the Dune Rider Cafe, Lakeside Vintage prides itself on selling a curated selection of antiques and other old-school items, including furniture, art pieces and garden items. Nearby, locally owned 721 Powersports sells OHV and ATV parts and essential accessories; the shop is also beloved for its selection of remote-controlled (RC) cars and parts for sale, as well as an indoor rock-crawling track and an outdoor short track.
If you're looking for an overnight stay, the recently renovated Lakeshore Lodge offers rooms with private balconies and sublime views of Tenmile Lake, easy access to the nearby sand dunes, regular events (including live music and trivia nights), and an on-site restaurant dishing breakfast, lunch and dinner. Campers, meanwhile, have plenty of options. North Lake RV Resort and Osprey Point RV Resort are loaded with amenities, including marinas with boat launches and expansive waterfront views. Or choose William M. Tugman State Park, just five minutes north of downtown Lakeside on the shores of Eel Lake, a great spot for kayaking and paddleboarding. The park features 93 electrical sites along with 16 yurts, plus an ADA-accessible kayak launch. Reservations for all overnight stays at the park are available up to six months in advance, and reservations are required for all yurt stays.
Header photo: Tenmile Lake by Tim Hurlbut