The Southern Oregon Coast welcomes you and your dog with open paws.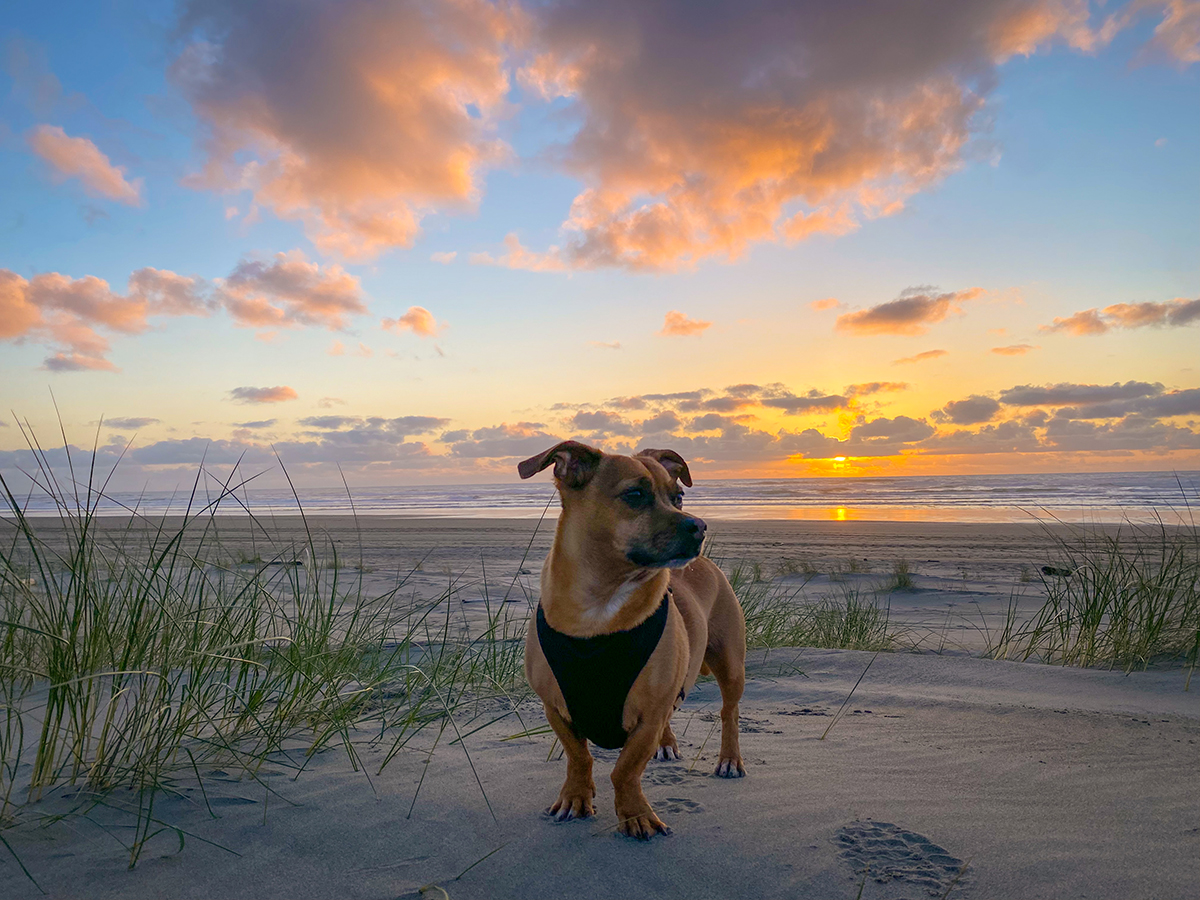 Dog-Friendly Lodgings on the Southern Oregon Coast
Oregon ranks as one of the most dog-friendly states in the United States, and with good reason. We have a large dog population, most of our lodgings and eateries cater to our furry friends, and our laws are pet-friendly. Here on the Oregon coast, we have the added benefit of 363 miles of shoreline and beaches where dogs can run and explore. Locals joke, "If you don't have a dog, you must not be from around here!"
As you plan your trip along the Southern Oregon Coast, check out these dog-friendly lodgings and activities for your next coastal getaway with your best friend.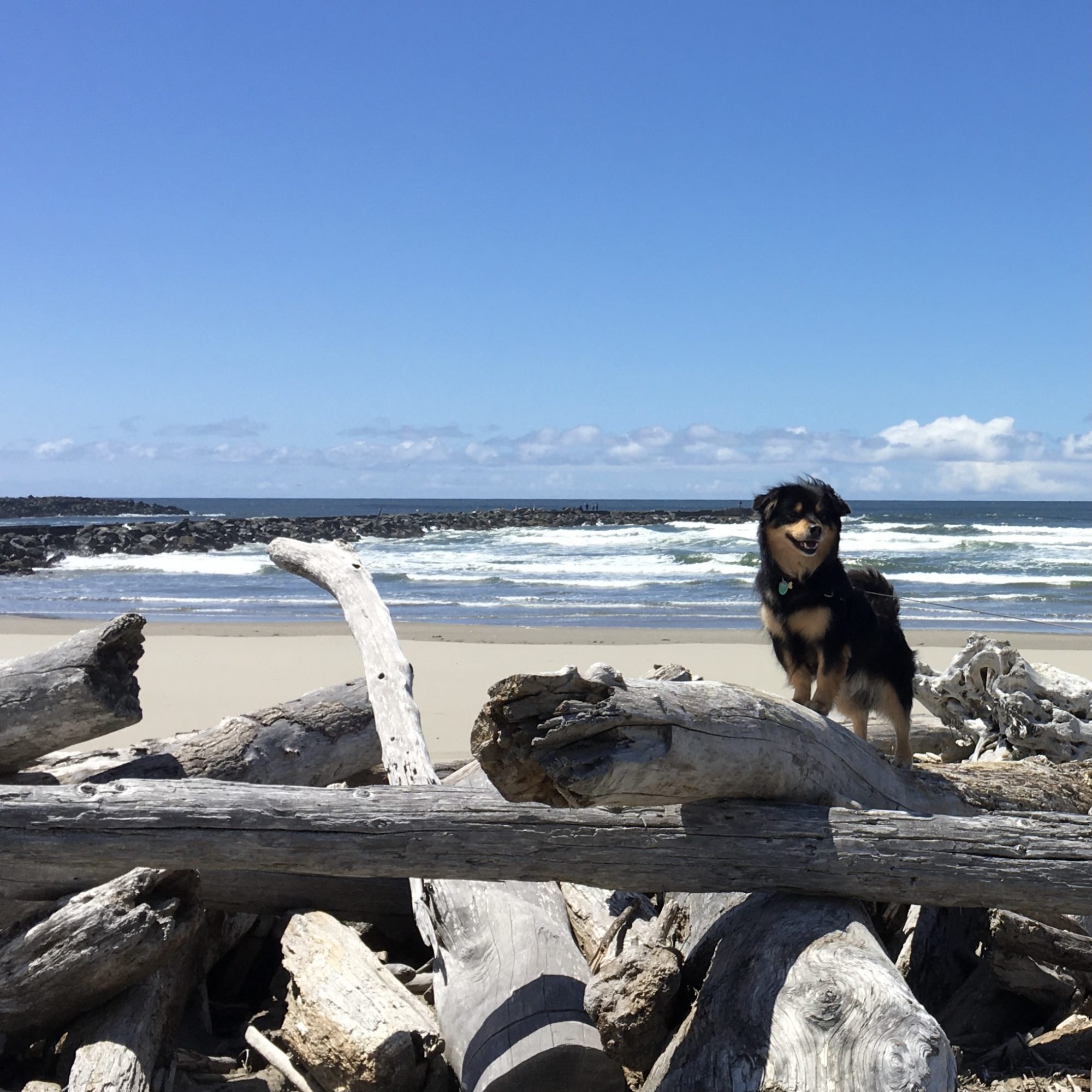 Brookings – North of the Border
Just north of the California border, Brookings provides several dog-welcoming lodgings. One of the most popular, Beachfront Inn is, as its name implies, right on the beach. Walk out your door and let your pup frolic along the sandy, driftwood-strewn shores of the Pacific Ocean. Close by, connect with nature on the Oregon Redwoods Trail. This trail, in the northernmost point of the redwood forest, provides a fun and easy hike with your four-legged friend. After your hike or a day on the beach, drop by Chetco Brewing Company. They allow leashed dogs both inside the taproom and outside on the patio. Also, check out Woof's Dog Bakery in both Brookings and Gold Beach. Buy your pup a bakery treat and they'll love you forever!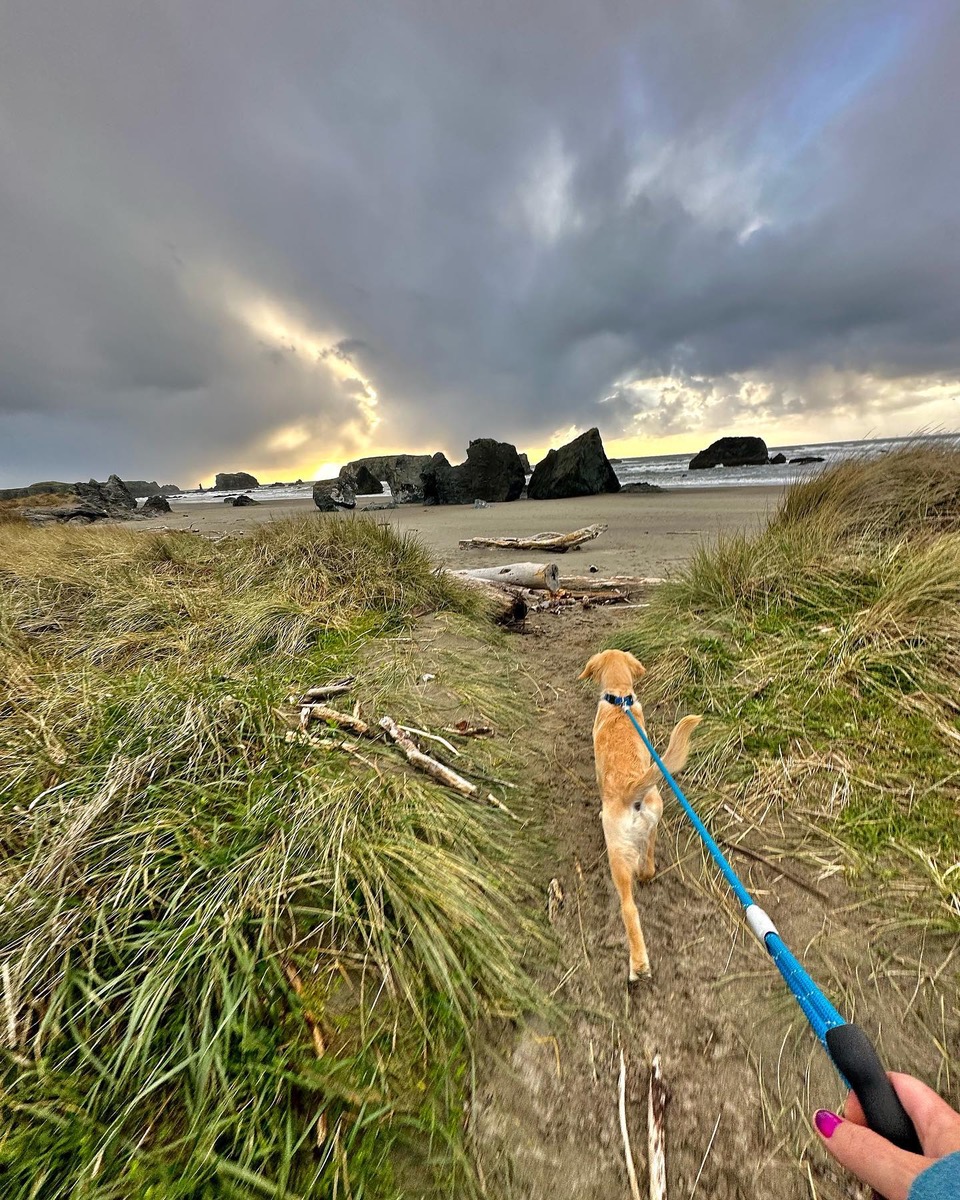 Samuel H. Boardman State Scenic Corridor
A short distance up the coast, the Samuel H. Boardman State Scenic Corridor provides twelve miles of stunning scenic viewpoints with dog-friendly hikes. Within the corridor, Whaleshead Resort allows pets in select cabins and offers access to a private beach and hiking trails.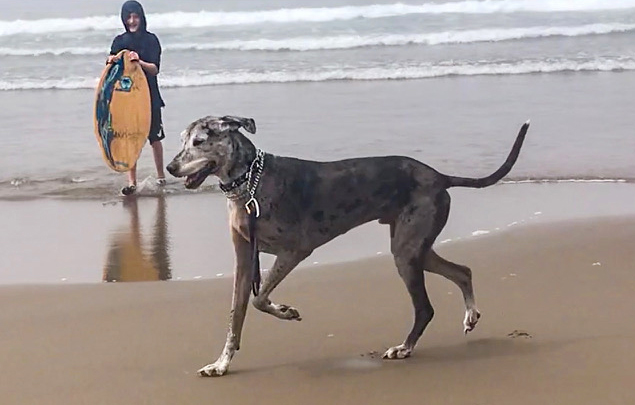 Gold Beach – Cavort on Miles of Beach
Before you reach the town of Gold Beach, stop by Pistol River State Scenic Viewpoint for a great place to watch windsurfers and hunt for sand dollars with your furry beast. In town, bed down at the Gold Beach Inn, the Pacific Reef Hotel, or its sister property Beachcomber Inn. All are just a short walk from the ocean. Be sure to stop by Coastal Cups Coffee House for hot coffee, yummy eats, and a cozy vibe. Your four-legged friend is welcome to join you. Nearby on the Rogue River, Jot's Resort provides a great view of water traffic up and down the river. Come in early August and you and your pooch will be entertained as the river fills up with salmon fishermen during the annual Salmon Derby.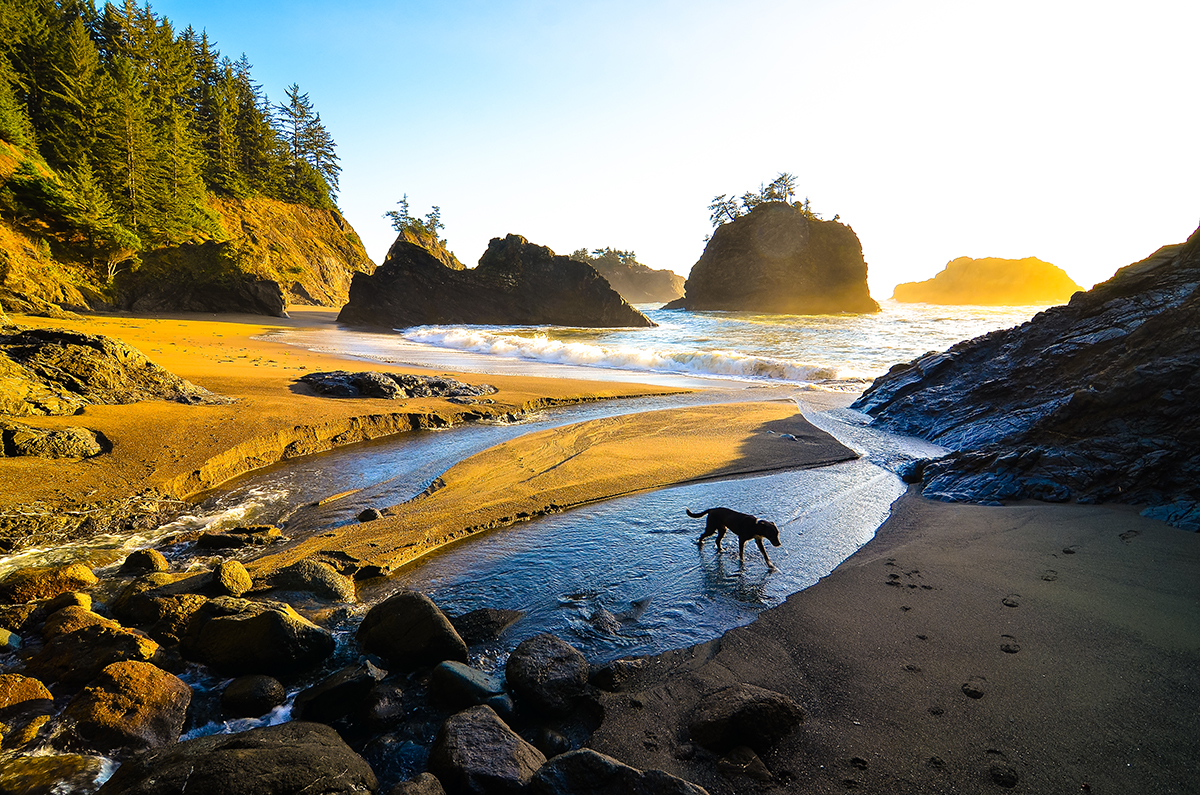 Port Orford – A Room with a View
Six miles south of Port Orford, Humbug Mountain State Park offers many hiking trails and access to a secluded beach. From the campground, walk the Old Coast Highway Trail, the Humbug Mountain Trail, the Fern Trail, or a short access trail to the beach. In town, several dog-friendly rooms are available at Castaway by the Sea. Every room offers spectacular panoramic views of the port and rugged coastline. Come during crabbing season and watch the ships being raised and lowered from the port's unique dolly dock. The beach by the dock and nearby Battle Rock are favorites for early-morning dog walkers.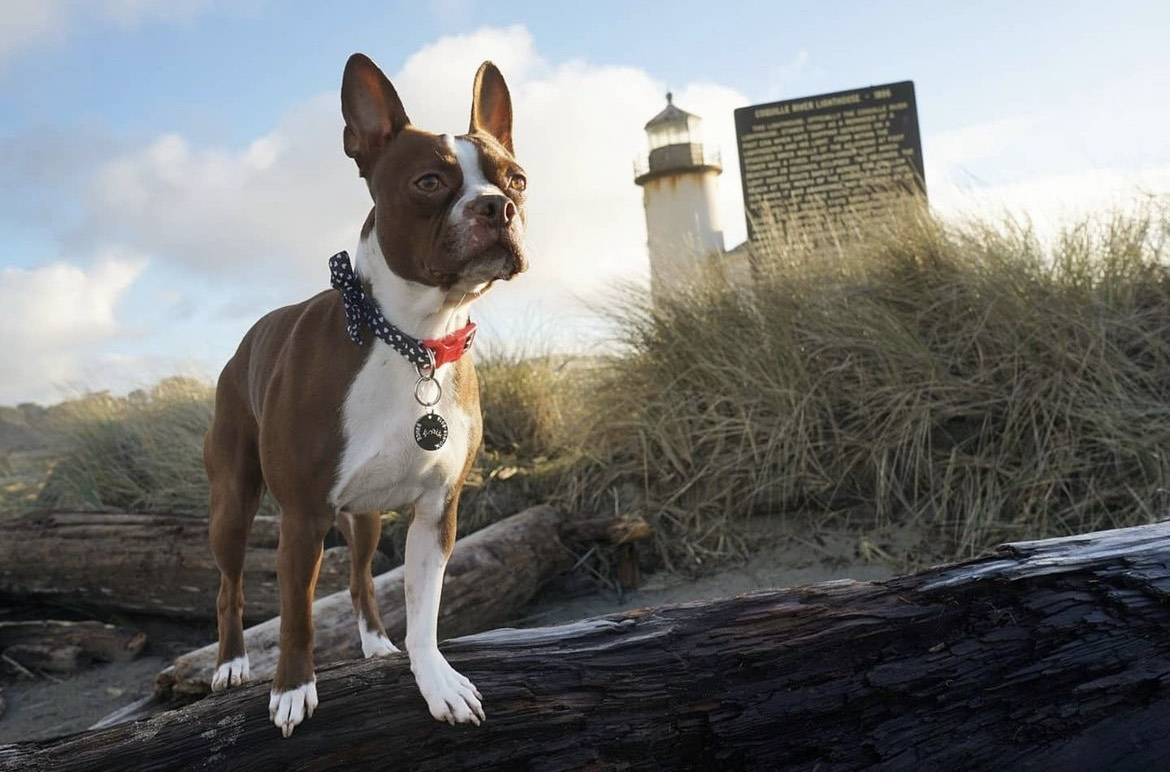 Bandon – Travel the Loop
In Bandon, Beach Loop Road boasts some of the best views on the Pacific coast and plenty of pet-friendly rooms near the beach. Best Western Inn at Face Rock is especially cordial with a large grassy area for your dog to run. You'll also find Sunset Oceanfront Lodging and Windermere On The Beach along the loop and within steps of a stroll on the sand. Old Town boasts many restaurants with outside seating areas where your friend is welcome. Try Bandon Brewing or The Loft. Alternatively, just grab your meal from one of the eateries on the boardwalk. Each has their own tables, and several more are located in view of the dock where you can sit and watch the seagulls, seals, boats, and people go by.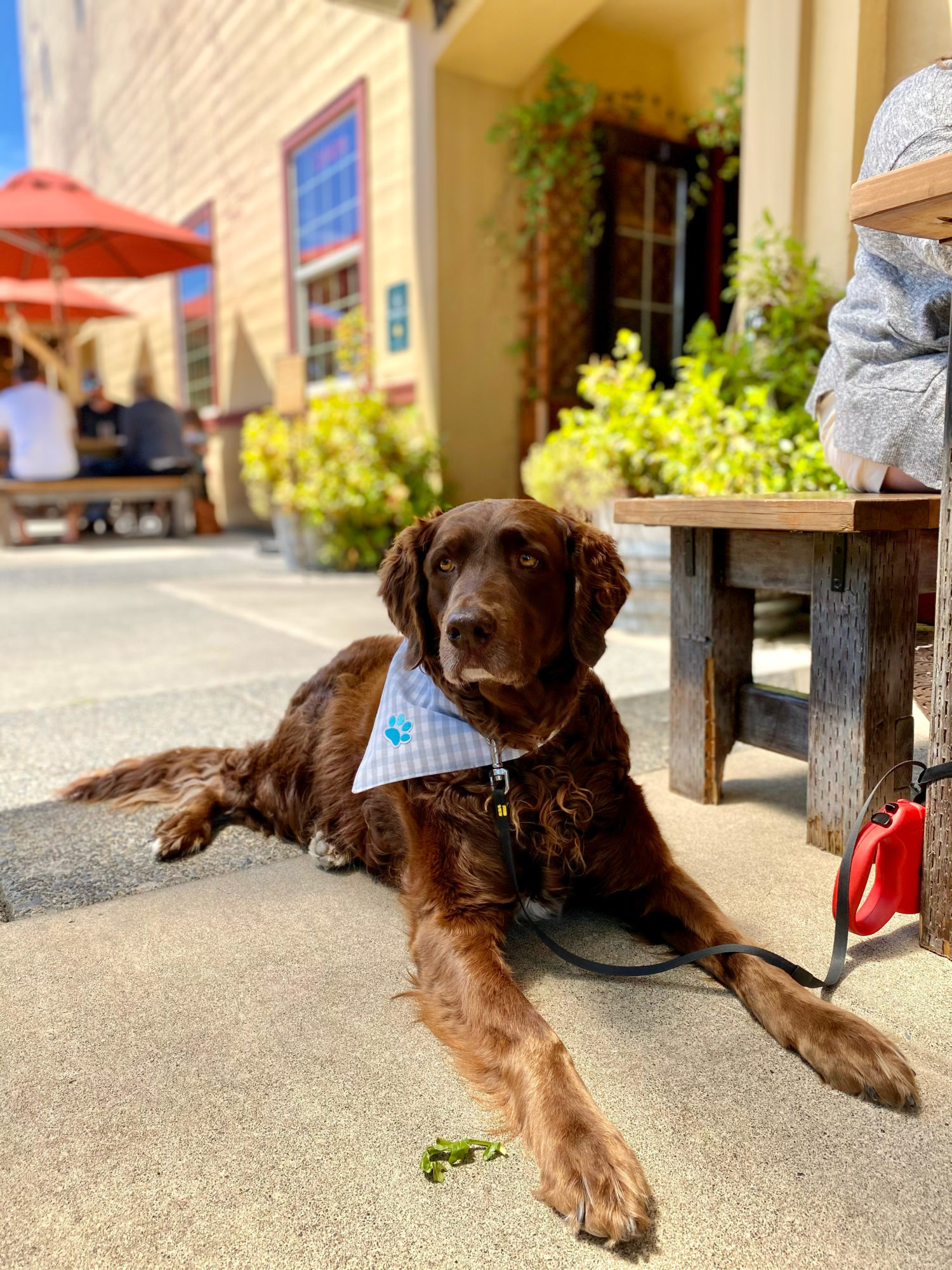 Coos Bay – North Bend – Up and Around the Bend
In the town of Coos Bay, The Mill Casino Hotel & RV Park offers pet-friendly rooms and even has an on-site dog park. For a unique, out-of-town stay, Bay Point Landing offers modern cabins, Airstream suites, and RV campsites. From here, you're only minutes away from Bastendorff Beach and Sunset Bay State Park. Is your doggy the adventurous type? Try a spin on the dunes at Spinreel Dune Buggy and ATV Rental in North Bend. Your companion is allowed with you in the vehicles, and Fido says it's even better than hanging your head out the car window!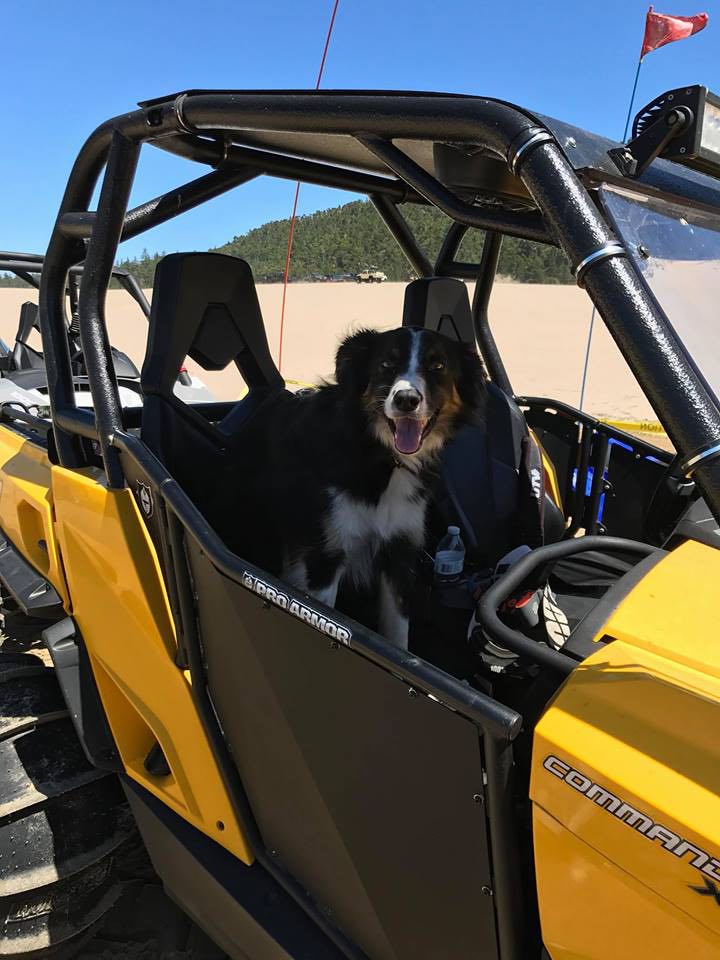 Reedsport – The Northern Border of the South Coast
For an overnight stay in Reedsport, the northern border of the Southern Oregon Coast, your dog will be welcome at the Best Western Salbasgeon Inn & Suites. Just south, stay at Lakeshore Lodge on Tenmile Lake in Lakeside. Whether you stay overnight or not, stop by their pet-friendly lounge for a hearty breakfast, lunch, or dinner. They have several tables on the patio for you and your pooch. Nearby, just off Highway 101, John Dellenback Dunes Trail traverses through a forest, over the dunes, and onto the beach. This 5.5-mile loop is generally considered moderately challenging. Dogs are welcome and can be off-leash in some places. For an easier romp, Champion Park in Reedsport is an off-leash dog park with seven acres of room to run. It even includes a small fenced area for dogs needing more supervision.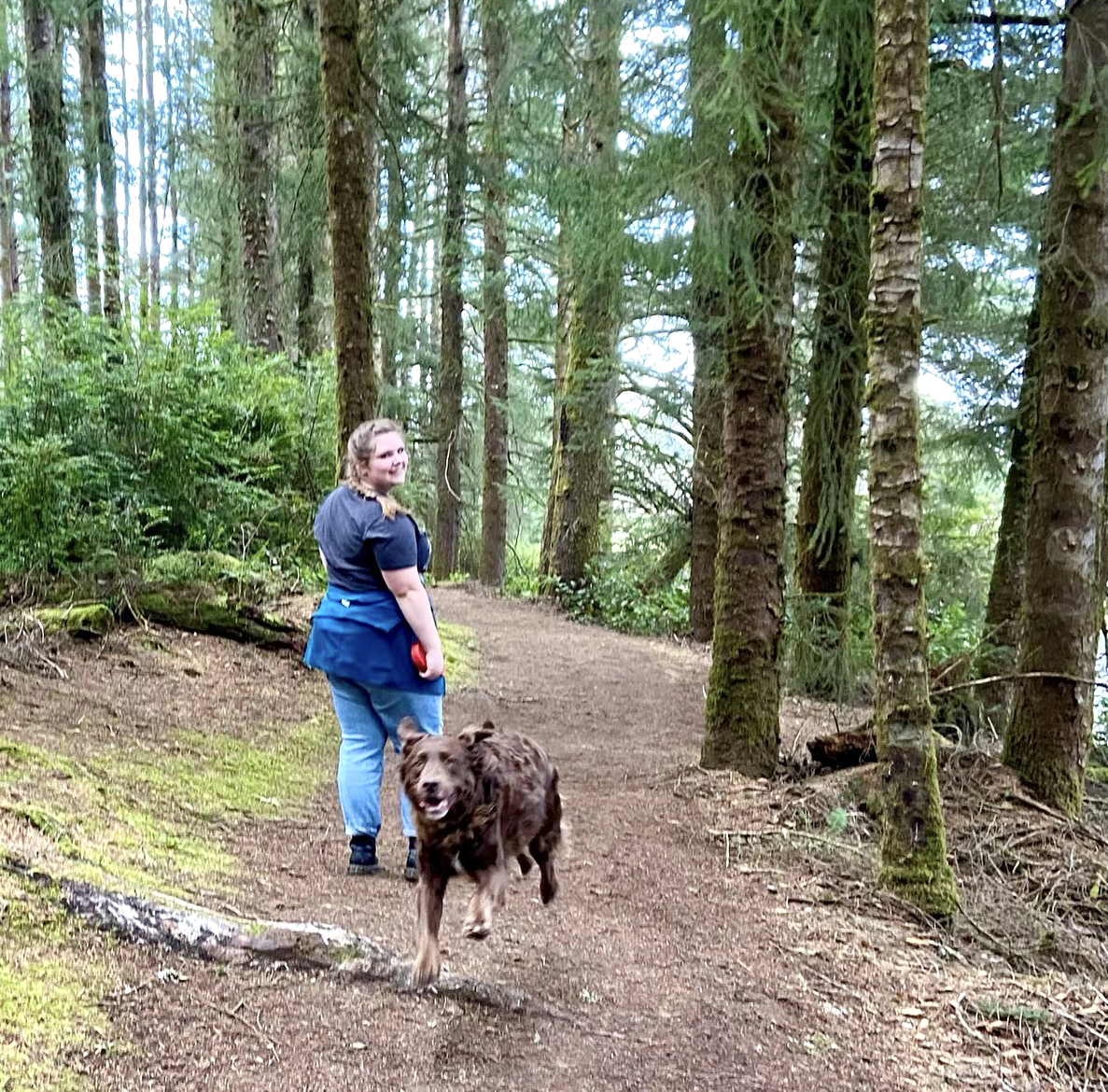 And, So Much More!
This is just a sampling of the many dog-welcoming stays and activities on the Southern Oregon Coast. To find your ideal place, visit VRBO, Airbnb, Vacasa, or any vacation rental agency. If you RV, several RV parks are located within easy access of Highway 101 and allow dogs.
As always, pet policies may change, so it's always best to confirm with the lodging establishment directly before booking. Check for leash requirements at all establishments and on trails.
Also, please be aware that Mar 15 – Sep 15 is nesting season for the western snowy plover and many other species of shorebirds. Watch for restricted areas during these dates and keep in mind that all dogs, even well-behaved ones, can be a threat to birds and wildlife.
By Sharon Lippold
Header image by Bear8Photography