Camp in Comfort
Glamping, a mashup for "glamorous camping," is the perfect way to experience the great outdoors while still enjoying modern conveniences. Imagine waking up to the sound of birds chirping and ocean waves lapping against the shore, all while snuggling in a cozy bed and sipping a cup of freshly brewed coffee. That's the magic of glamping!
On the Southern Oregon Coast, yurts provide a unique way to glamp year-round. Yurts, circular tent-like structures, have been used by nomadic cultures for centuries. Today, equipped with heat, electricity, and comfortable furnishings, yurts provide the perfect combination of comfort and adventure.
Most state parks on the Southern Oregon Coast offer yurts for glamping, with sleeping accommodations for up to five guests. Most of these yurts are rustic but still provide amenities not found with traditional tent camping. Umpqua Lighthouse State Park is the only Oregon State Park that offers deluxe yurts, with amenities not to be missed on your glamping expedition.
Umpqua Lighthouse State Park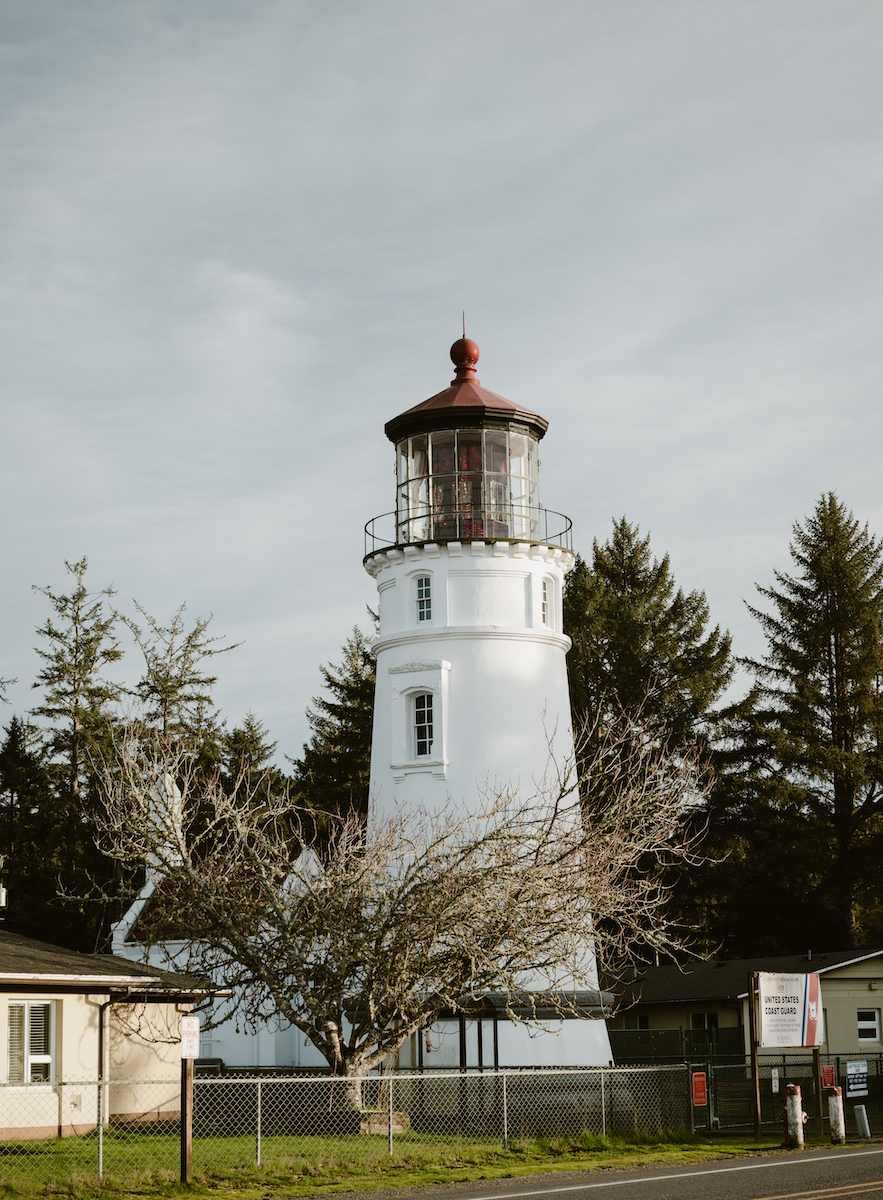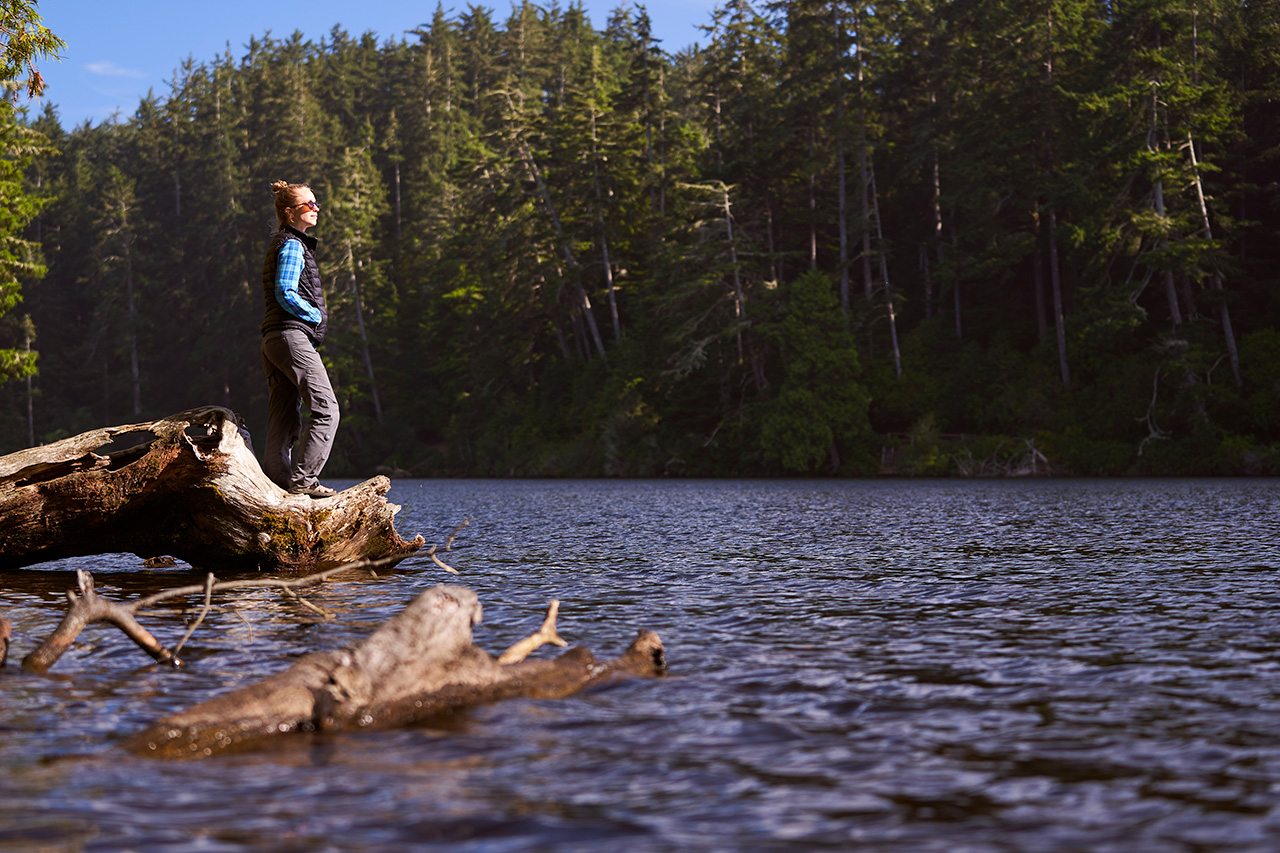 Centered among towering sand dunes and around beautiful Lake Marie, Umpqua Lighthouse State Park offers the largest variety of yurts in Oregon's state parks with six deluxe and two rustic options. The deluxe yurts include a private bathroom with a shower, kitchenette, and BBQ grill. Some even include a TV with a DVD player! One of the rustic yurts, as well as three of the deluxe yurts, are pet-friendly. One deluxe yurt is ADA-compliant.
While staying in the park, tour the lighthouse, fish on the lake, hike the dunes or stroll around the lake on the shaded Lake Marie Trail. It's generally considered an easy hike, and during quieter times of the day, you'll be able to catch some solitude. Outside the park, visit the famous Salmon Harbor on Winchester Bay. Salmon Harbor is widely known for some of the best crabbing and sports fishing along the Oregon Coast.
With its array of yurts and recreational activities, Umpqua Lighthouse State Park offers something for everyone.
William M Tugman State Park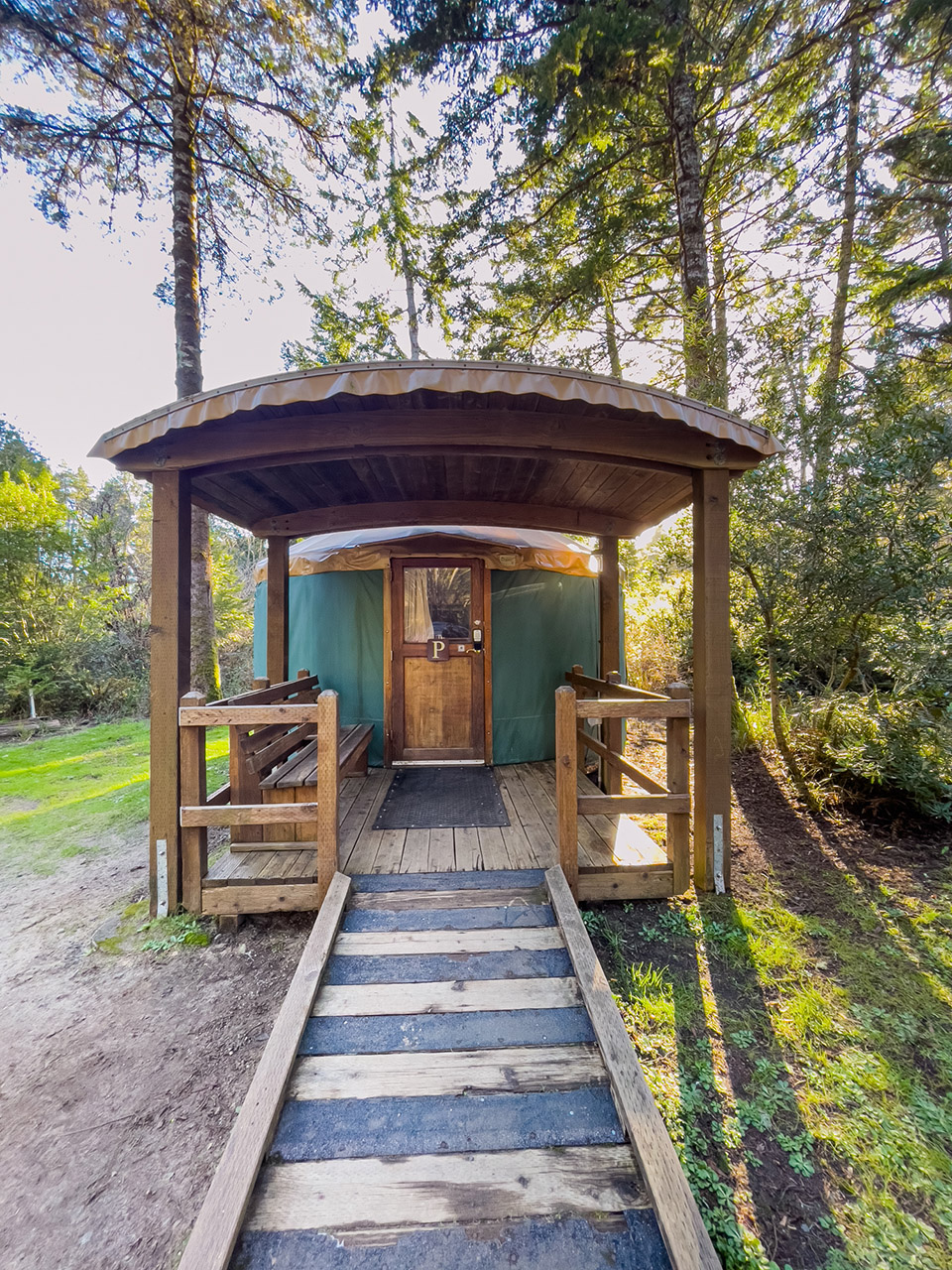 Centrally located between Reedsport and Coos Bay, William M. Tugman State Park offers sixteen rustic yurts, eight of which are pet-friendly. Nestled beside Eel Lake, the park offers outstanding outdoor recreational opportunities including fishing, swimming, canoeing, sailing, and boating. You'll even find an ADA-accessible kayak launch at the Eel Lake Boat Ramp.
If water sports are not your thing, hike the trail around the south end of the lake and explore the lake's many inlets. Be on the lookout for ospreys, cranes, eagles, deer, and other fauna as you saunter through a lush forest of spruce, cedar, fir, and alder. If you want to venture outside the park, the Oregon Dunes National Recreation Area is less than a mile away. This area is the largest expanse of coastal sand dunes in North America and boasts dunes reaching heights of 500 feet or more. Here you can relax while taking a peaceful hike on the John Dellenback Trail, which traverses through a conifer forest and onto the ocean beach. Or, for adrenaline junkies, set out on an epic adventure by renting a dune buggy and sailing over the sand!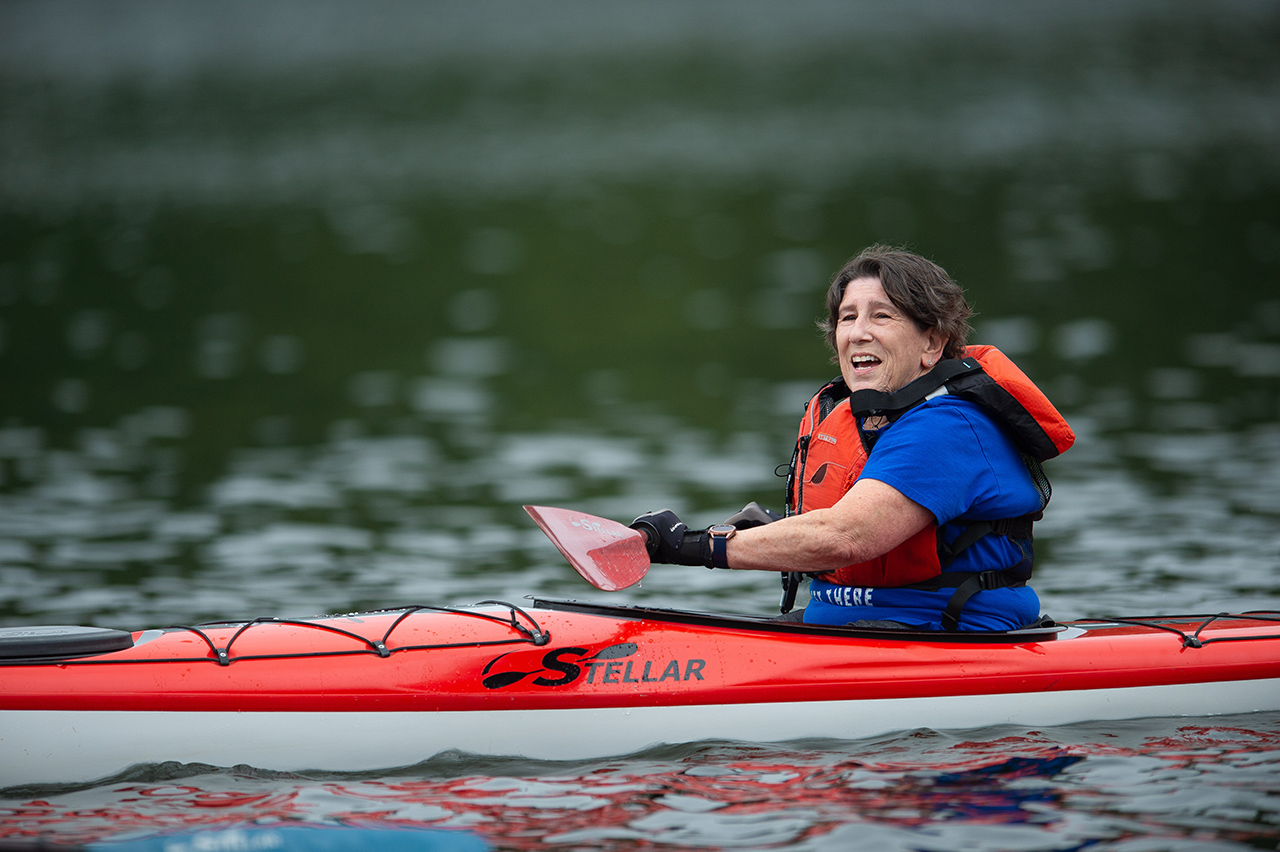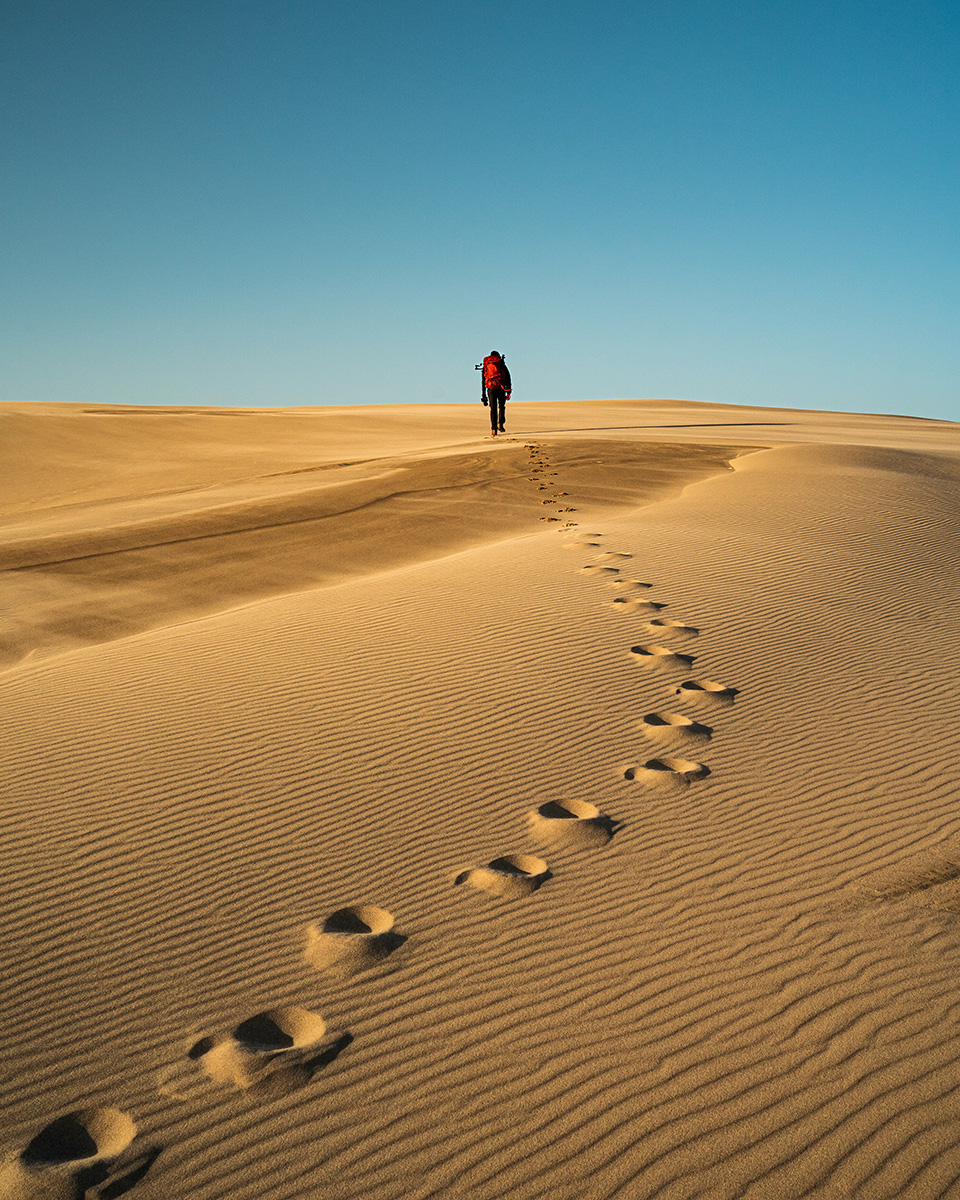 Sunset Bay State Park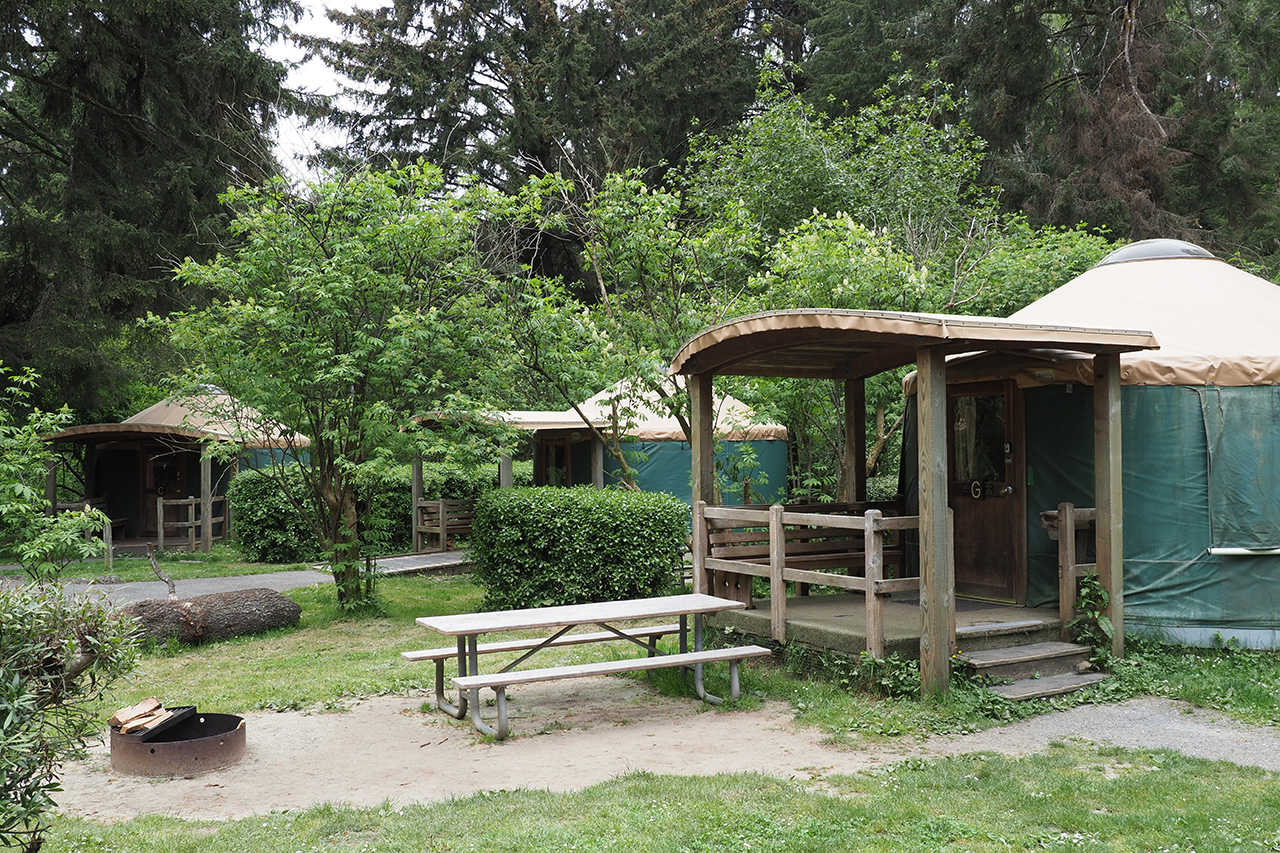 Located in one of the most scenic areas along the Oregon coast, Sunset Bay State Park offers eight rustic yurts for the glamper wanting to indulge in over-the-top, breathtaking beauty. From the campground, it is only a short walk to the beach or to a network of hiking trails connecting Sunset Bay with nearby Shore Acres State Park and Cape Arago State Park. Walk these trails and you will experience pristine coastal forests and spectacular ocean vistas looking out from towering sea cliffs and stunning headlands.
Charleston, three miles from Sunset Bay on Cape Arago Highway, is a convenient place to restock your glamping supplies or to munch on some fresh, local seafood. If you are interested in sea life (not just for your next meal), Charleston Marine Life Center provides a hands-on introduction to coastal habitats and life off the Oregon coast, from the shore to the deep blue sea.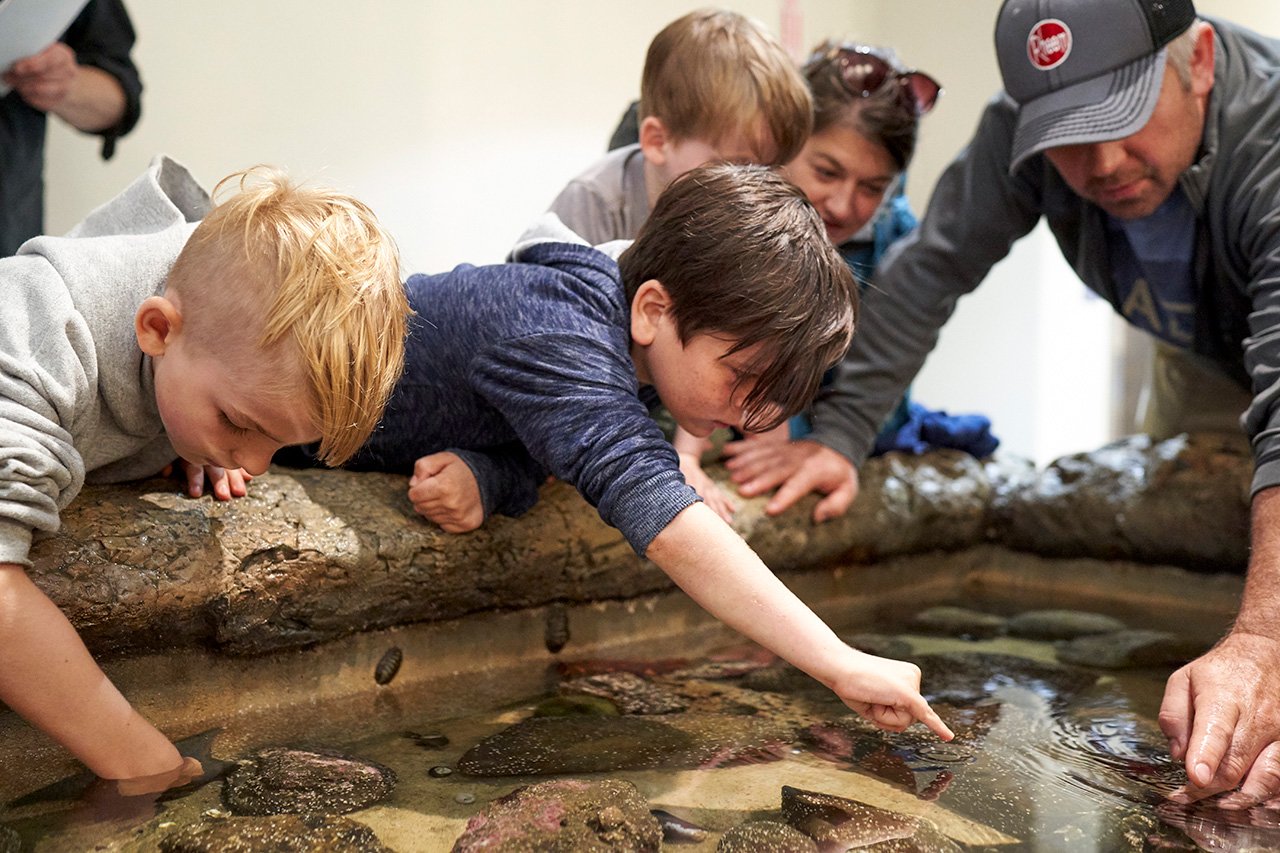 Bullards Beach State Park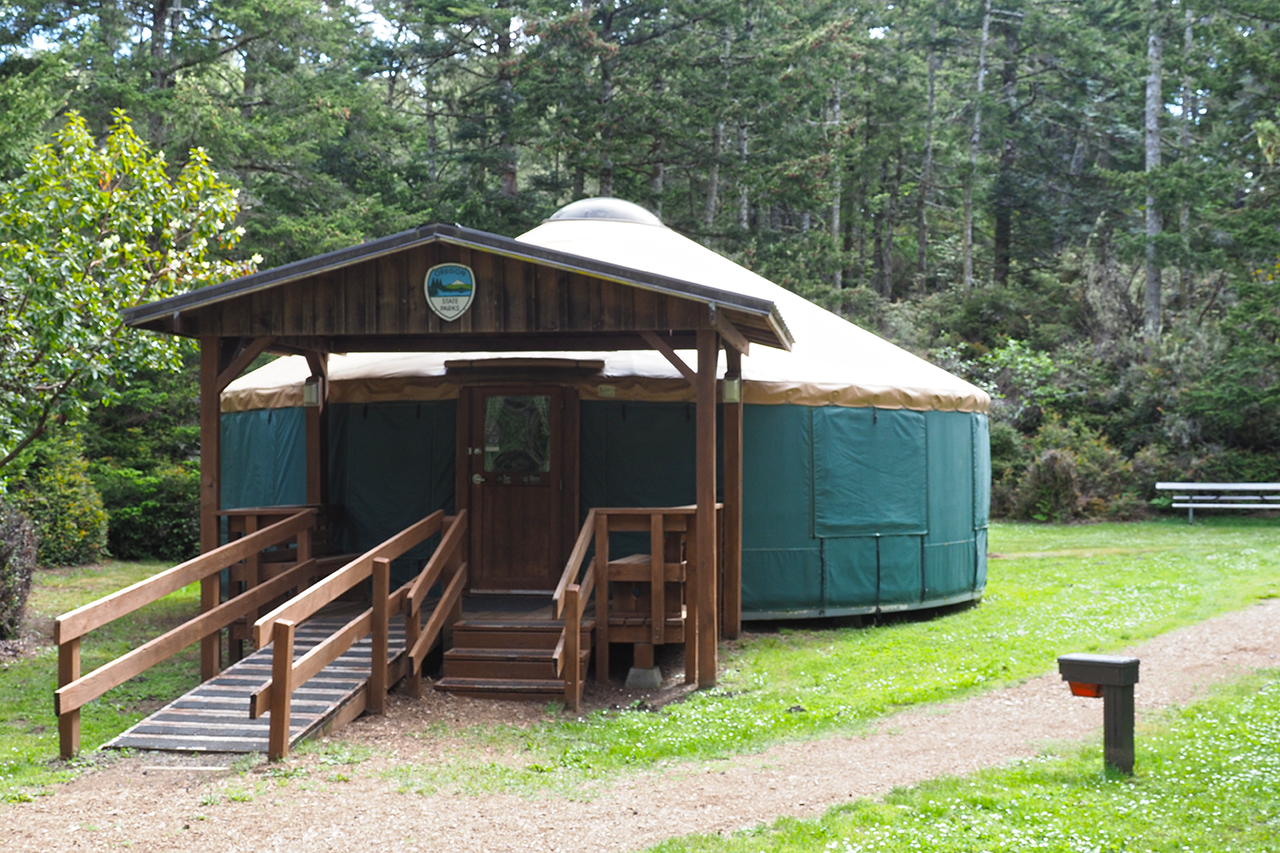 Located near the Coquille River Lighthouse among shore pines and next to miles of sandy beaches, Bullards Beach State Park offers thirteen rustic yurts, including six that are pet-friendly. Fat-tire biking and long walks on the beach are favorite pastimes here, but the park also offers a boat ramp for fishermen and recreationalists looking to explore the Coquille River. Paddling on the river is also a favorite diversion.
To enhance your Bullards Beach glamping trip, boat, bike, or drive across the river to Bandon by the Sea. True to its namesake as the "Cranberry Capital of the World," Bandon offers plenty of cranberry sweets and treats, as well as a variety of unique shops, galleries, restaurants, and impressive views. Explore Beach Loop Drive and indulge in miles of rocky shoreline as you take in the scenic and wild beauty that makes Bandon famous.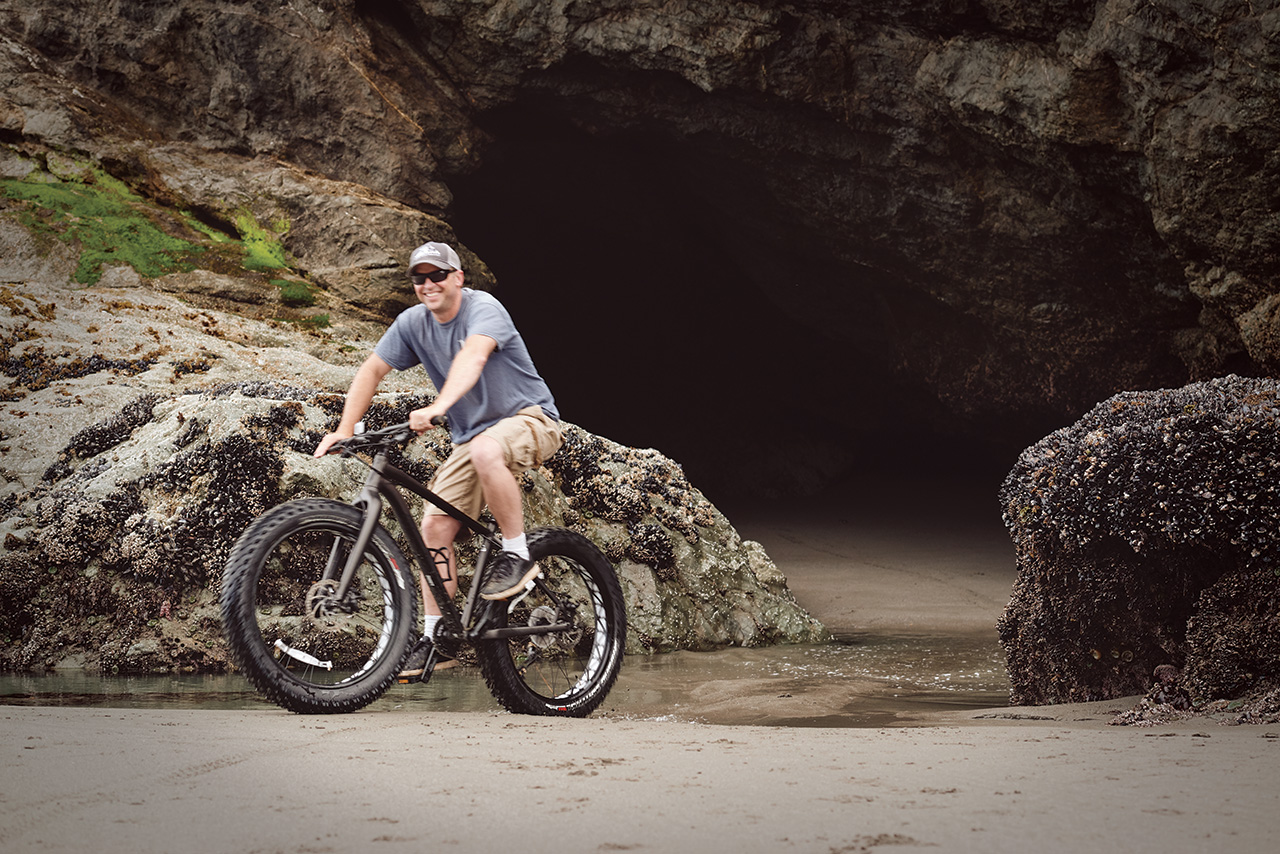 Harris Beach State Park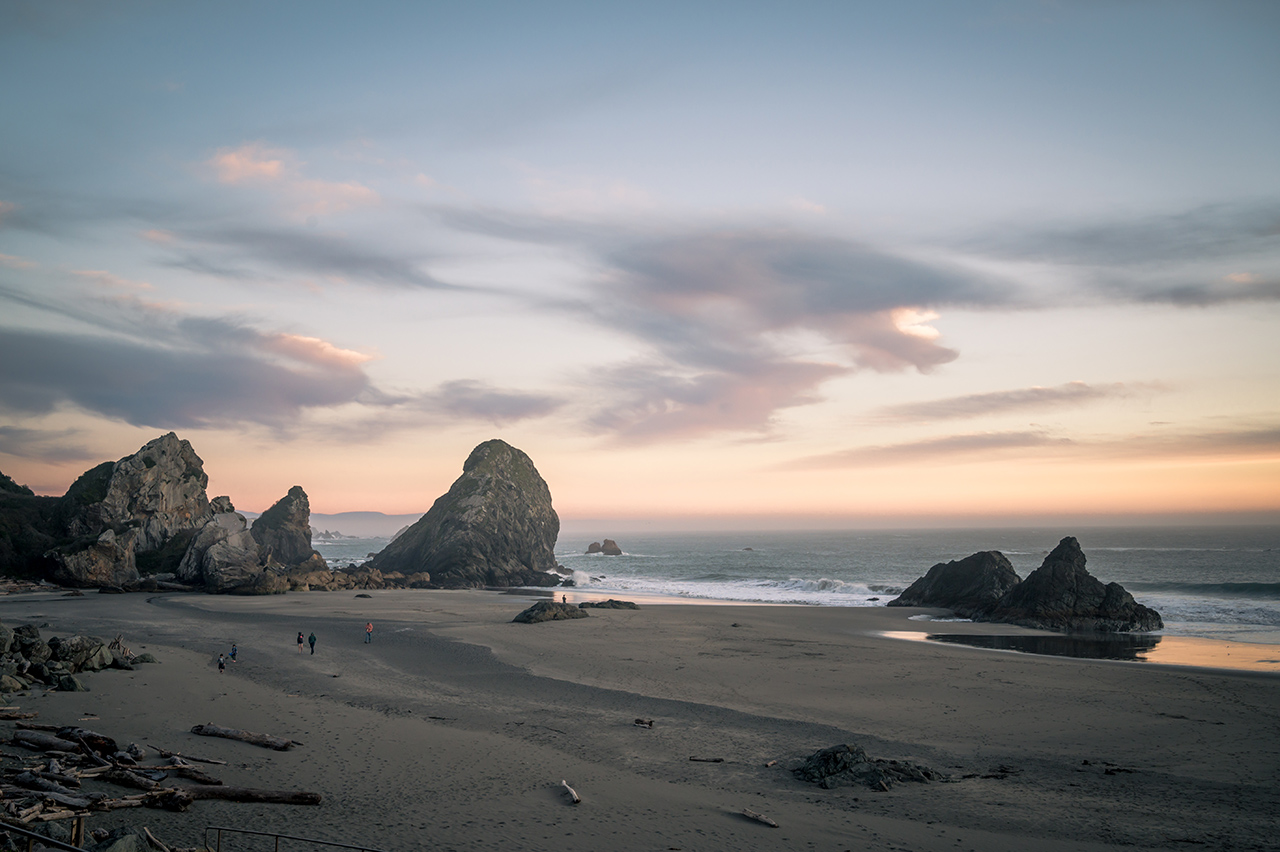 Located just north of Brookings, Harris Beach State Park offers access to six yurts and spectacular views of the Pacific Ocean. Set on sandy beaches interspersed with rocky outcroppings, the park offers plenty of outdoor activities for visitors to enjoy while glamping. Take advantage of birdwatching, beachcombing, and long walks on the beach. At low tide, check out the tidepools and be amazed at the sea life you never knew existed so close to shore.
Along with sea stacks dotting the ocean just off shore, the park boasts the largest island off the Oregon coast. Bird Island (also called Goat Island) is a National Wildlife Sanctuary and breeding site for rare birds such as the tufted puffin. There are also many nearby attractions outside the park for you to investigate, such as the Port of Brookings Harbor and the Oregon Redwoods.
Private Resorts and Parks with Yurts for Glamping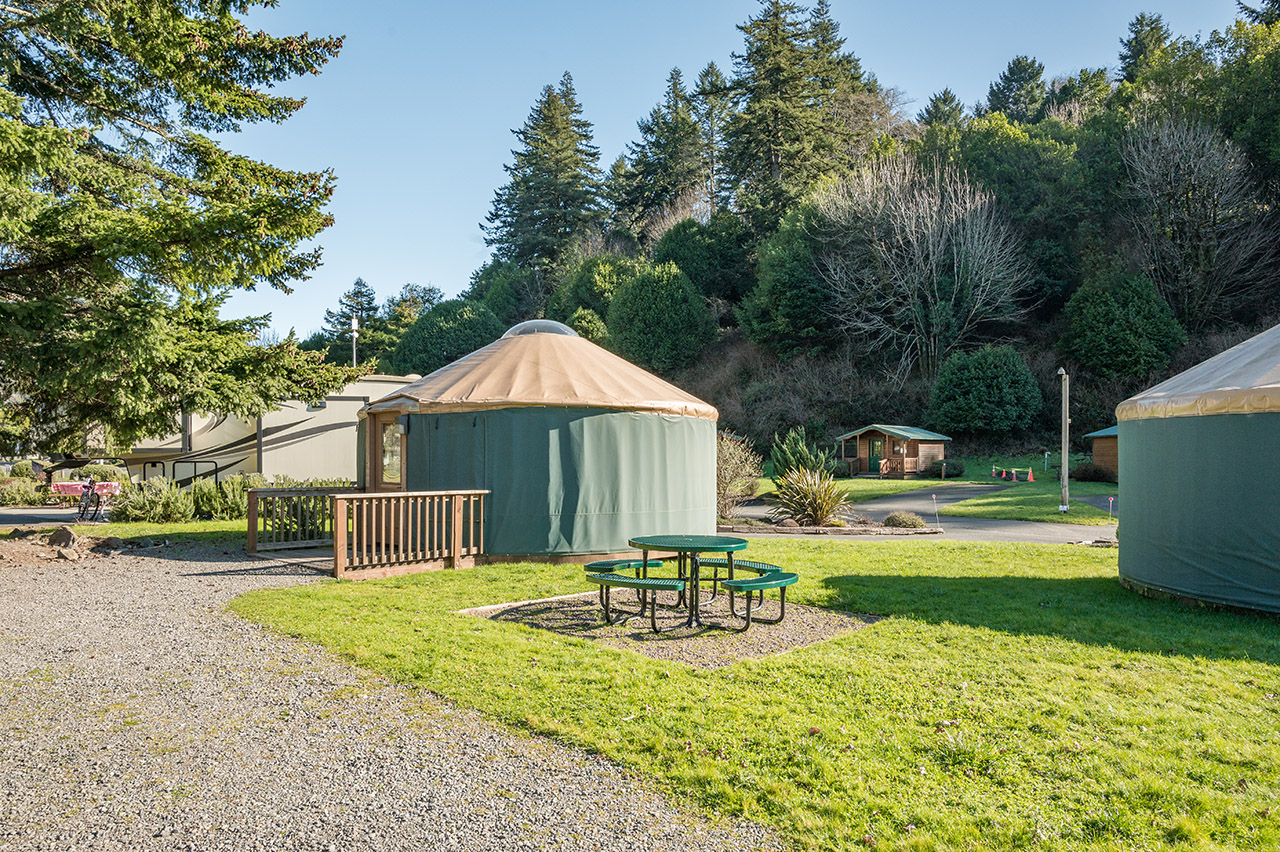 In addition to the Oregon State Parks, several commercial resorts and parks offer yurts for glamping on the Southern Oregon Coast.
On the banks of the Chetco River, AtRivers Edge RV Resort in Brookings has two deluxe yurts with private bathrooms, microwaves, mini-fridges, smart TVs, and Wi-Fi. With private access to the river, you can fish, kayak, or lazily float down the Chetco on a raft.
Where the Rogue meets the Pacific, find yourself in a yurt at Oceanside RV Park in Gold Beach. You're literally steps from both bodies of water, and a short walking distance to restaurants, shopping, and guided adventures.
Secluded in a rainforest, Dew Valley Ranch Campground sits just south of Bandon. Their deluxe yurt comes with many creature comforts and a detached, private bathroom. For a glamping diversion, skip the yurt and stay in their Hobbit house; Bilbo and Frodo may come calling!
East of Reedsport, Loon Lake Lodge and RV Resort offers three yurt accommodations. The resort sits on one mile of Loon Lake frontage and offers many water activities to take advantage of its unique location. Loon Lake is the only recreational lake in the Oregon Coast Range and is surrounded by tall Douglas firs and cedars that protect it from the coastal winds.
Unwind and Go Yurt Glamping on the Southern Oregon Coast!
Whether you're looking for a romantic weekend getaway or an adventure-filled family vacation, yurt camping on the Southern Oregon Coast is an experience every traveler should have on their list of "must-have experiences." It's the perfect way to unwind and enjoy some time in nature, while still having access to modern amenities which will ensure your stay is comfortable and memorable.