Experience the best views, stays and eats during October's annular eclipse.
The Southern Coast of Oregon is lovely any season of the year, but one very specific moment happening this fall stands out above the rest. At a few minutes past 8 a.m. on October 14, 2023, the moon and the sun will align just right, kicking off the continent's first views of an annular eclipse. Look for the sun's signature "ring of fire" to the southeast — that is, away from the coastline in most spots — where you'll only be able to see the bright light around a blacked-out center.
Communities like Bandon, Coos Bay and Reedsport sit right in the cosmic spectacle's path of totality, which will peak for about 3 to 4.5 minutes. Unlike during the total solar eclipse of 2017, the moon will only block part of the sun for us earthlings this time, but the shadow will linger over the South Coast for roughly 2.5 hours in all. Wear protective eyewear and follow these tips as you view this spectacular phenomenon.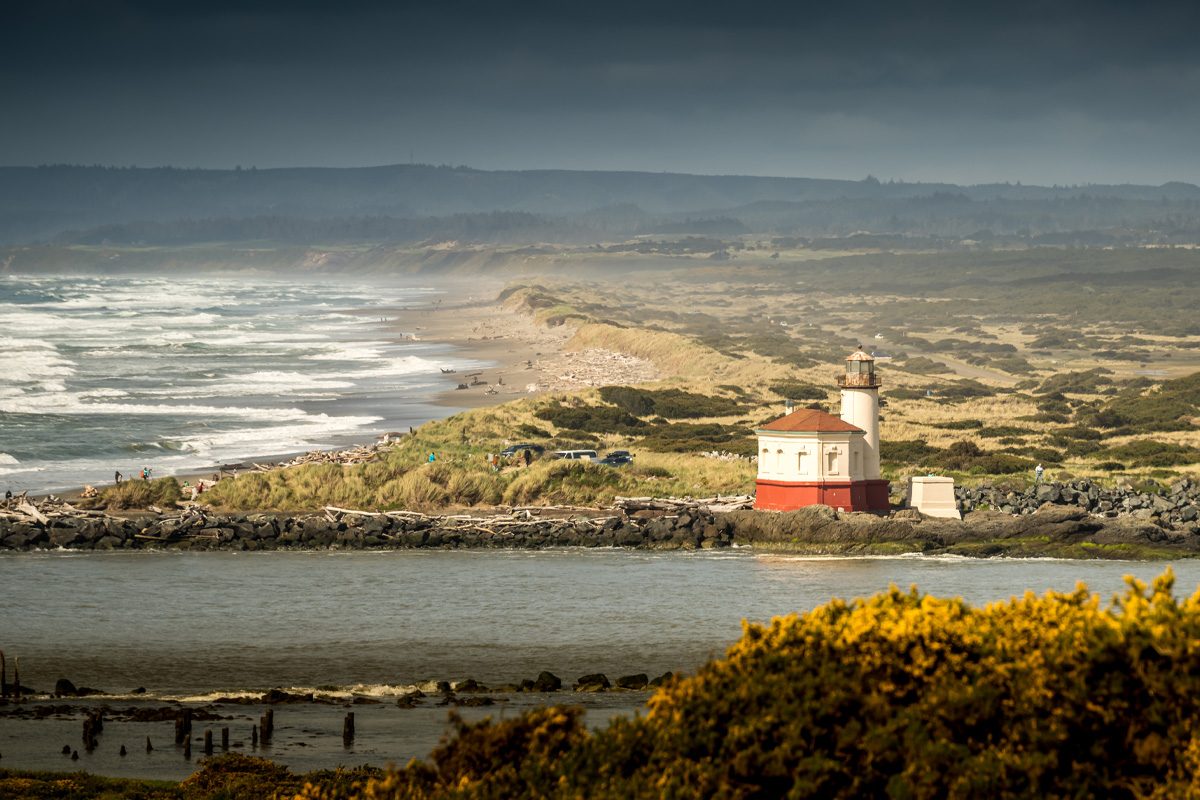 Make the Most of the Eclipse
To celebrate the celestial occasion, the community of Bandon will hold a watch party as part of a festival of light. Join other eclipse fans gathering around 7:30 a.m. on Bullards Beach, just north of the Coquille River, where you'll have wide-open views to the southeast along this sandy stretch. (Note: The campground at Bullards Beach State Park is scheduled to close for renovations Oct. 15 to March 15.)
Further north, Shore Acres State Park is hosting an Annular Solar Eclipse Watch Party beginning at 8:00 a.m. near the park's Observation Building. Join rangers and astronomy educators from around the state who will have telescopes set up to view the eclipse. While the event is free, parking is $5 for day use.
The City of North Bend is planning an all-day, unforgettable Ring of Fire Revelry Eclipse Block Party from 8:00 a.m. to 4:00 p.m. The party comes complete with free eclipse glasses (while supplies last), continuous live music, face painting, chainsaw carving, scrumptious local cuisine, fair-type food, refreshing adult beverages, diverse vendors, and shopping galore. You'll also be entertained with special activities, dancing, prizes and more!
Prior to the big day, discover the science behind eclipses with Dr. Aaron Coyner, an astrophysicist from SWOCC and a NASA/JPL Solar System Ambassador. Dr. Coyner's Eclipse Talk takes place on Tuesday, October 10 in North Bend. As a bonus, attendees will receive a complimentary pair of solar glasses.
Reedsport is making it a two-day affair with an Eclipse Viewing Family Fun Festival. Get ready for a pre-eclipse Vendor Market with live music on Friday, October 13 from 5:00-8:00 p.m. in Old Town. On Saturday, the main festivities move to Rainbow Plaza from 7:00 a.m. to 12 noon. The festival features a variety of vendors, lively music, and engaging activities for the kids.
Interested in pairing a hike with your view? Aim for a spot with a clear view to the southeast without a hillside or tall trees blocking it. Try Cape Arago State Park for headlands walks near Charleston, or check out Horsfall Beach north of Coos Bay for coastline strolls. You will want to arrive early to secure your spot at any viewpoint or beachside, as parking is limited.
The 90-mile-wide shadow will be at its darkest around the Oregon Dunes, where the eclipse will peak for about 4.5 minutes. About 10 miles south of Reedsport near Lakeside, the John Dellenback Dunes Trail could afford great views from atop a high dune. Trek through the sand and set up with clear views to the southeast.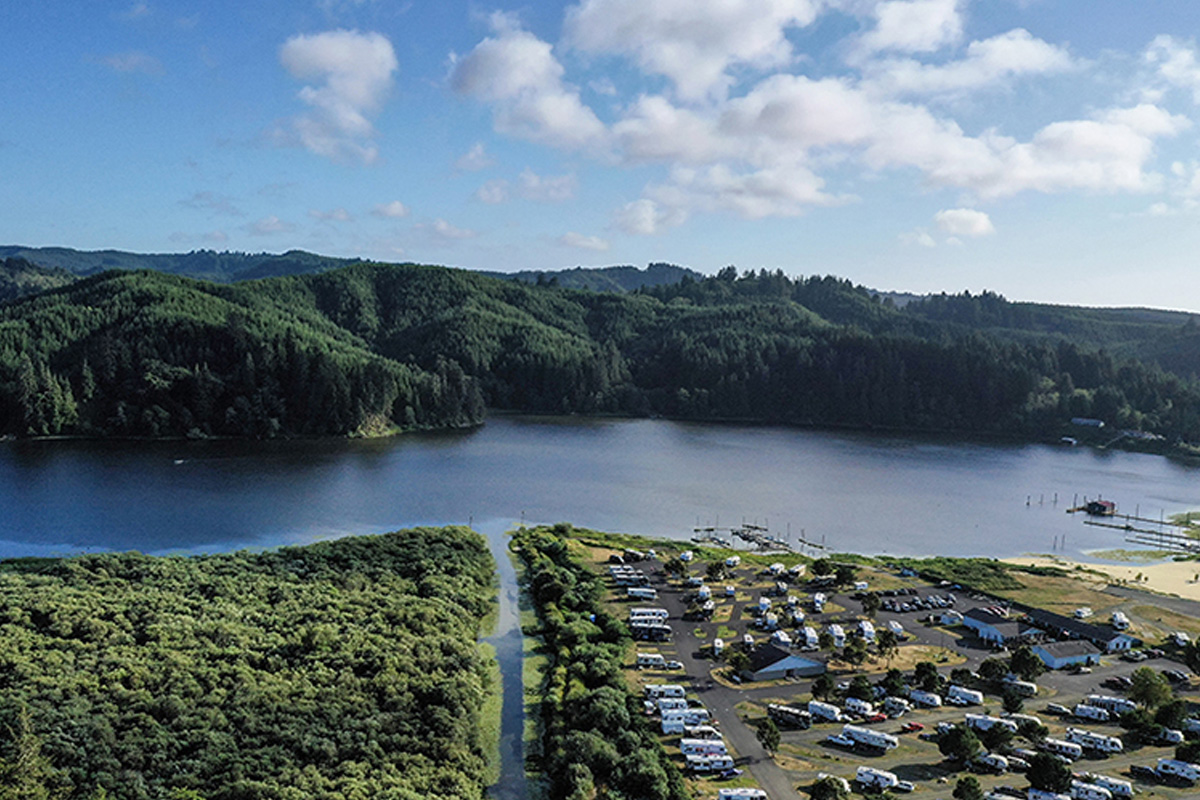 Great Places to Stay and Eat During the Eclipse
Eclipses make for a great excuse to take a road trip, especially if you're hoping to camp or park an RV. Osprey Point RV Resort in Lakeside sits on Tenmile Lake with 134 full-hookup sites. It also has five lakeside cabins with fully equipped kitchens but no need to cook. The on-site Pub 'n Pizza also does burgers and sandwiches. Bonus: You can spend your days waiting for the stars in a rental boat checking out the lake or in an all-terrain vehicle exploring the dunes, among other adventures.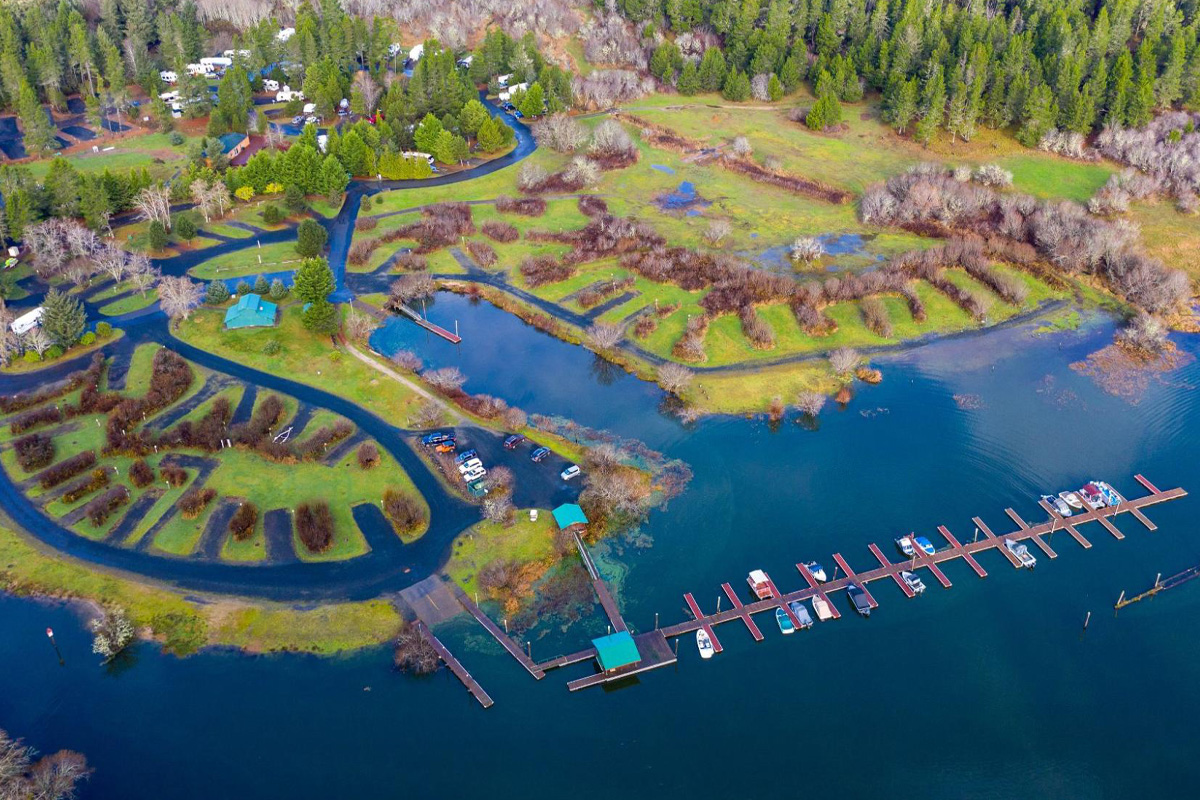 North Lake RV Resort nearby has 100 campsites, including 17 with full hook-ups, with less nighttime lighting for better views of Orion. For a truly secluded experience, book a vacation rental on the lake where the only light might be from your boat dock. The Lakeshore Lodge in Lakeside has rooms with lake views, a restaurant with prime rib and prawn specials on the weekend, and access to the sand dunes.
Just east of downtown Reedsport the Loon Lake Lodge offers houses, cottages and motel rooms, as well as RV spots, right on Loon Lake, where you'll also find a "snack shack," a boat launch and a dock.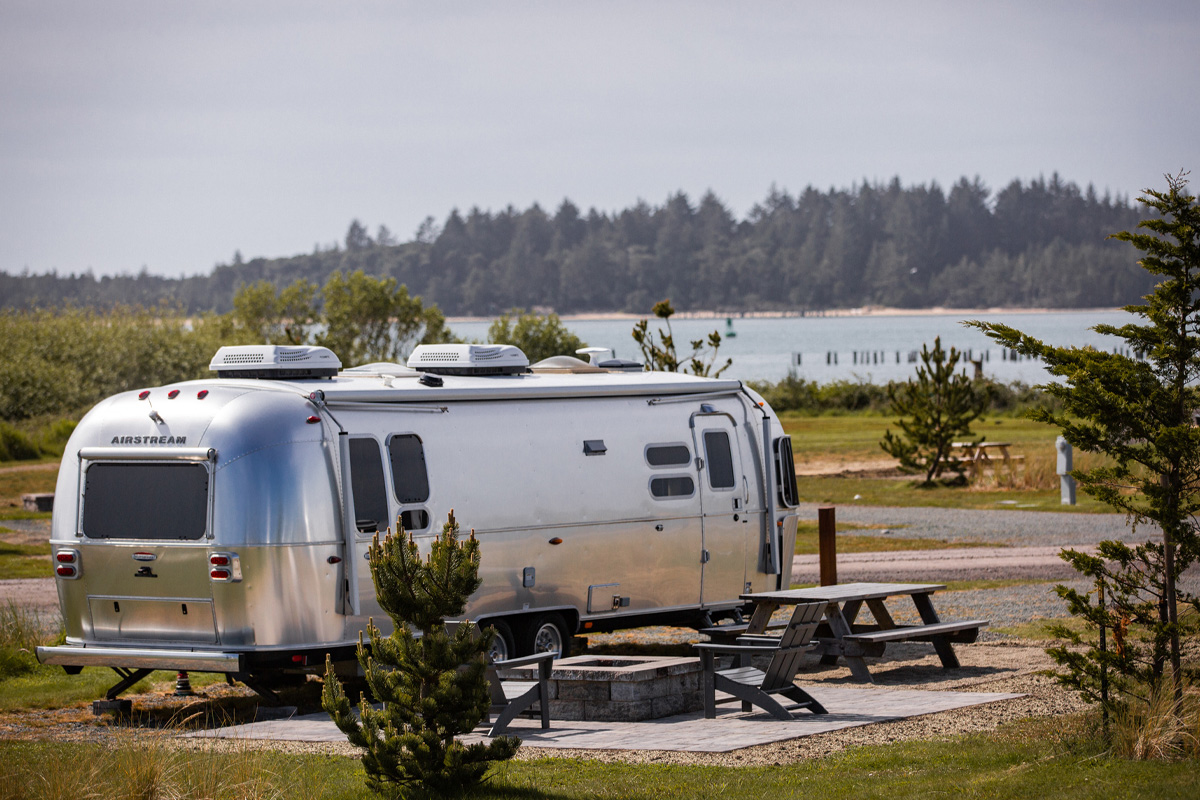 Farther south Bay Point Landing, near Coos Bay, has RV sites as well as cabins and entire (stationary) Airstreams to rent. Near Langlois Boice Cope Park has a campground with 47 sites right on Floras Lake, a spot popular with windsurfers and kiteboarders who come for the protected conditions and steady breezes. At night the real attraction begins with a star-rich sky that's vivid on clear nights thanks to limited lighting. Nineteen of the spots come with full RV hook-ups. Order freshly roasted coffee from Floras Creek Coffee Co. to go, or head out for a full breakfast at Cafe 2.0 or Mr. Ed's in Port Orford.
As you make your travel plans, check out more ideas on where to stay and read more about experiencing the eclipse in Oregon.