Discover a Picnicker's Paradise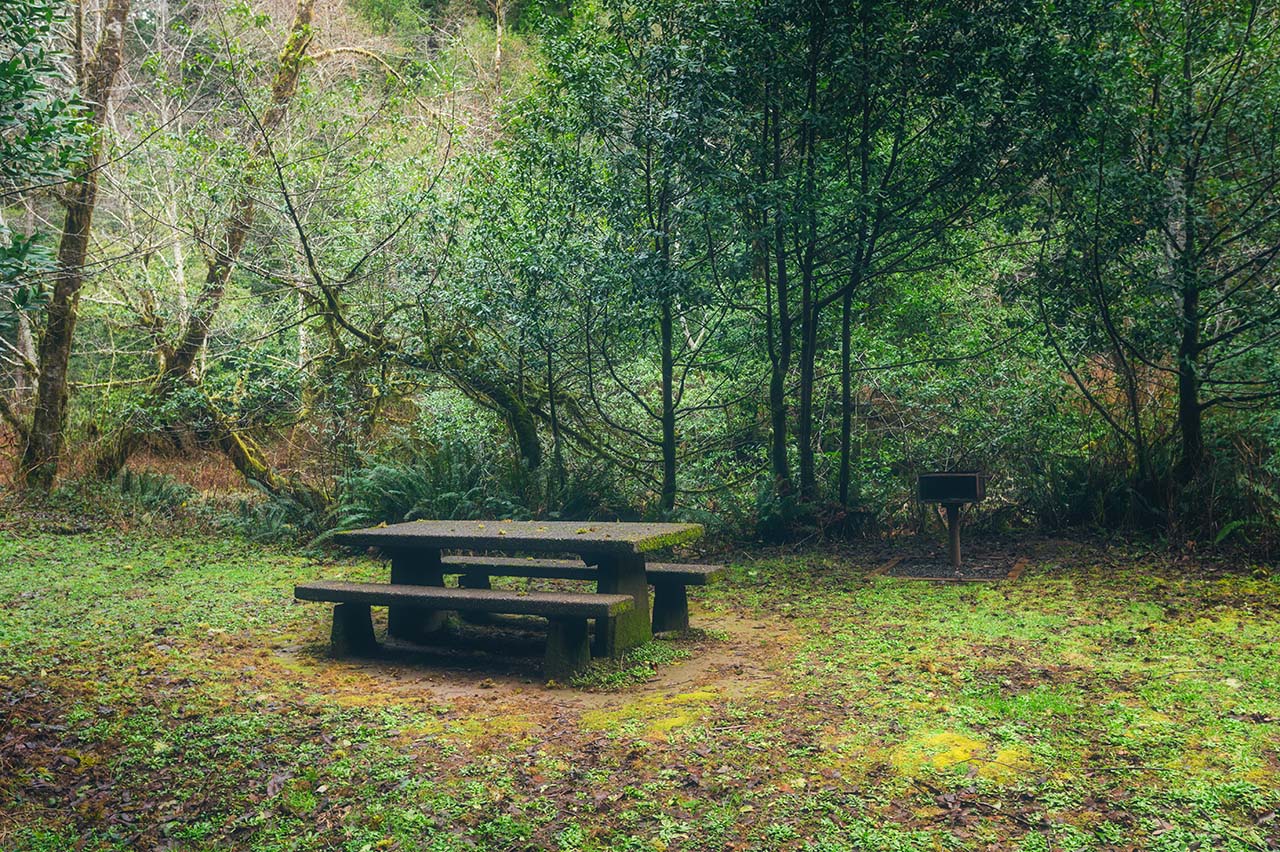 Everyone knows the Southern Oregon Coast is a haven for nature enthusiasts and seekers of scenic wonders. What better way to immerse yourself in the coast's stunning landscapes than by planning a picnic? In fact, it is so picturesque here that it's worth arranging a trip just to enjoy a leisurely outing surrounded by its radiant beauty. Whether you're a solo traveler, a couple, a family, or an ad-hoc group, the Southern Oregon Coast holds an array of idyllic picnic spots, just right for your picnicking expedition.
Dine Along a Lazy River in Reedsport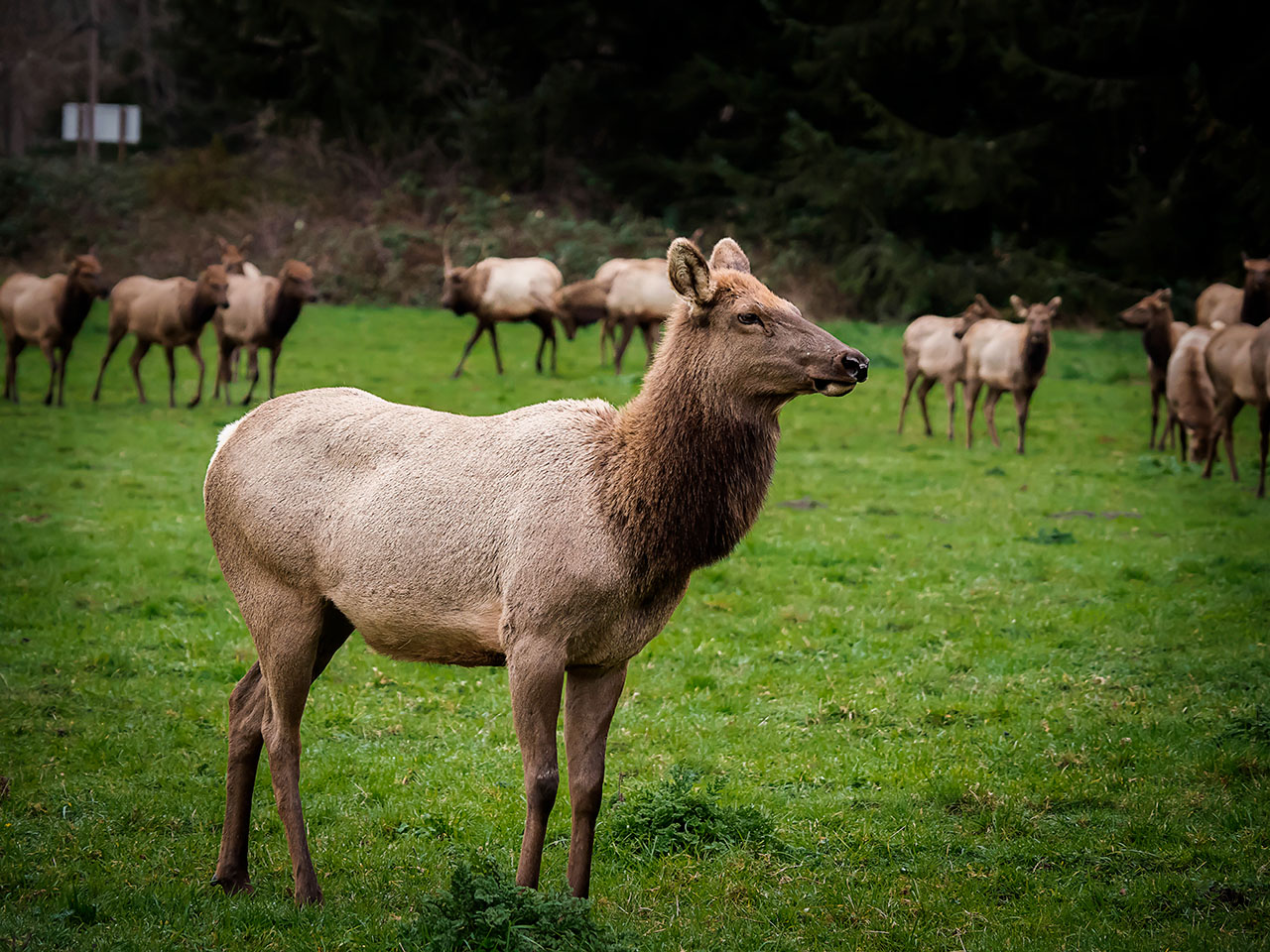 Kick Back on Umpqua Wayside & Brandy Bar
Head up the Umpqua River on the Umpqua State Scenic Corridor near Reedsport and discover the Umpqua Wayside and Brandy Bar. There's no brandy available here now, but you'll appreciate reading about the exploits of some previous imbibers. After your repast, drive just six minutes to the Dean Creek Elk Viewing Area where huge crowds of elk frequently meander. These ruminants are amazing to watch, especially in the fall during mating season.
Fall for Smith River Falls
Located just north of the bridge off Smith River Road, Smith River Falls is a pretty place to sit back, relax, and relish your repast. There are no formal parking lots or tables, but you can find several areas on the side of the road to the park that will lead you to the ideal spot to lay out your spread. Summers are often busy with people swimming and playing, but in the off-season, you're likely to have a spot all to yourself.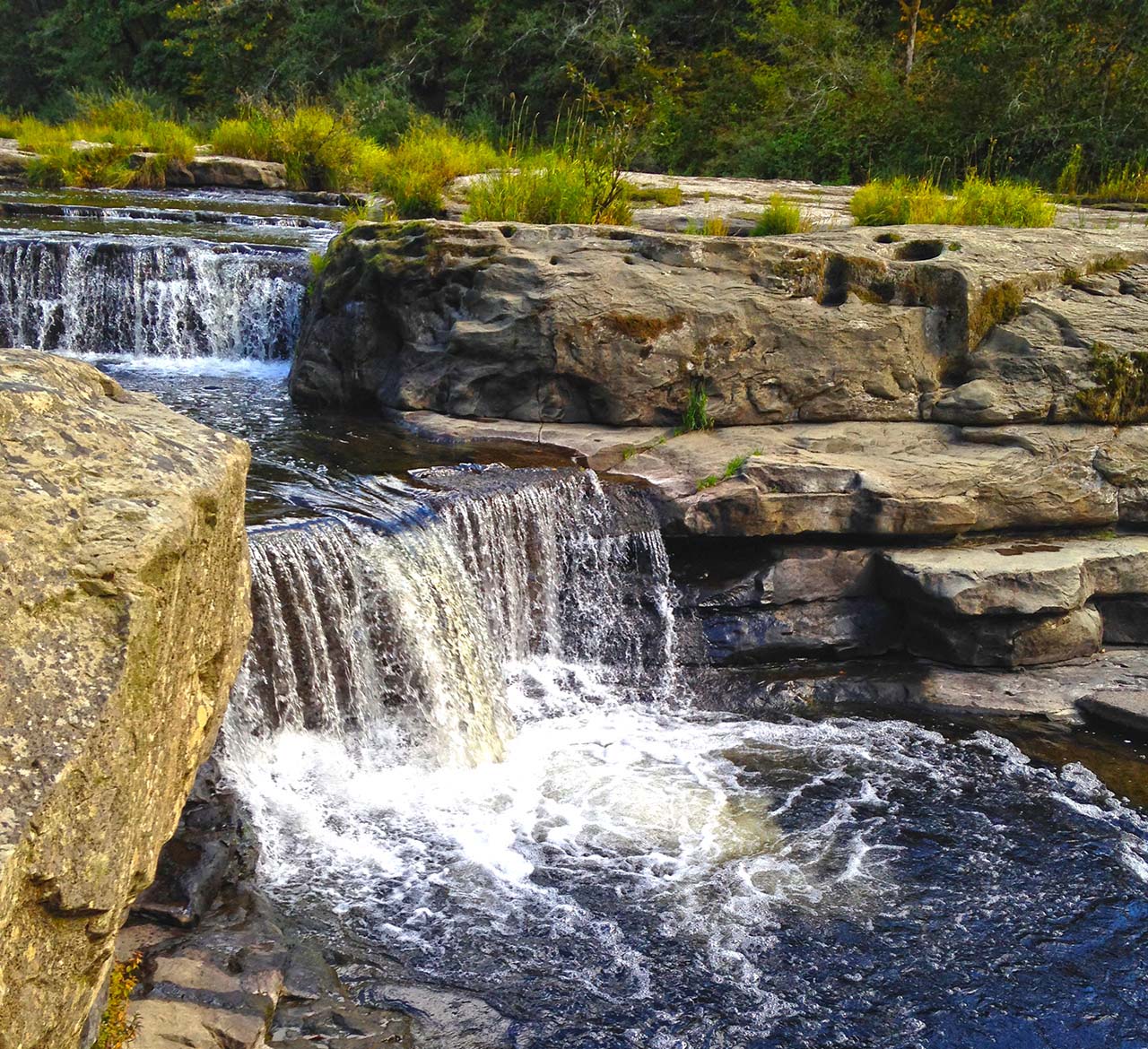 Reedsport Refuel Stop
For your lazy-river dining experience, go all in for a fun sandwich feed by dropping by the Sugar Shack Bakery. Pick up freshly-baked bread (and maybe a rich donut or cupcake for the sweet tooth!), then head to McKay's for all the fixings, drinks, and sides to complete your feast.
Indulge in Beauty and Serenity in Winchester Bay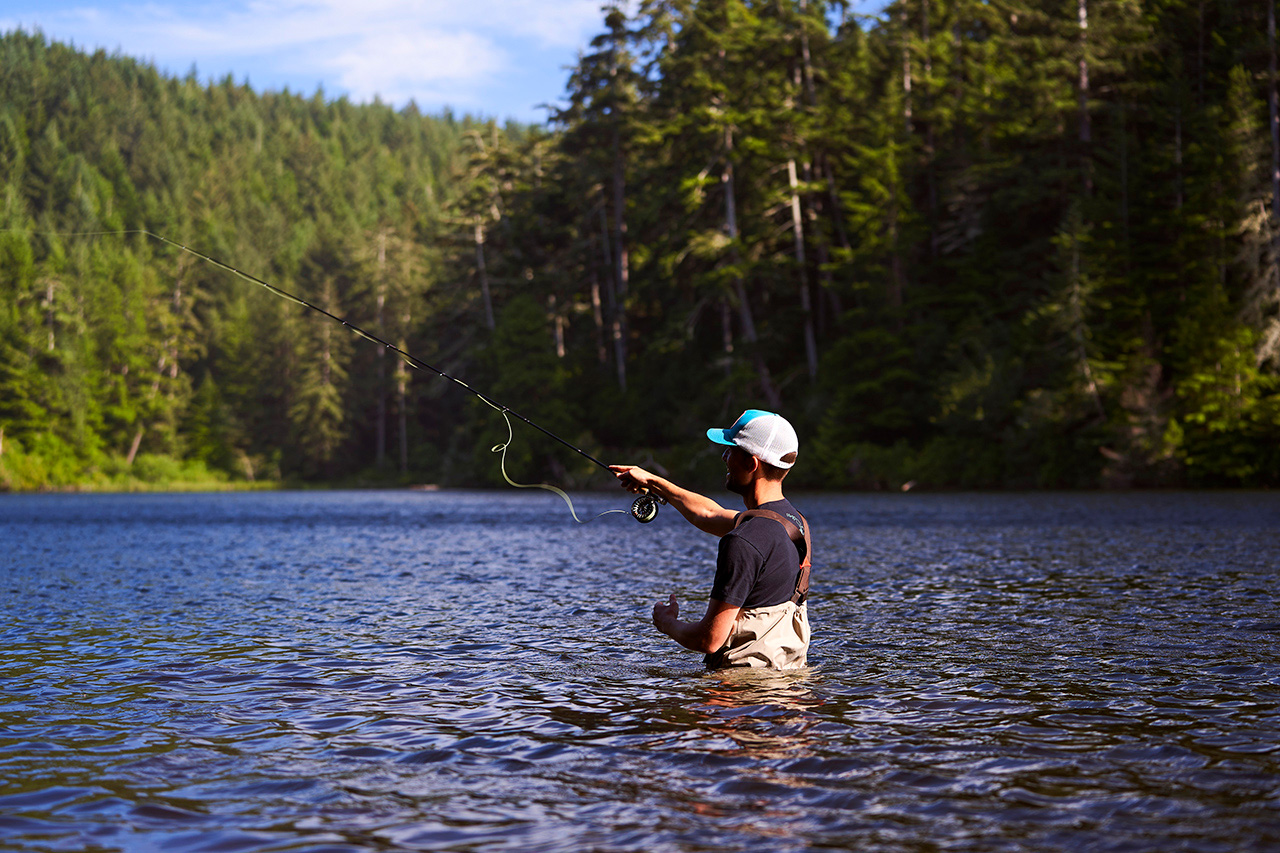 The Beauty of Lake Marie
For the ultimate outdoor dining experience rich in beauty and serenity, set your GPS for Lake Marie in Umpqua Lighthouse State Park near Winchester Bay. The beauty of Lake Marie lies not only in its scenic appeal but also in the variety of recreational activities it presents. After dining at one of the many available tables, take a leisurely stroll along the lake's well-maintained perimeter trail, jump in for a refreshing dip, or cast a line for a chance at the many fish species found here. Just a stone's throw away, a tour of the lighthouse is a must-do venture for history buffs and lovers of dazzling views alike.
Winchester Bay Refuel Stop
When it comes to picking up delicious food for your Winchester Bay feast, Bedrock's on the Bay tops the list. Indulge in one of their specialty pizzas for a unique picnic experience. Pizza makes it easy to phone in, pick up, and picnic. To round out the necessities, swing by Pelican Market for a variety of drinks and accouterments to ensure your meal is complete.
Discover a Coastal Picnic Oasis in Lakeside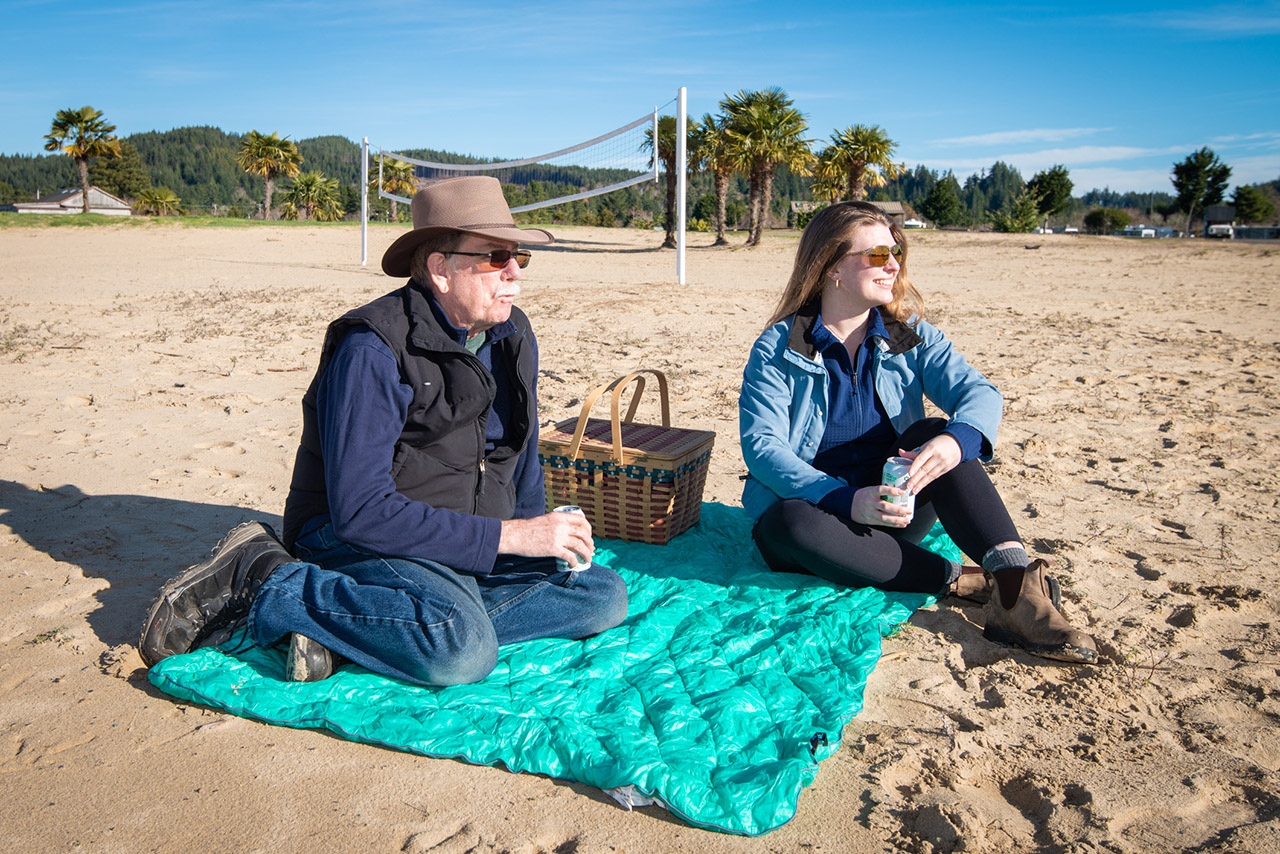 Settle in at Wulfy Beach, an Oasis on the Coast
Located on Tenmile Lake in Lakeside, Wulfy Beach is a unique destination that will have you questioning whether you're still on the Southern Oregon Coast. Tall palm trees sway gently in the breeze, creating an atmosphere reminiscent of a tropical paradise. The sandy shoreline and nearby tables beckon you to lay out your spread and soak up the sun, while a quaint gazebo provides a welcome shelter in case of unexpected rain. When it's time to burn off those calories, this coastal oasis offers swimming, paddleboarding, beach volleyball, and sandcastle building. With so much to do and plenty of wide-open space, Wulfy Beach is a great spot for an outing with kids.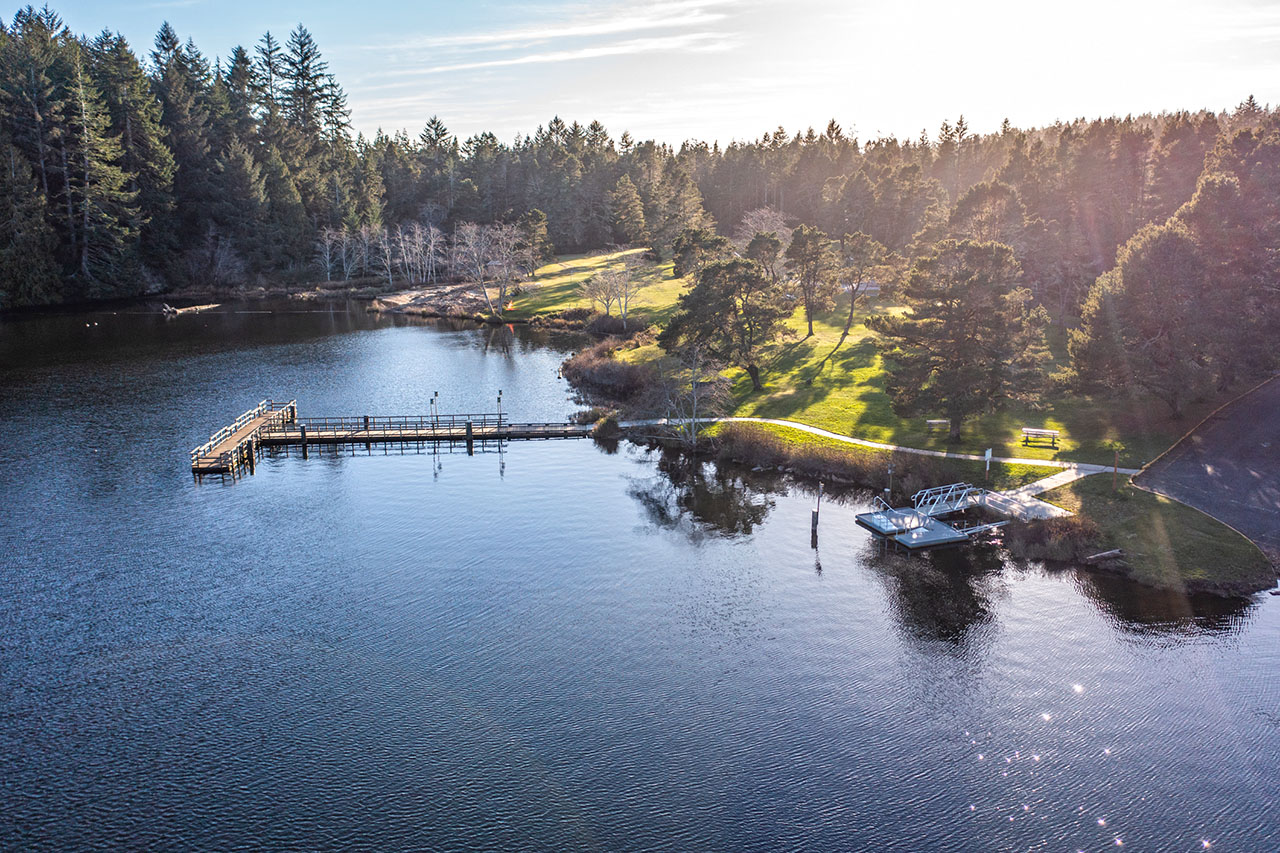 William M Tugman State Park for Nature Lovers
For those seeking a more immersive nature experience, William M. Tugman State Park is a delightful spot surrounded by towering trees and the soothing sounds of nature. This expansive park is home to a wonderful day-use area that features picnic tables, an ADA kayak launch, a designated swimming space, and a playground for the little ones. After your feast, swim, kayak, or embark on a leisurely hike to a scenic point on the lake where you'll be rewarded with sweeping views of the water and surrounding landscape.
Lakeside Refuel Stop
The Muncheria food truck is a top pick for scrumptious local fare in Lakeside, which is their home base when not traveling to an event. This popular eatery creates a selection of Mexican-inspired dishes made with fresh ingredients and bursting with flavor. Grab some tacos, burritos, or nachos to go. Your taste buds will thank you! For drinks and other essentials, head over to McKay's Market. Not only do they stock your favorite beverages, but they also market a range of locally-sourced products that make for the ideal accompaniments. From artisan cheeses to fresh fruits to crisp Oregon wines, you'll find everything you need for a memorable alfresco spread.
Forage with the Whales in Coos Bay/ North Bend/ Charleston
Along one of the most scenic routes on the Oregon coast, you'll find three, closely-located state parks near Coos Bay / North Bend / Charleston. You can't go wrong with any of them for an exquisite ocean-side feast.
Cape Arago for the Whales
You'll be sure to fall in love with Cape Arago for a picnic. Several tables overlook the Pacific, and at the right time of year, you might see whales migrating past as you nosh and sip on a glass of wine. If it is raining, a covered gazebo in the park provides shelter for your meal.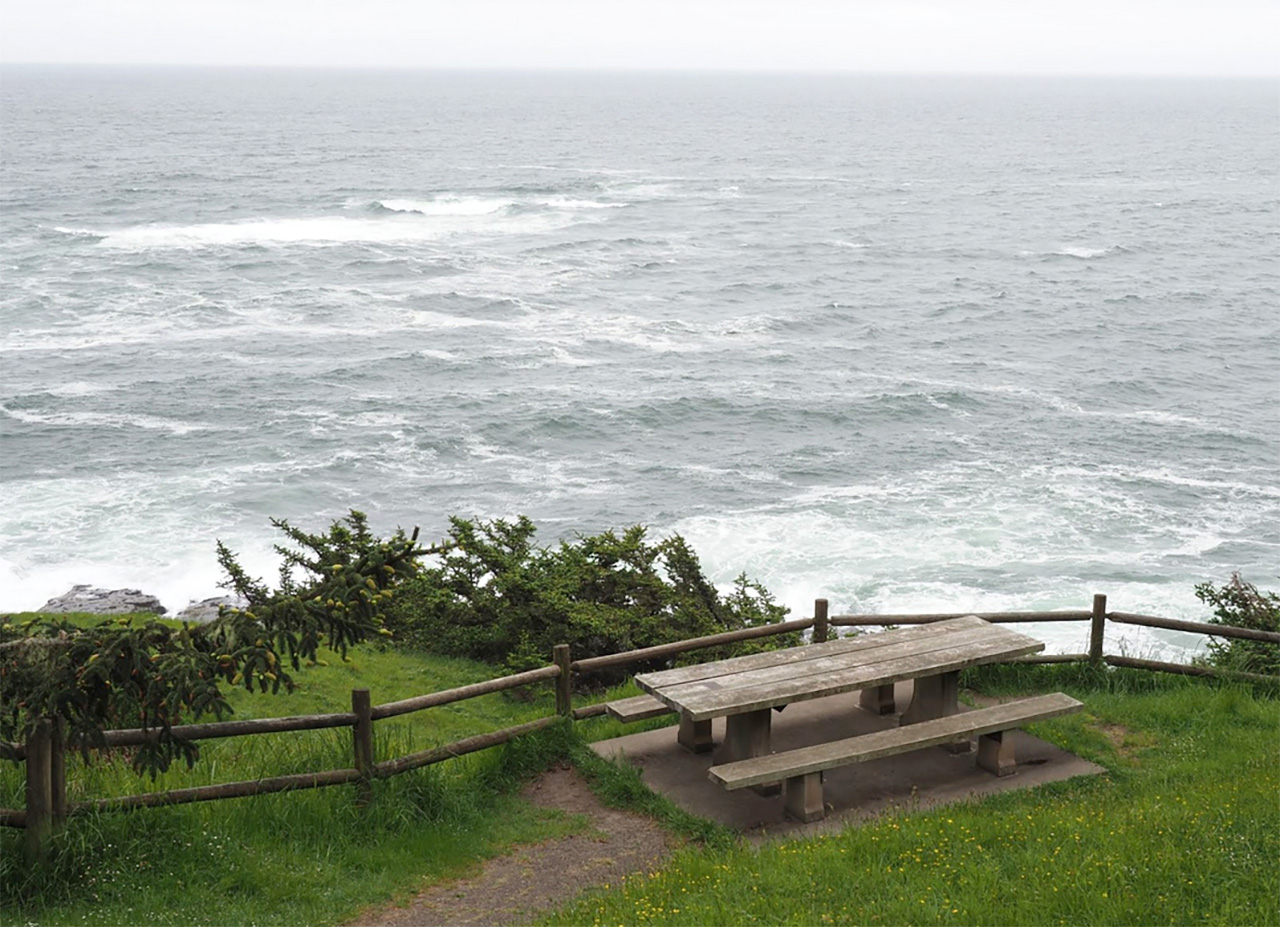 Shore Acres for the Gardens
Shore Acres features a unique blend of natural and manicured landscapes, as well as restrooms and a visitor center for creature comforts. The picnic tables, located outside of the gardens and safely set back from the cliffs, extend tremendous views of the peaceful grounds and (sometimes) chaotic ocean. After your feast, be sure to explore the grounds and charming botanical gardens, which showcase a variety of flowers and exotic plants.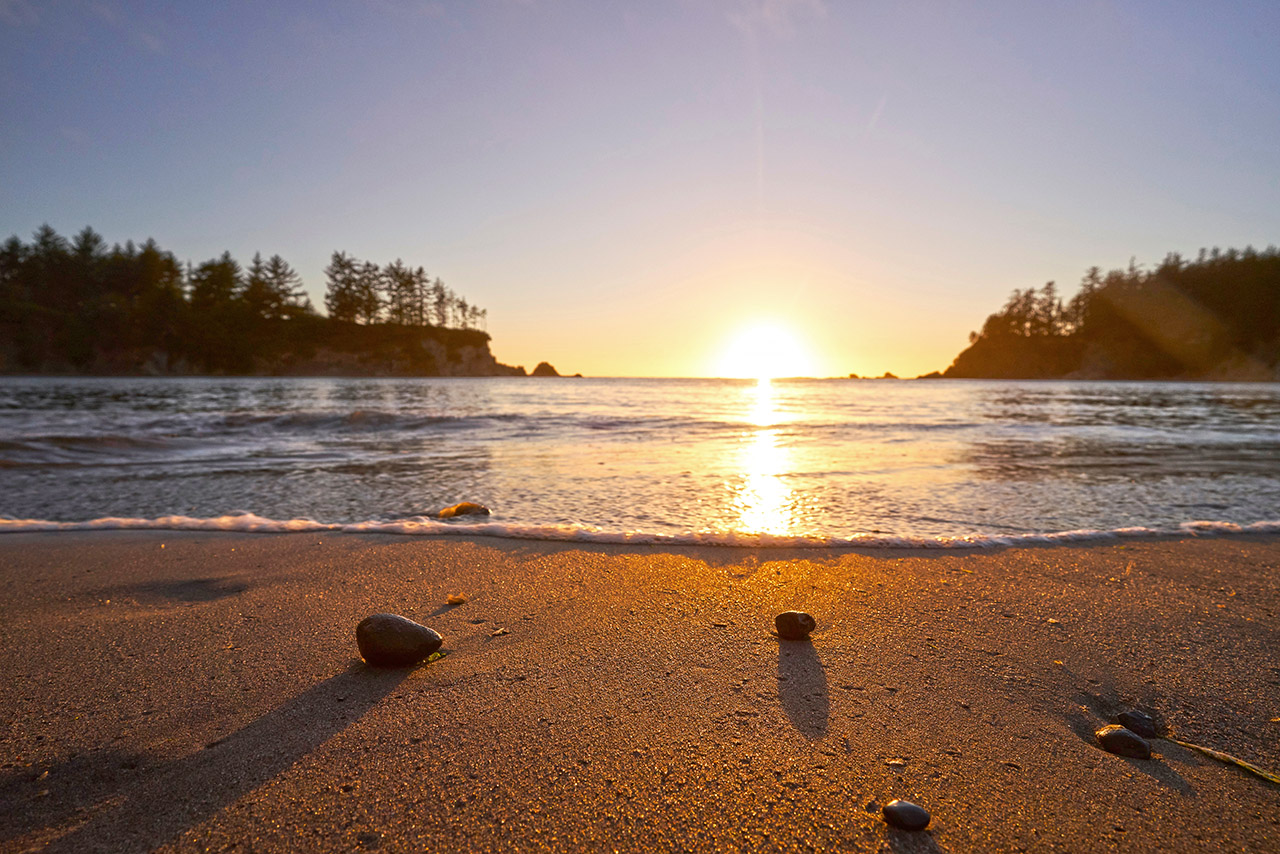 Sunset Beach Wins with the Kids
If you are traveling with kids, Sunset Beach is your destination. The park features picnic areas with tables, grills, restrooms, and a wide sandy beach where children can run free and wild. Before or after your meal and at low tide, tidepooling is the must-do diversion. Come for the day and you will see, Sunset Beach contains all the essentials for a perfect, kid-friendly excursion.
Coos Bay/North Bend/Charleston Refuel Stop
Before heading out of Coos Bay, drop by the Coos Head Food Co-op for a make-your-own outdoor feast. This community-owned grocery store emphasizes local, organic, and sustainably sourced products. You'll find an array of fresh produce, artisan cheeses, specialty meats, and locally made breads. Grab some ingredients to devise a delectable spread or choose from their selection of pre-made sandwiches and salads.
Realize the Perfect Seaside Picnic in Bandon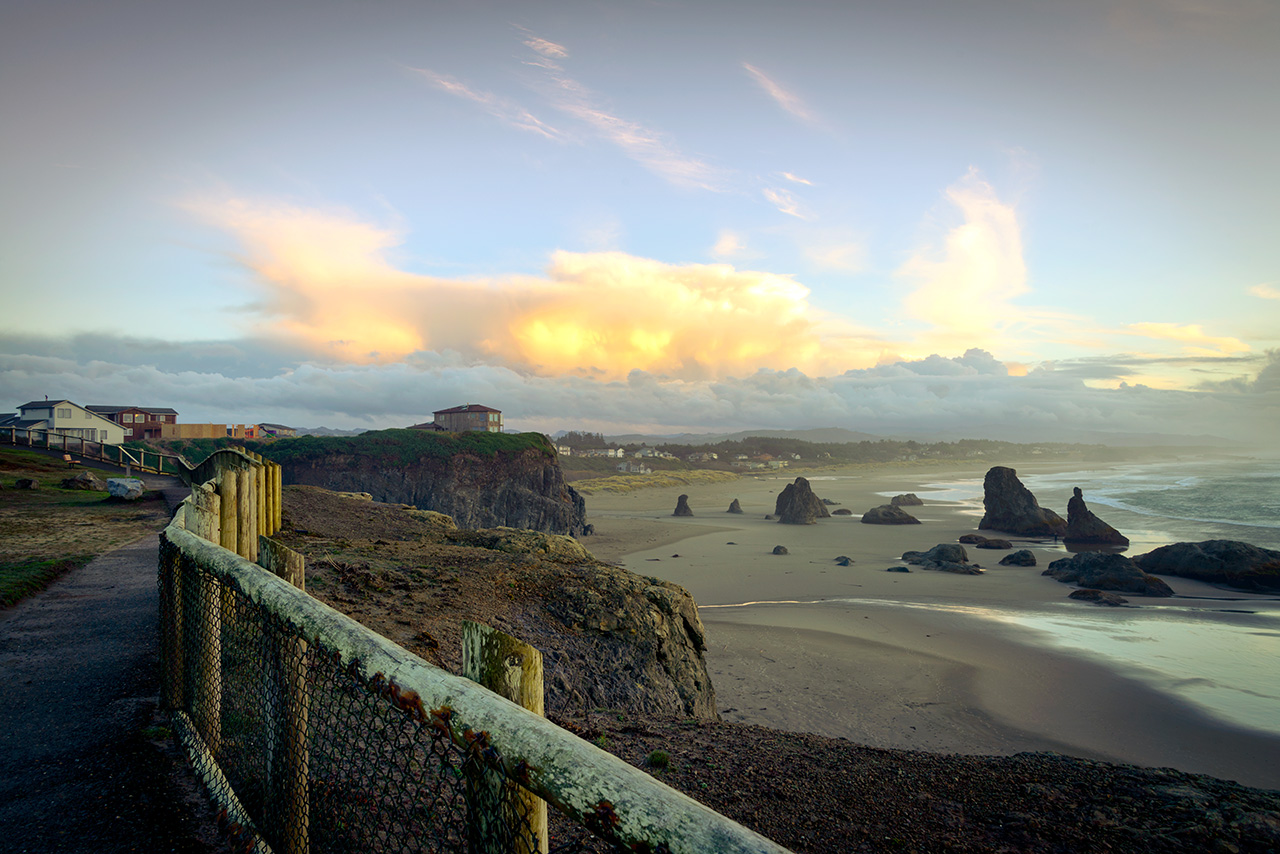 Loop through Face Rock, Devil's Kitchen, & China Creek
As it hugs the coastline, Beach Loop Road is the consummate starting point for your Bandon picnic adventure. Drive this winding stretch of road and you'll find several picturesque stops that are ideal for partaking in a leisurely meal. One of the most popular is Face Rock Viewpoint. With tables facing the ocean and engulfed by the sound of crashing waves, Face Rock is the ultimate spot for a seaside picnic. A little further along the loop, Devil's Kitchen features a small cove surrounded by sea stacks, providing a more secluded location. Another option is China Creek. Surrounded by lush vegetation and a lovely creek, it's a model location for those who prefer a more tranquil setting. No matter where the loop calls you, after your feast, a stroll along the beach to explore the fascinating rock formations and colorful tidepools is a must!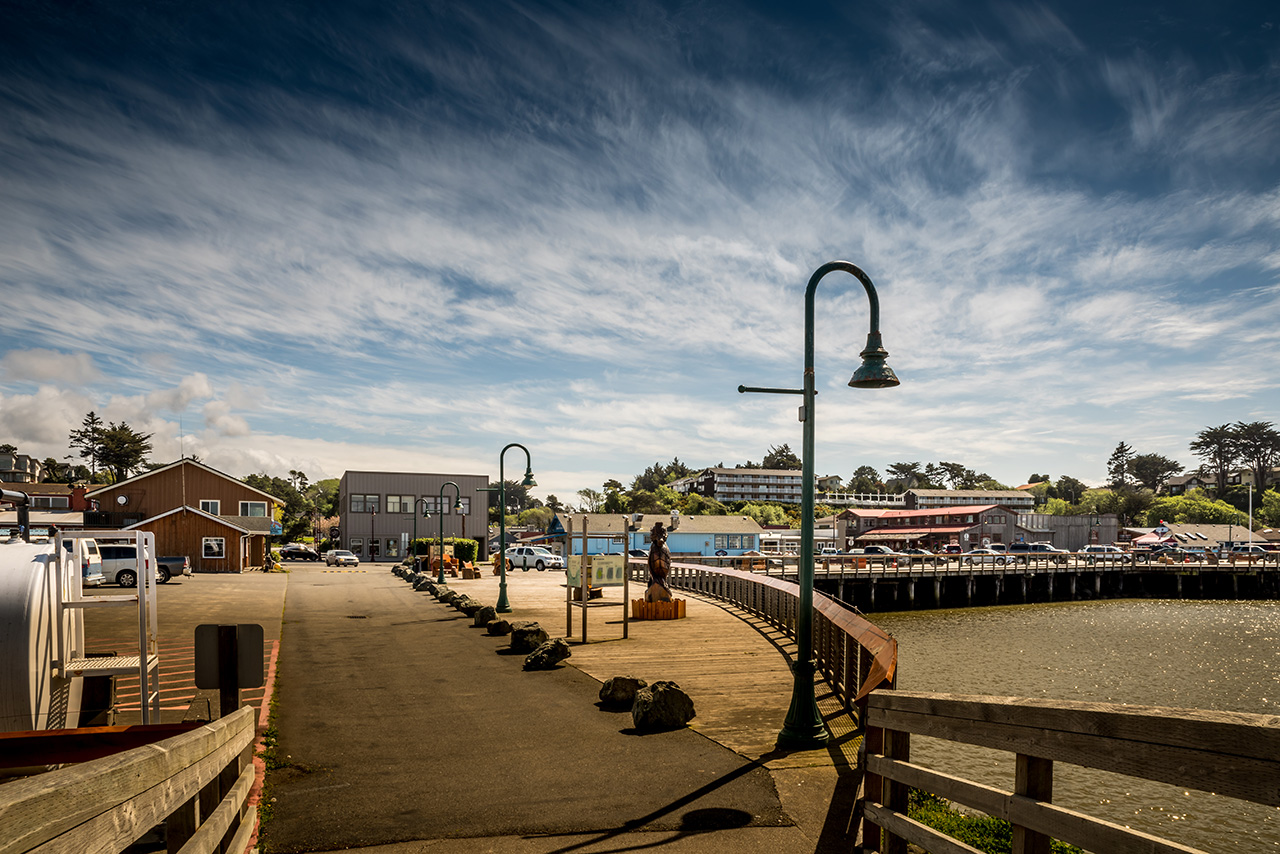 Bandon Old Town for an In-Town Picnicking Experience
If you prefer a more bustling setting, take a seat on the boardwalk in Old Town. Grab a table overlooking the Coquille River and indulge in the flavors of the coast. In inclement weather, the boardwalk picnic shelter is a refuge from the storm. After enjoying your idyllic repast, there's no shortage of activities to keep you entertained. Take a stroll along the boardwalk where you can admire local artwork, watch fishing boats go by, and even spot wildlife such as sea lions and aquatic birds.
Bandon Refuel Stop
A stop in Bandon yields many options for picking up tasty treats to fill your basket. For mouthwatering burritos and fixings, Wilson's Market is a must-visit. For a delightful assortment of freshly-baked goods and sandwiches, Bandon Baking and Bandon Coffee Cafe have you covered. Their "to-go" lunches are an exemplary choice for an ocean-view dining experience. And, a visit to Bandon wouldn't be complete without sampling the cheese at Face Rock Creamery. The shop stocks all you need for an inviting charcuterie spread featuring their award-winning cheeses, cured meats, and delectable accouterments.
Chow Down in "World Famous" Langlois
Even while claiming to be "World Famous," Langlois' friendly and laid-back vibe beckons to those seeking a relaxing escape from the hustle and bustle of city life.
Visit New River for the Ultimate in Secluded Dining
North of Langlois, the New River Area holds an array of tables dotted throughout the landscape. If you crave a truly secluded experience, be prepared to embark on a brief hike to discover hidden tables nestled among the trees. Keep in mind that during the snowy plover nesting season one of the main roads in the area is closed, making some of these hidden spots even more elusive. After you indulge, hike the self-guided loop trails or visit the Nature Center at Storm Ranch to learn about the area's diversity of habitats and its interconnected network of rivers and lakes.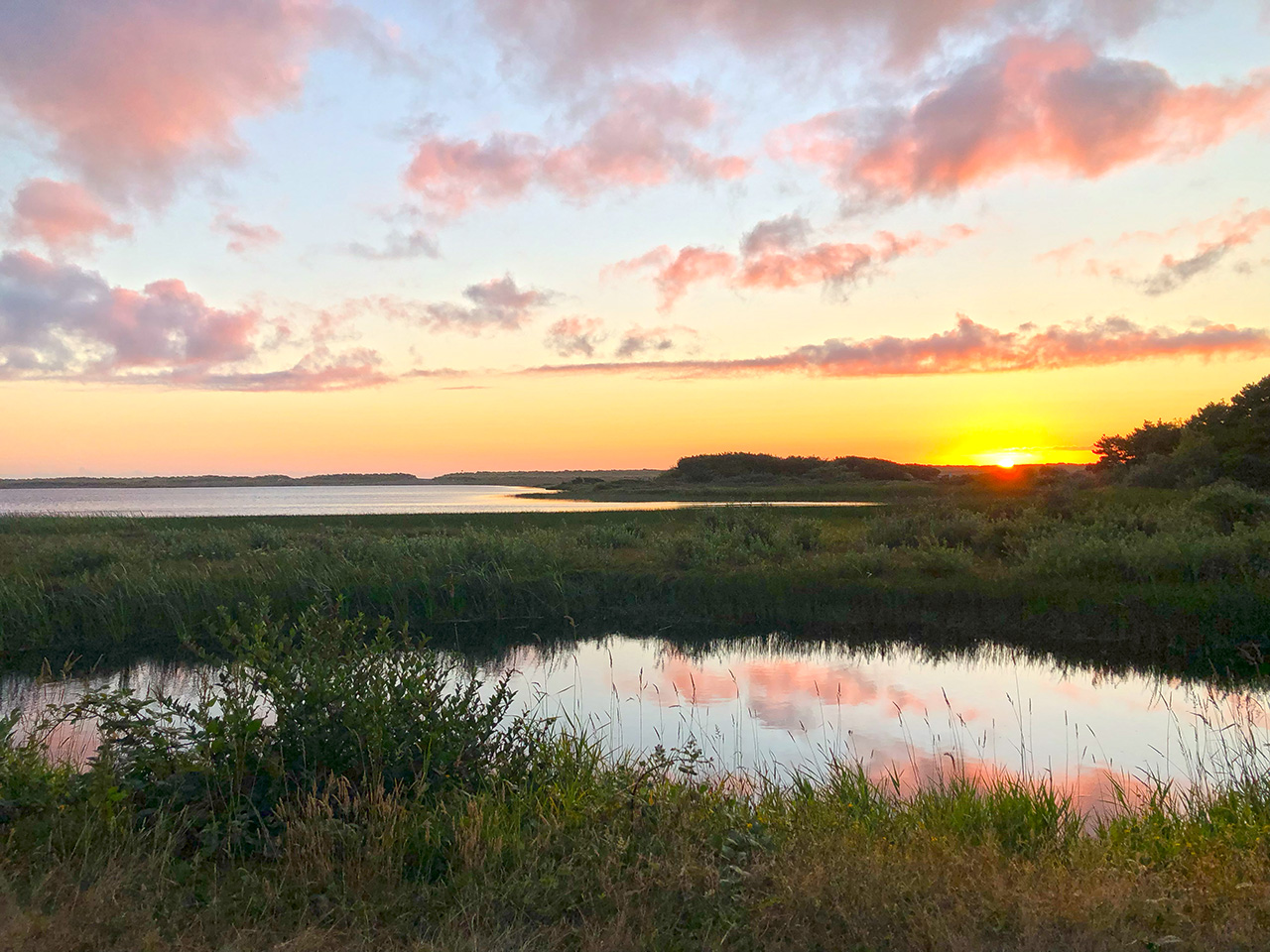 Chose Floras Lake for Fresh Water and Fresh Air
Just a short drive south from the heart of Langlois you'll find Floras Lake. Surrounded by rolling sand dunes and lush forests, this freshwater lake creates a breathtaking backdrop for your ultimate picnic. After satisfying your hunger, grab a windsurfing or kiteboarding lesson on the lake or take a leisurely stroll along the nearby beaches to breathe in the refreshing ocean air. If you're having a late dinner, sit back and watch the sunset over the water.
Langlois Refuel Stop
For the centerpiece of your excursion, step into the iconic Langlois Market for their world-famous hotdogs. These mouthwatering delights are sure to be a hit with everyone in your party. The market also stocks a variety of sandwiches, beverages, and all the fixings you need to create the ultimate alfresco feast.
Picnics Never Get Old in Port Orford
Nestled along the rugged coastline, Port Orford boasts of being "The Oldest Townsite on the Oregon Coast." Rich in history and awe-inspiring views, this quaint town is an idyllic setting for making memories that will last a lifetime. Picnicking here never gets old!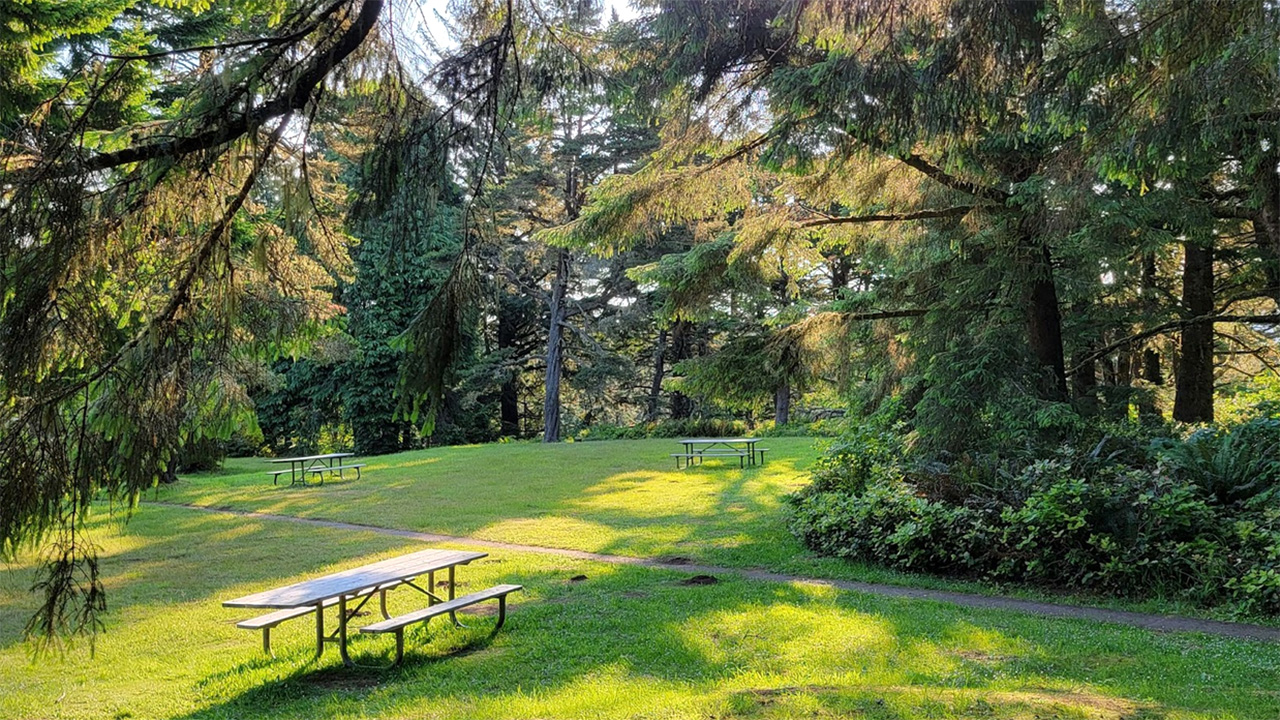 Conquer Battle Rock for Memorable Views
One of the most visually stunning sites along the entire Oregon coast, Battle Rock Wayside Park is a must-see destination for a memorable excursion. While the park doesn't offer tables, you will find benches that provide the quintessential vantage point for you to savor simpler fare while marveling at the dramatic coastal vistas. Once you finish munching, take a leisurely stroll along the sandy beach, explore the tidepools, or venture along the nearby trails to discover hidden coves and impressive rock formations.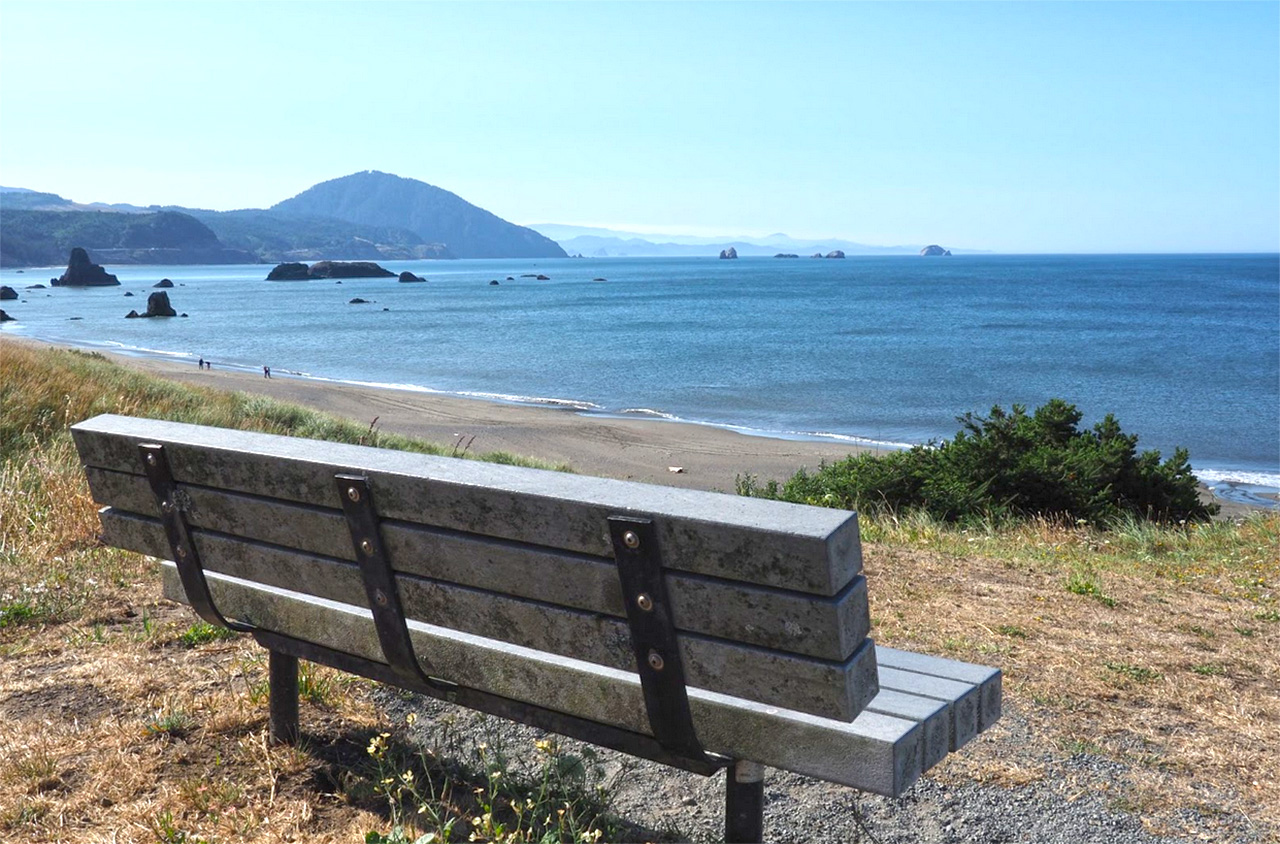 Into the Woods at Humbug Mountain State Park
If you're looking for a less-traveled alternative, Humbug Mountain State Park Day Use Area south of Port Orford provides a charming wooded setting with access to restrooms and tables. After your meal, embark on a scenic hike up Humbug Mountain. If you make it to the top, you'll be rewarded with panoramic views of the coastline.
Arizona Beach for Seaside Seating
Alternatively, head to Arizona Beach State Recreation Site, a laid-back spot with several tables lined up for perfect views of the ocean. Afterward, walk along the sandy shore, build a driftwood fort, explore the tidepools, or simply bask in the tranquility of the waves lapping against the shore.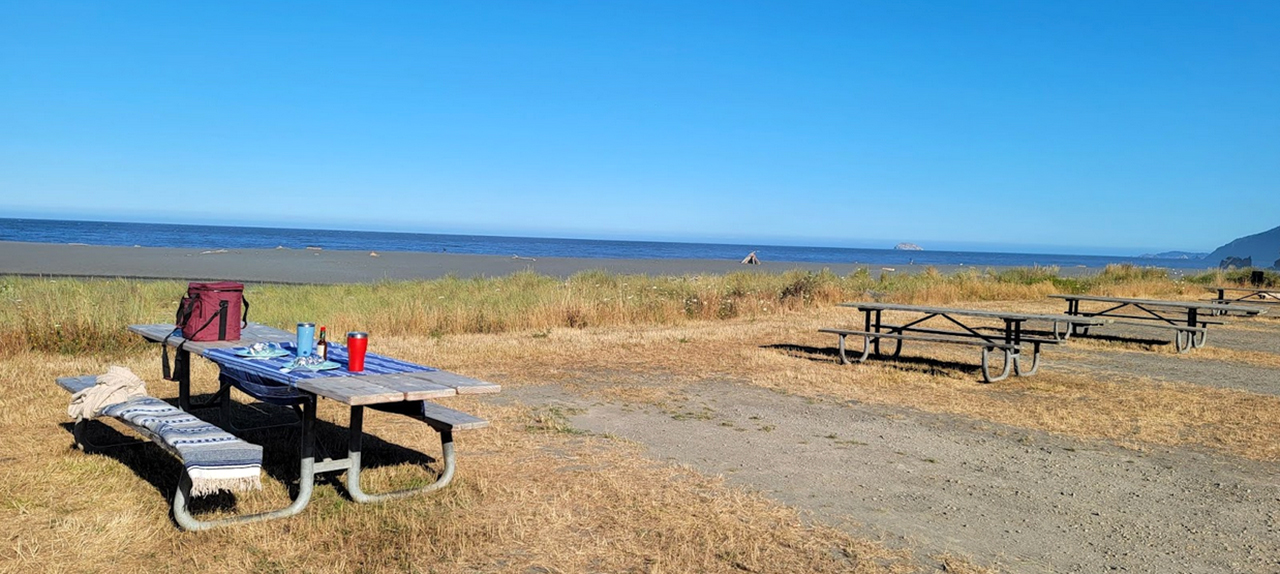 Port Orford Refuel Stop
Port Orford boasts a variety of local eateries where you can pick up provisions for your outdoor adventure. If you're stopping at Battle Rock, the "almost famous" fish and chips at The Crazy Norwegian's is a great choice. Or, embrace the farm-to-table experience and head to Golden Harvest Herban Farm & Bakery for a tantalizing array of "homemade deliciousness," including freshly baked bread, artisanal cheeses, flavorful charcuterie, and other gourmet treats sourced from local producers. For beverages and other fixings to round out your feast, Portside Market has it all. Their deli creates custom-made sandwiches and to-go items as well.
Samuel Boardman Scenic Corridor, 12 Miles of Earthly Delights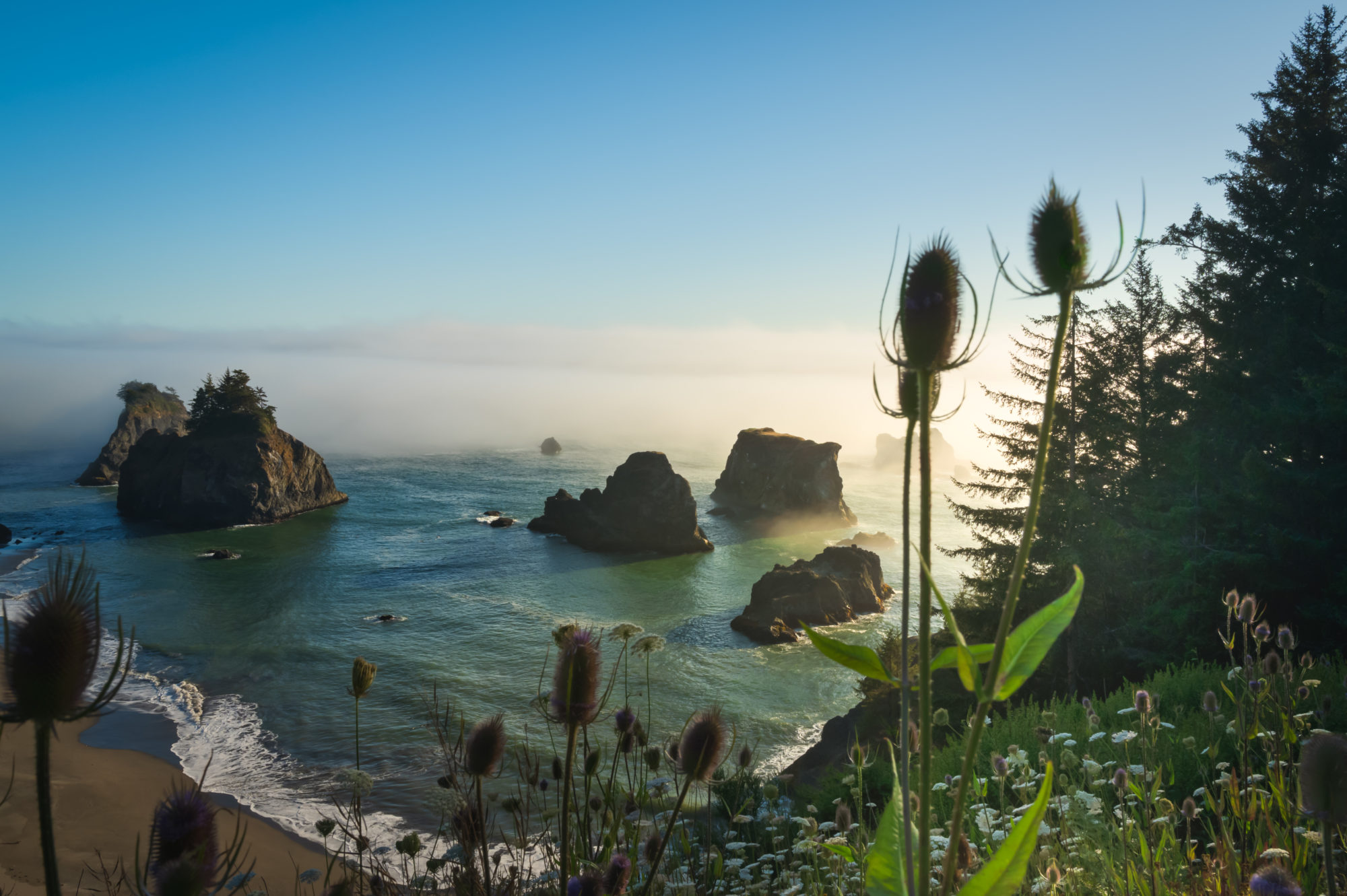 Meander the Samuel H. Boardman State Scenic Corridor for twelve miles of scenic wonder, perfect for a peaceful and immersive dining experience. Choose from several picnic areas within the corridor, each possessing its own unique charm and astonishing views. After you've consumed some delectable fare, lace up your hiking boots and hit the trails to explore lush forests, hidden coves, and dramatic cliffs. For a more leisurely outing, stop by the many viewpoints and glimpse some of the most amazing views the Southern Oregon Coast has to offer.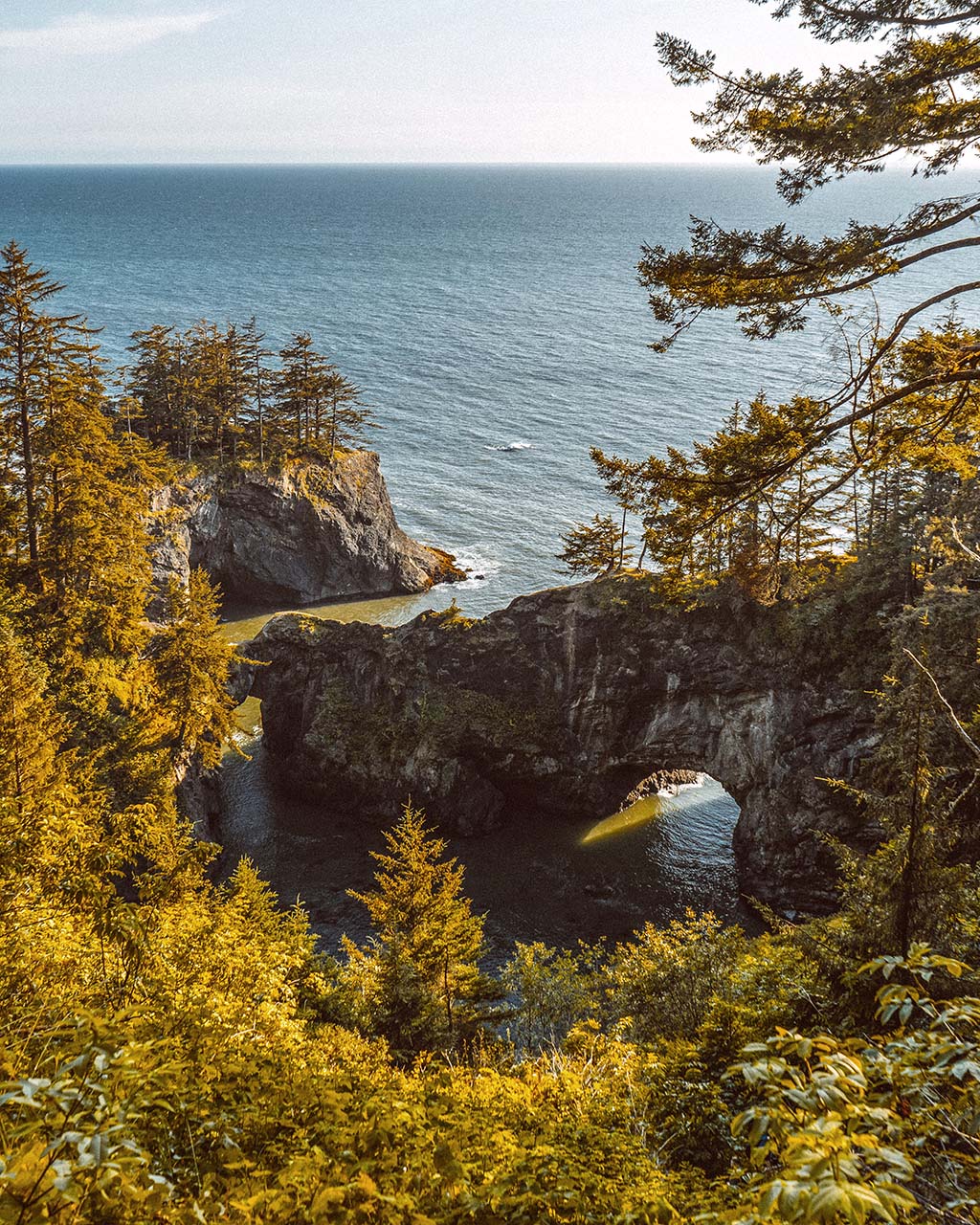 Arch Rock Viewpoint for Iconic Views
A local favorite spot is Arch Rock Viewpoint, which offers sweeping views along with several tables nestled in a small wooded area. The best seat in the house provides a view overlooking the sea stacks. After your meal, a short loop around the fringe leads to an overlook featuring waves crashing against the iconic Arch Rock formation.
Whaleshead Beach for an Intimate Setting
Whalehead Beach provides a more intimate setting. Numerous tree-shaded tables with access to multiple viewpoints overlooking the rocky coastline make this beach a true sanctuary for picnickers. Shallow creeks and a small cave along the beach are great for exploring after your meal.
Gold Beach Refuel Stop
While options within the corridor are limited, Gold Beach to the north offers an array of delightful eateries and markets. The Old Agness Store boasts a gluten-free kitchen and a large selection of regional cheese and gourmet items. Pick up a pre-made charcuterie platter, or call ahead for a custom-made spread. Stop by Leavened Bakery for naturally-leavened breads and pastries or Coastal Market for miscellaneous gourmet items.
Accessibility in Brookings, And Don't Hold the Views
Brookings beckons with its picturesque landscapes and friendly atmosphere. But what really sets it apart is its commitment to accessibility. With several ADA-accessible sites that cater to individuals with varying mobility levels, Brooking ensures everyone can enjoy the natural wonders this area has to offer.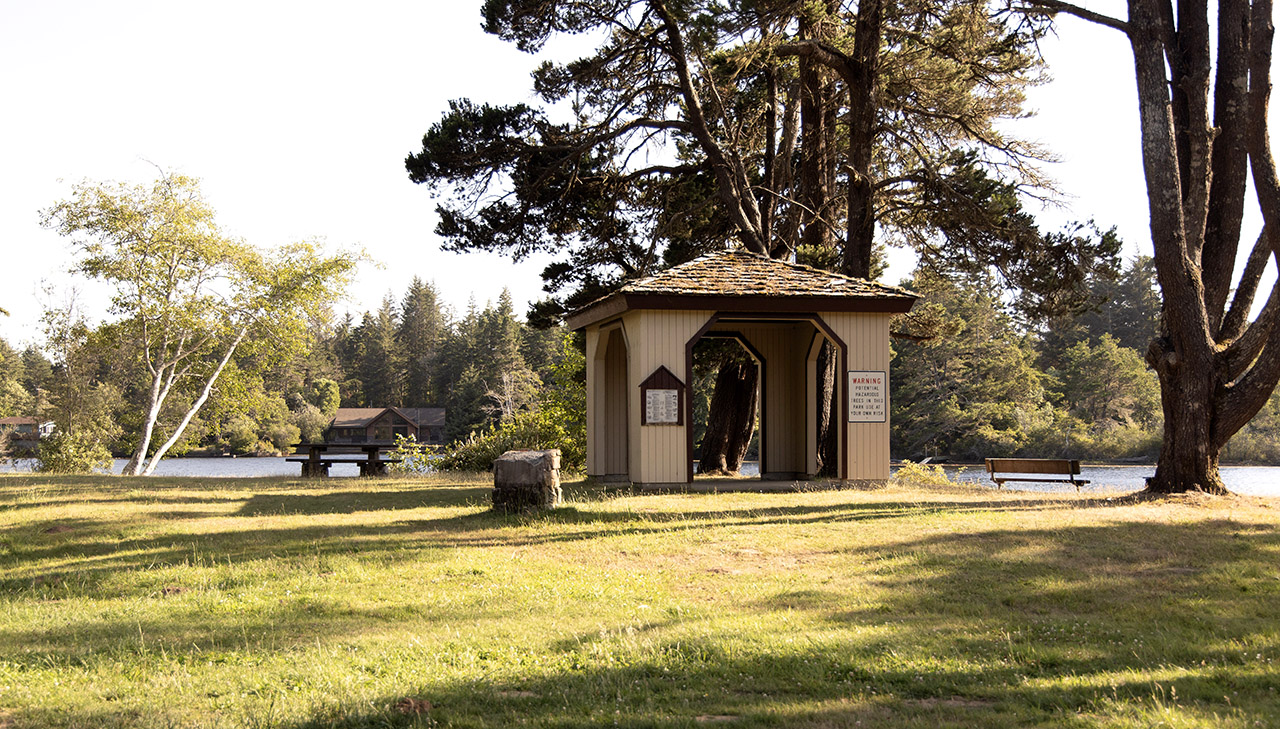 Harris Beach State Park for Accessible Views
One of the standout destinations in Brookings is Harris Beach State Park with its striking coastline, sandy beaches, and abundant picnic areas suitable for all visitors, including those with accessibility needs. Relish some delicious grub while being serenaded by the rhythmic sounds of the crashing waves. Afterward, explore tidepools, embark on a hike along the park's trails, or simply relax and soak up the serene atmosphere.
Alfred Loeb State Park
Alfred Loeb State Park contains several ADA-accessible picnic areas that blend harmoniously with nature's splendor. Enjoy your meal in this tranquil park amidst towering myrtlewood trees while listening to the melodic sound of the nearby Chetco River. After you dine, explore the park's network of trails, take a refreshing swim, or sit back and absorb the peaceful ambiance of this enchanting woodland.
Brookings Refuel Stop
When it comes to picking up delicious food for your repast, Brookings offers several options to satisfy your cravings. Visit Compass Rose Café for an appetizing selection of sandwiches, salads, and baked goods. Grab one of their breakfast burritos and you may have enough for both a breakfast and a lunch picnic. The café makes vegan and gluten-free options, so everyone can appreciate the fresh ingredients and hearty flavors. For beverages and fixings, as well as made-to-order sandwiches, visit Railroad Street Market & Deli. This local establishment generates a selection of sandwiches prepared with care and attention to detail.
Find Endless Choices Along the Southern Oregon Coast
No matter where you are on the Southern Oregon Coast, you will find a place to picnic. If a table doesn't present itself, lay a towel down on the sand, a blanket on the pine needles, or a cushion on a rocky outcropping. The possibilities, along with the views, are endless.
And, we encourage you to think "outside the sea chest." Try experimenting with interesting and unusual picnic fare for any time of day – breakfast, lunch, or dinner. You're on the coast, so nothing says you need to stay traditional! But, a word of caution, many businesses on the coast are locally owned and operated with limited staffing. Eateries especially, may participate in flexible days and hours as to when they are open. Mid-week and off-season may entice the locals to take off on their own outings. It's always best to check with each business before heading out.
So, Pack Your Basket and Go Picnic!
With its enchanting scenery, rich history, and delicious local fare, it's no wonder the Southern Oregon Coast is the ideal destination for a perfect picnic experience. What are you waiting for? Go pack your basket, head to the south coast, and let the memories begin!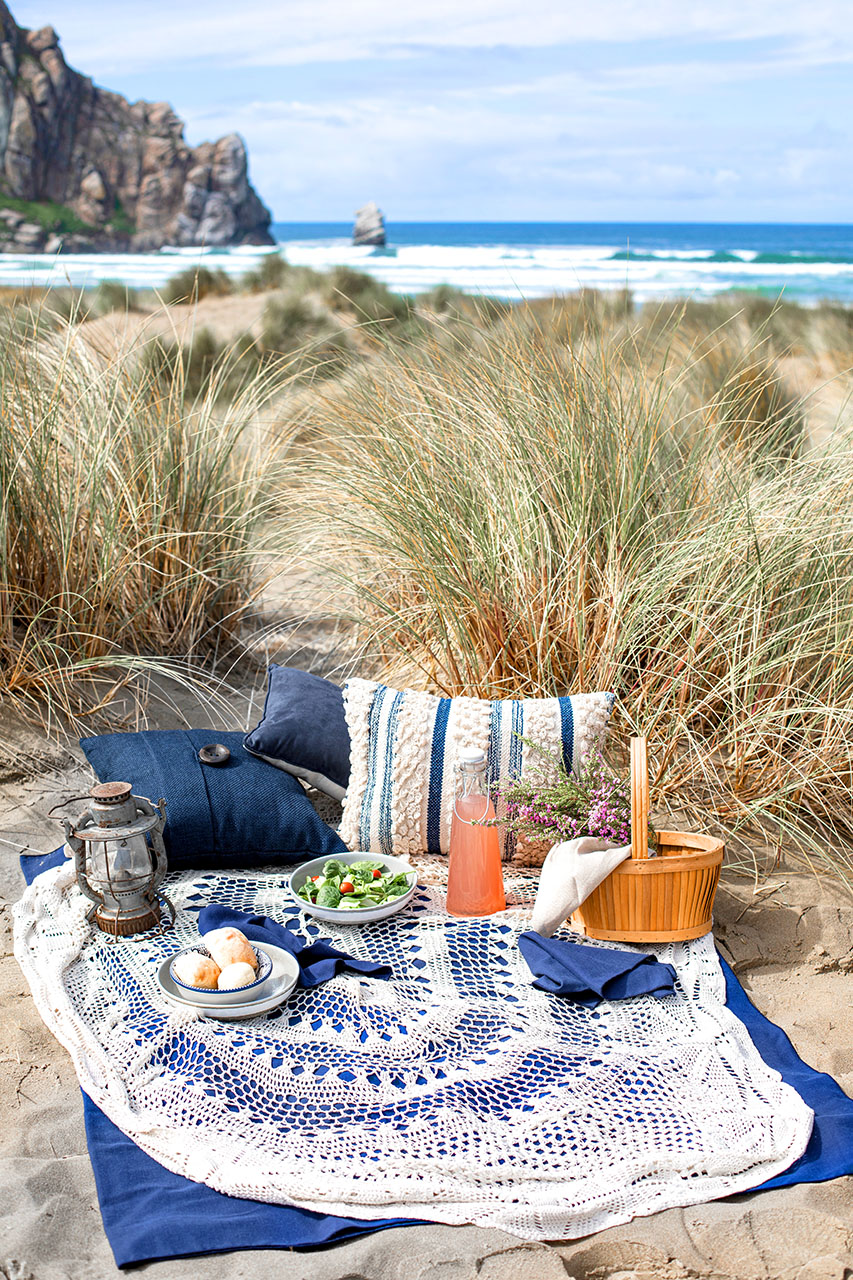 Feature/header image by Manuela Durson